Fortnite Chapter 4 Live: The most recent massive live event for Fortnite has concluded, and it was bizarre even by the game's norms. Fortnite's Chapter 3 farewell event, branded "Fracture," has concluded, and the game has been taken offline until December 4th, when the next chapter will be released with a brand new island and characters like the witcher Geralt of Rivia.
Read more:-
— Fortnite (@FortniteGame) December 3, 2022
Fortnite Chapter 4 Live
Before the action began, the players were separated into smaller groups and sent to wait on tiny floating islands where they had little to do except watch a countdown on a TV screen. (While I roasted marshmallows, my three players spoke together.) Then a cutscene played in which The Herald, a newer character in Fortnite, led an attack of tornadoes, and after some battle, a huge chrome version of her appeared, causing the entire island to explode into many fragments.
put bakugo song in fortnite for the my hero academia collab i think that would be pretty epic i think https://t.co/gdQjpuJODy pic.twitter.com/G9nA03QNfz

— KVMIL (@kvmil) December 3, 2022
Then, after being told that "home is gone," gamers floated aimlessly in space among shards of the devastated island and other players till the Zero Point, a sort of superpowered energy source in Fortnite lore, lassoed them all together. Then, for unknown reasons, everyone had to work together to gather energy orbs to power the Zero Point.
This Fortnite event was less action-packed than previous ones, such as the fight against Galactus or the cataclysmic alien invasion. Sometimes it just seemed like filling time. Zero Point required players to obtain energy through simple means, such as constructing a snowman or discovering matched objects.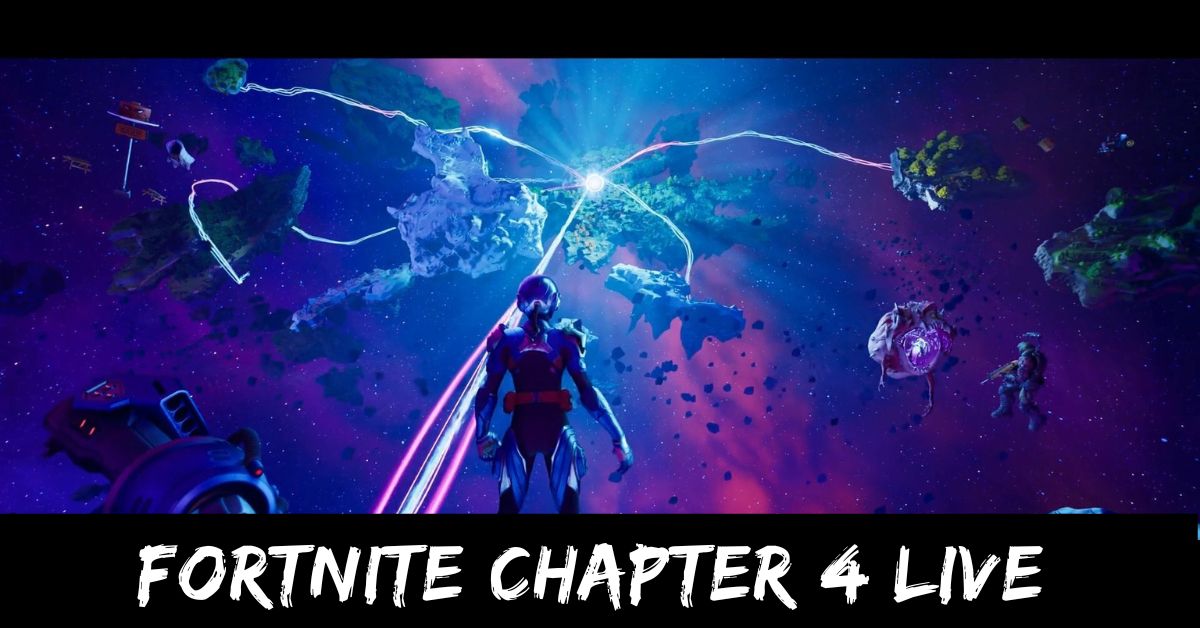 The player might also interact with a few NPCs for simple objectives and see brief flashbacks of events like the mech vs. kaiju combat and the rolling cube. More pieces of the demolished island would materialize as the gateway gained strength.
When Zero Point was activated, the show switched to a new scenario in which Brie Larson's character, Paradigm, emerged to watch a new island being built in Fortnite.
The entire event lasted only around 45 minutes and didn't have the same excitement as previous ones. (But, like its forerunners, it made no sense at all unless you were familiar with Fortnite's continuing story.) As of right now, logging in does nothing more than show a loading screen with a look at the new island in the background.
Read more:-
The world is coming together before your very eyes! Get rewarded for watching #FortniteChapter4 with these Twitch Drops.https://t.co/YXfVgtCs4n pic.twitter.com/unM7IoUg0G

— Fortnite (@FortniteGame) December 4, 2022
However, that would not be the case for much longer, since chapter 4 was scheduled to release on December 4th, and the splash screen showcases a number of upcoming characters, including the doom slayer and Geralt. The artwork also suggests the debut of dirt bikes.
Chapter 4 is here. Drop in now. #FortniteChapter4 pic.twitter.com/Ohdz7pnl3i

— Fortnite (@FortniteGame) December 4, 2022
In Fortnite's history, this is the third time the season has ended with a big event. The first Fortnite island disappeared into a black hole in 2019, and a few days later, the second chapter of the game was released. The new island flipped over two years later, marking the beginning of the third act. There has been a lot of excitement about Chapter 3 because it includes the much-requested Zero Build mode.
Frequently asked questions
Is Fortnite Chapter 4 out?
Chapter 4 will officially begin on December 10 with the Placement Cup.
Will there be Chapter 5 in Fortnite?
Season 5 of Fortnite won't include Chapter 3.
Instead, we're currently awaiting the December 5 release date for Season 1 of Fortnite's fourth chapter, which is expected to follow a live event on December 3.
How long is Fortnite downtime chapter 4?
Fortnite Battle Royale's next season will contain an all-new map, a Battle Pass, and a set of game modes. However, there will be server downtime before the new season begins, and that might last up to 12 hours.
Which chapter is now in Fortnite?
The fourth installment of Fortnite's battle royale has arrived! By upgrading to Unreal Engine 5.1, the newest and most cutting-edge capabilities of Unreal Engine 5 may be used in Fortnite Battle Royale.
Final Words: We hope you have found all the information regarding the Fortnite Chapter 4 Live Event Was the Weird One Yet. For more latest news and information stay tuned with us here at Gameempress.com.