My Hero Academia Will Arrive in Fortnite Chapter 4: After the Fracture event, the servers went down for their regularly planned maintenance, marking the end of Chapter Three of Fortnite. Since then, players have been immersing themselves in the latest leaks and the discovery event on the official website for Fortnite Chapter Four.
Chapter 4 Defaults! #FortniteChapter4 pic.twitter.com/cTIjlxQuOQ

— HYPEX (@HYPEX) December 4, 2022
My Hero Academia Will Arrive in Fortnite Chapter 4
A Japanese Fortnite news account on Twitter pierced through the noise, suggesting a possible crossover with My Hero Academia, despite the fact that fresh content is being announced at a dizzying rate.
It's not surprising that one of the most popular anime is making its way to the island, given Fortnite's history of working with other anime. The sixth season of Boku No Hero Academia premiered in 2022 and has been fantastic so far.
Dive onto a new island in Fortnite Chapter 4 Season 1, live today. Includes new Unreal Engine 5 visual enhancements.

Full details: https://t.co/LSTt7PrSnC pic.twitter.com/MkQdiZYASn

— PlayStation (@PlayStation) December 4, 2022
Season six's action-packed battles and animated sequences were a welcome change from the plodding class-training cycle, and the show's apparent extension into Fortnite suggests that the trend will continue.
However, there's a good likelihood that fans will get to see all the main characters and their skills, quirks, and more in Fortnite, even if it's not entirely obvious which MHA characters will be playable. Players observed a harvesting tool from the MHA universe floating across space after the conclusion of the Fracture event, thus they will most probably get to utilize one.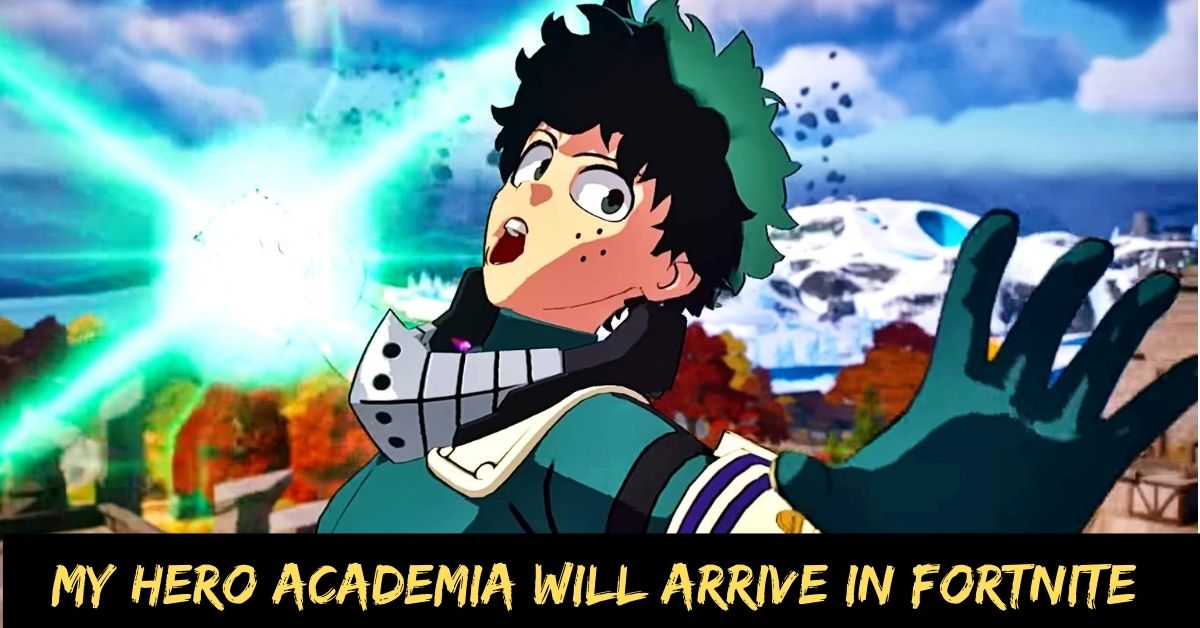 When the Dragon Ball Z skins were first brought to Fortnite, the show's most iconic moves—like the Kamehameha—were made available as in-game goodies. Fortnite players might be able to use the Explosion ability from characters like Deku, Izuku Midoriya, One for All, and Bakugo if developer Epic Games follows a similar path with the MHA cast.
FORTNITE X MY HERO ACADEMIA??

This Pickaxe we can see in the Chapter 4 trailer has A LOT of similarities to "All Might" from the anime!

(Thanks to @PoketOfficial for making me aware of this!) pic.twitter.com/HFhf3MeOhz

— Shiina (@ShiinaBR) December 3, 2022
Todoroki's hot and chilly ability does wonders everywhere over the Fortnite map, while Uraraka's lifting ability is useful in building battles. To what extent Kaminari and Eraser Head's skills will be incorporated into the game is unclear, but if Epic is responsible for adding them to Fortnite, then they are the proper people for the job.
Demons & monsters beware. Two slayers are coming to #FortniteChapter4 pic.twitter.com/EnzZmzpDX9

— Fortnite (@FortniteGame) December 4, 2022
Frequently asked questions
Is Fortnite adding MHA? 
Fear not! All Power is Now Present! The creators of My Hero Academia are moving to consoles, meaning that Fortnite players will soon be able to use that phrase in-game.
Does Fortnite add anime?
Fortnite's Anime Legends Pack Adds 10 New Items in October 2022. Alter your perception of the world as of October 2022. On October 14 and October 22, respectively, the Anime Legends Pack will be available for the first time in physical and digital retailers. There are a total of ten things in this pack, some of which are alternate costumes for well-liked characters.
Did they add My Hero Academia to Fortnite?
Fans found out there that Deku and the MHA Gang are going to be participating in the battle royale, and it's safe to say the internet lost its collective mind. As of this past weekend, the next Battle Royale update for Fortnite was revealed, and a trailer was released to mark the beginning of this new chapter.
Final Words: This article concludes with information regarding the My Hero Academia Will Arrive in Fortnite Chapter 4. For more latest news and information stay tuned with us here at Gameempress.com.