Is it confirmed Marvel Spider-Man 2 Does Not Have Co-op? Let's dive into more about it in this Article. In video games, few superheroes have captured our hearts quite like Spider-Man. The web-slinging, wall-crawling hero has become an icon of pop culture, captivating fans through various media adaptations. 
With the success of the first Marvel Spider-Man game developed by Insomniac Games, fans eagerly await its sequel, Marvel Spider-Man 2. However, one aspect that fans might find surprising is the absence of co-operative (co-op) gameplay in the upcoming installment.
Marvel Spider-Man 2
Marvel Spider-Man 2 is the highly anticipated sequel to the critically acclaimed action-advMarvel'same Marvel's Spider-Man. Developed by Insomniac Games and published by Sony Interactive Entertainment, it continues the story of Peter Parker as he battles villains and protects New York City.
Confirmation of Marvel Spider-Man 2 Does Not Have Co-op
To the disappointment of some fans, Insomniac Games confirmed that Marvel Spider-Man 2 would not feature co-op gameplay. This announcement raised questions and sparked discussions within the gaming community.
Here Is The Confirmation Of Insomniac Games On Twitter
Nope! It is an epic single-player adventure!

— Insomniac Games (@insomniacgames) May 22, 2023
Co-op Gameplay in Video Games
Co-op gameplay refers to the ability for two or more players to play a game together, either locally or online, collaborating towards a common objective. It allows players to share their gaming experiences, strategize together, and enhance social interactions.
Expectations for Co-op in Marvel Spider-Man 2
Given the popularity of co-op gameplay in many modern video games, fans naturally speculated whether Marvel Spider-Man 2 would incorporate this feature. The co-op would allow players to swing through the city together, team up to fight crime, and experience the superhero journey alongside friends or family.
You might also consider the following:-
Reasons for Lack of Co-op In Spider-Man 2
Several factors might have contributed to excluding co-op from Marvel Spider-Man 2. First and foremost, the development team might have prioritized delivering a compelling single-player experience.
By focusing their efforts on refining the core gameplay mechanics, storytelling, and character development, they aimed to create an immersive and unforgettable journey for individual players.
Focus on Single-Player Experience
Marvel Spider-Man 2 aims to immerse players in a captivating single-player narrativParker'sing them to become fully engrossed in Peter Parker's world. By concentrating on a solitary experience, developers can craft a more focused protagonist's game that explores the depth of the protagonist's journey, emotions, and relationships.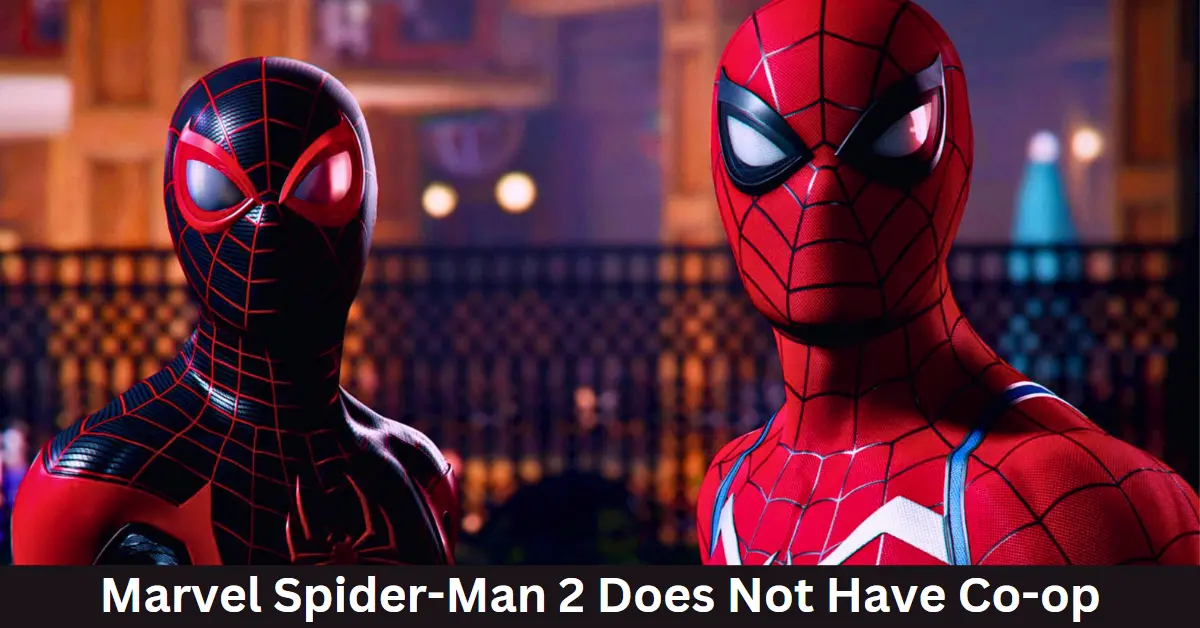 Benefits of Single-Player Experience
A single-player experience provides unique advantages that might be compromised in a co-op setting. It allows for a more personal connection between the player and the protagonist, fostering emotional investment deliver more; single-player games often deliver intricately designed lean duplex puzzles and carefully orchestrated storytelling, offering a cinematic and immersive experience.
Engaging Storytelling and Character Development
Marvel Spider-Man 2 seeks to continue the tradition of captivating storytelling establishcanBy focusing on a single-player experience, Parker'selopers can delve deeper into Peter Parker's character, explore his relationships, and create impactful narrative arcs that resonate with players on an emotional levelGS'splay Mechangame'sd Design.
The absence of co-op gameplay allows the developers to fine-tune the game's mechanics and design specifically for a single-player experience. They can refine combat systems, traversal mechanics, and mission structures to ensure optimal balance and flow, providing players with a seamless and engaging gameplay experience.
Player Feedback and 2'sctions On Spider-Man 2 Does Not Have Co-op.
The announcement of Marvel Spider-Man 2's lack of play has generated things within the gaming community. While some developers expressed their disappointment, others voiced appreciation for the deenmeshm-ended delivery crafteam's compelling team-player experience. Ultimately, the absence of co-op gameplay highlights the team's commitment to providing a polished, narrative-driven game.
Alternatives for Co-op Gaming
For those Marvel's co-op gaming experiences within the Marvel universe, other titles, such as Marvel's Avengers, provide opportunities up with friends and battle alongside iconic heroes. Exploring these alternatives can satisfy the desire for co-op gameplay while allowing fans to enjoy their favorite superheroes in a multiplayer setting.
Final Thoughts
Marvel Spider-Man 2, the highly anticipated sequel to the beloved action-adventure game, will not include co-op gameplay. Instead, it aims to deliver a captivating single-player experience, immersing players in the world of Peter Parker and exploring his journey as a superhero. 
While some fans may have hoped for co-op functionality, the absence of this feature enables the developers to focus on refining the gameplay mechanics, storytelling, and character development. 
Marvel Spider-Man 2 aspires to be a testament to the power of a well-crafted single-player experience, inviting players to embark on a thrilling and emotionally engaging adventure.