Yes, Grand Theft Auto 6 is currently in development and was formally confirmed by Rockstar Games in February 2022. Any information from Rockstar on Grand Theft Auto 6 is avidly awaited by the gaming community. Ten years have passed since the release of GTA 5, yet GTA 6 has yet to receive an official announcement.
It appears that the game will likely not be released on current-generation consoles like the PS4 and Xbox One, but rather on PC, PS5, and Xbox Series X|S. Leaks of the September 2022 video appear to show that GTA 6 will initially only be available on PC and next-generation consoles. There is less evidence to support the claim that GTA 6 will only be available on the PS6, which was made in a deleted Reddit leak.
Grand Theft Auto 6 has a good probability of supporting these new-gen platforms, however at the moment GTA 5's performance decline in last-gen consoles and recent GTA Online patches lament this.
Get fully immersed in the world of GTA 6 with our in-depth articles covering everything from release dates to character details and maps:
The more in-depth and meticulous work that Rockstar has done to reimagine open-world gaming is well known. Rockstar Games established its reputation as the top RPG developer with its most recent game, Red Dead Redemption 2. So it's expected that GTA 6 will carry on this tradition. It goes without saying that the newest GTA game will have improved graphics and improved gameplay.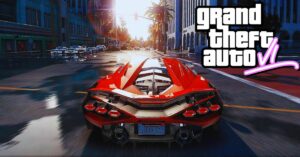 The new game will undoubtedly include more updated assets, realistic aesthetics, improved and realistic gaming physics, and increased dynamic lighting, according to pre-alpha footage from September 2022. Rockstar is obviously taking their time to prepare the upcoming complex open-world game for next-generation hardware. This new game will test the limits of PC and new-gen consoles to the fullest.
The State of "San Andreas" will be dwarfed by the huge Vice City area in GTA 6, according to a recently removed Reddit post. It is therefore extremely improbable that last-gen devices like the PS4 or Xbox One can handle this expansive open-world game.
GTA 6 is reportedly scheduled for release in 2024 by Rockstar Games. Fans can anticipate a trailer and gameplay presentation later this year. It's also feasible that this most recent episode won't be released until the spring of 2025. Some analysts, however, argue that the game might not go live until the 2026 holiday.
Reddit Fans Are Angry About This Post:
Gaming Bible is a fucking nightmare of a website. They're making such a big deal out of something extremely obvious. OFC it's not gonna release for ten year old consoles.
by u/SheKilledMyNelson in GTA6
It's notable that PS5 didn't attract the same number of players as its competitors, thus Rockstar's decision to hold off until PS6's launch makes sense. They are awaiting a new console in order to draw more users and last for an additional ten years.
Twitter Buzz: The Excitement Builds for GTA 6 Release On Twitter
While nothing has been confirmed, there's a buzz in the air that suggests the GTA 6 trailer could be dropping soon.
Rockstar Games has reportedly hired a team of 20 engineers that works exclusively on GTA 6's water physics, introducing surfing for the first time in the series. pic.twitter.com/jbMHmuzXc1

— GTA 6 Trailer Countdown ⏳ (@GTAVI_Countdown) May 12, 2023
This seems a little too authentic 🤔 possible GTA VI Trailer, uploaded to YouTube from rockstar north then deleted. #GTAVI #GTA6 #GTA6leak pic.twitter.com/3TwvKwxRPv

— Toby Mogg (@TobyMogg2002) May 8, 2023