GTA 6 New Features: The release of GTA 6 is inevitable, albeit the specific date is still up in the air. Rockstar Games has acknowledged that the game is still under development, though. According to a small comment tucked away at the bottom of a GTA 5 Community Update from February 2022, "active production for the next installment in the Grand Theft Auto franchise is well underway."
On September 18, an extraordinary GTA 6 leak resulted in the online publication of over 90 videos and screenshots from the game's early alpha build. The hack has been acknowledged and verified by Rockstar, and the company is attempting to remove the exposed information from the internet.
Naturally, this first peeks at Grand Theft Auto 6 has uncovered some new facts about the game, such as specifics about the setting, characters, and gameplay. So read on to learn everything there is to know about GTA 6 thus far.
When Will the Release Date of GTA 6 be Announced?
The initial GTA 6 announcement was made in February 2022 as part of a larger GTA 5 and GTA Online Community Update when Rockstar Games slipped out the information that GTA 6 is "well underway." Rockstar stated that Grand Theft Auto 6 is "actively being developed" and thanked everyone for their support, adding, "We cannot wait to stride into the future with you!"
As part of the release of its financial results in August 2022, Rockstar's parent company Take-Two Interactive reiterated that GTA 6 development is "well underway." Strauss Zelnick, CEO of Take-Two, stated that Rockstar Games is "committed to once again set creative benchmarks for the series, our industry, and for all entertainment, just as the label has done with every one of their frontline releases" about GTA 6.
Are the Most Recent GTA 6 Leaks Accurate?
On September 18, 2022, a historic GTA 6 leak resulted in the online distribution of dozens of pictures and videos are purportedly taken from an early game build. Are you unsure if the GTA 6 leaks are accurate? Rockstar, however, later released a statement confirming the hack: We recently experienced a network intrusion where an unauthorized third party unlawfully gained access to and downloaded sensitive material from our computers, including early development footage for the following Grand Theft Auto.
The Rockstar statement continues, "We are incredibly disappointed to have any information about our upcoming game shared with you all in this manner. "When the new game is prepared, we will properly introduce it to you and provide everyone with another update. We wish to express our gratitude to everyone for their unwavering support."
The GTA Forums have worked diligently to remove all traces of the illegally downloaded images and videos over the past 48 hours to prevent being "obliterated by Rockstar."
The GTA 6 Reddit has also removed all of the leak's links, images, and videos and has promised to remain available on the following condition: "Without linking to the leaks, we will let comments about the leak. Comments with download links to the leak are not permitted."
Since then, Take-Two and Rockstar, the parent company, have both commented on the leaks. Strauss Zelnick, CEO of Take-Two Interactive, which publishes GTA, stated on a recent earnings call that the leak was "terribly terrible," adding that "we take those sorts of incidents very seriously indeed."
"It's reassuring to know that there is no proof that any tangible assets were taken, and the leak won't have any impact on development or anything like that. But it is quite disheartening and makes us more cautious about cybersecurity-related issues."
Should GTA 6 be Postponed?
Following the recent GTA 6 leak, some people were worried about how the incursion would affect ongoing work on the forthcoming Grand Theft Auto game. In a subsequent formal statement(opens in new tab), Rockstar has reaffirmed that the breach would not impact the development of GTA 6 or the continued security of GTA 5 and GTA Online.
"We do not currently foresee any interruption of our live game services or any long-term impact on the progress of our existing projects. We'll continue working on the upcoming Grand Theft Auto game as scheduled. We're just as committed as ever to giving our players an experience that exceeds your expectations."
When Will GTA 6 New Features Come Out?
Rockstar Games has not yet announced the GTA 6 release date. That hasn't stopped online sleuths from speculating in some instances. Several sources have confirmed a rumor that Grand Theft Auto 6 will be released in 2025.
This information was part of a more significant leak claiming GTA 6 would be set in a contemporary Vice City. It's always a good idea to proceed with caution when making predictions of this nature, but given that the most recent GTA 6 leaks indicate a modernized Vice City setting, a release sometime in 2025 may be on the money.
However, some reports are suggesting that GTA 6 may debut in 2024. A Bloomberg(opens in new tab) report initially said that "current and former Rockstar personnel estimate GTA 6 is still at least two years from release, suggesting a debut in 2024."
The most recent statement from Microsoft to the UK Competition and Markets Authority (CMA) inquiry into its continuing acquisition of Activision Blizzard (opens in new tab) later supported this. Microsoft stated: "The eagerly awaited Grand Theft Auto VI is slated for release in 2024."
What's Taking GTA 6 So Long?
Many of you are curious as to why it is taking so long for GTA 6 to release. In actuality, it should come as no surprise that Rockstar is taking its time, given the popularity of GTA 5 and GTA Online, not to mention the size of Red Dead Redemption 2.
They made this statement when the studio announced that GTA 6 was in the works. Rockstar referenced "the unparalleled durability of GTA 5", which has undergone numerous updates and re-releases over the past nine years.
Where is GTA 6 Set? Is the GTA 6 Setting Vice City?
Although there has been much speculation about the GTA 6 setting, Vice City will again be our destination. Rockstar has confirmed that the GTA 6 gameplay footage released is authentic, so now we know more about the setting and the city.
Some spectators may have recognized locations from GTA 3: Vice City, such as the Malibu Club, Ocean View Hotel, Little Haiti, and Vice Beach, on one screen, which depicts an underground rail system with the words "Vice City Metro" printed on the side.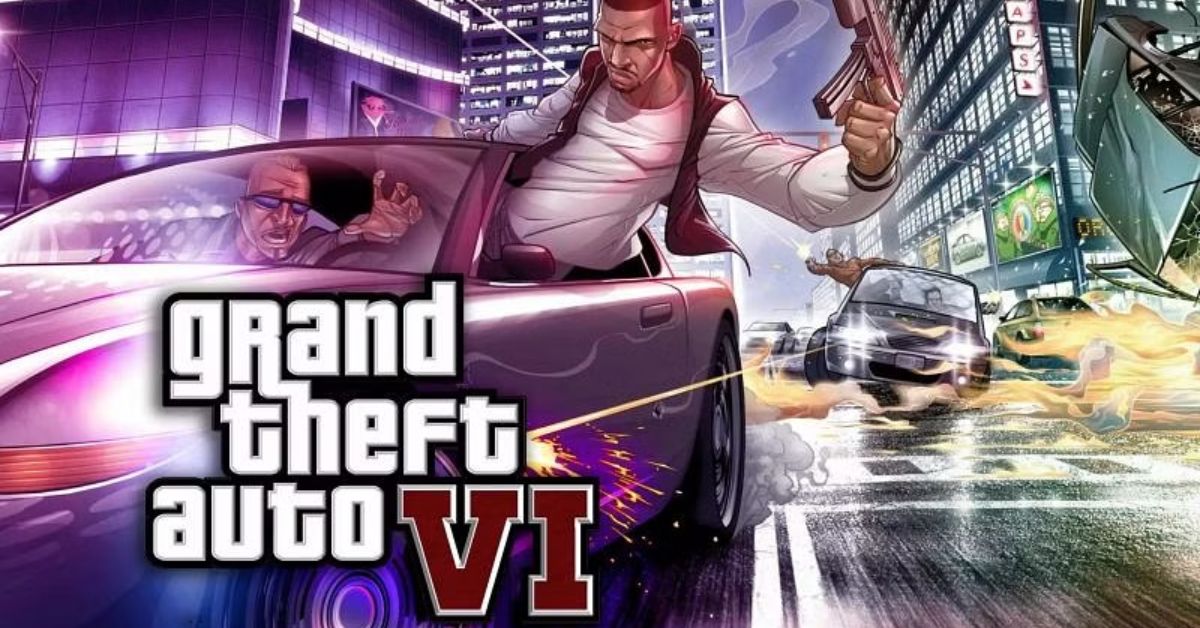 Naturally, the city is different from when you last went there. Since Grand Theft Auto: Vice City was set in 1986, the setting of GTA 6 appears to be contemporary. Grand Theft Auto 6 is set in a modern parody of Miami, Florida, as evidenced by the appearance of NPCs with smartphones and stylish attire, but as if that weren't enough, astute social media users have noticed a character references the death of LifeInvader CEO, who is killed by Michael De Santa – so it would appear that GTA 6 is set after the events of GTA 5.
Map of GTA 6
Although the final GTA 6 map has not yet been revealed, some clues from the leaked video and displays point to a play area outside of Vice City. Some leaked screenshots show brand-new regions in Vice City, like Rockstar, expanded upon Los Santos between Grand Theft Auto: San Andreas and GTA 5.
Vice City, as you may know, is partially based in Miami, and there are already rumors that GTA 6 will move even further south toward the Everglades and the Florida Keys (a string of tropical islands).
As part of a radio transmission, the "Gator Keys" were mentioned in the first GTA: Vice City, but the actual site was never depicted in the game. Expect various environment types on the GTA 6 map if the screenshots are what we believe them to be.
It's interesting to note that people are sure the GTA 6 map will be significantly more extensive than the GTA 5 one. The GTA 6 subreddit community is attempting to map out the map using leaked GTA 6 coordinates and later started piecing the map of GTA 6 together using Google Earth and Paint. Clever people.
Will There Be a Female Lead in GTA 6?
Rockstar allegedly started working on the first female protagonist for GTA 6 months ago, which would be a first for the franchise in the 3D era. A Bloomberg investigation initially released the information from earlier this year, which looked at the shifting corporate culture at Rockstar North; the GTA 6 leak has subsequently confirmed it. Two new playable GTA 6 characters may be seen in the early development footage.
Jason and Lucia are the characters' in-progress names, and the character-switching mechanism from GTA 5 is making a partial comeback. One leaked video depicted the duo robbing a cafe, with one figure controlled by the player and the other flown by AI. Another footage shows character switching. However, it happens almost instantly rather than with the gradual perspective change observed in GTA 5.
The GTA 6 Gameplay
We can't say how Grand Theft Auto 6 will play or how it will improve on Grand Theft Auto 5 because Rockstar hasn't yet released a GTA 6 trailer. However, it's evident from the early development film that iterations of several new mechanics are being researched and tested by Rockstar. For instance, it looks that a new set of stealth features is being introduced, as evidenced by a video showing characters dragging bodies and creeping while prone.
Additionally, Rockstar is reportedly adding new health-boosting goods like medicines, and the weapon wheel, which was revamped for GTA 5, is making a partial comeback. We can also see that the Five Star "Wanted" system is coming back and that the VCPD has upgraded its AI monitoring routines for Jason and Lucia after you come within their sights.
READ MORE:
We hope you have found the information relevant. For the latest news and information, stay tuned with us here at Gameempress.com.