Free-to-play multiplayer platformer for the Nintendo Switch. The latest Nintendo Direct confirms the release date for Disney Illusion Island.
Finally, we have a release window for Disney Illusion Island on the Nintendo Switch. Several significant announcements were made during the February 2023 Nintendo Direct, including new games, remastered classics, and the confirmed release dates for multiple games, including Disney Illusion Island.
The first glimpse of Disney Illusion Island was given to attendees of D23 2022. In this video game, Mickey Mouse and his pals have landed on Monoth, a mysterious island. The only way to save the island and its inhabitants, the Hokuns, is for the team to locate three magical books.
Disney Illusion Island's visual style and gameplay mechanics resemble Rayman Legends. Nonetheless, some claim it borrows heavily from the visual style of Cuphead. Disney Illusion Island could be the answer for fans who want a multiplayer platformer in the same vein as the previous games.
The latest Nintendo of America trailer confirms the game will be available on July 28, 2023. The video detailed the game's mechanics and featured gameplay showcased the extraordinary abilities and levels players can look forward to. The video ended with the announcement that pre-orders would begin on February 8, 2023.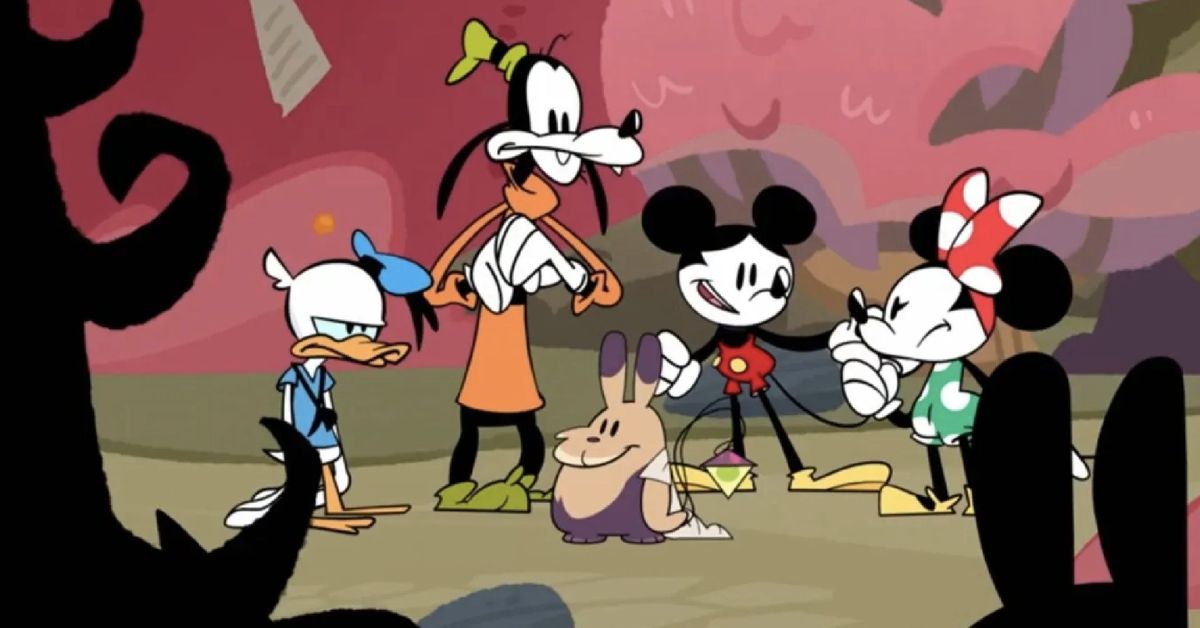 Because of the Switch's emphasis on online multiplayer, a Disney-themed game with a similar feel to Rayman Legends could attract new players of a younger demographic. The graphics are charming because they are hand-drawn and have an old-school cartoon feel.
Furthermore, choosing between Mickey Mouse, Minnie Mouse, Donald Duck, and Goofy as playable characters during the adventure will allow players to customize their experience. Despite the lack of information, most fans are likely hoping for online multiplayer to be a part of the game so they can share the experience with others.
Disney Illusion Island is Developer Dlala Studios' next game, and we can only hope it's a step up from their previous release, Battletoads. The game's visuals, gameplay, genuine voice acting, and orchestrated original score give it great hope for becoming a staple in Nintendo Switch's canon. And with Disney Illusion Island available nowhere else, even people who don't already own a portable console might be tempted to buy one.
As you can see in this tweet, Wario64 has confirmed the Disney Illusion Island release date for Nintendo Switch.
Disney Illusion Island out July 28th pic.twitter.com/rt1nXl7mrU

— Wario64 (@Wario64) February 8, 2023
On July 28, look for the release of Disney Illusion Island, a brand-new Mickey and pals video game. When Disney Illusion Island launches on July 28, 2023, exclusively for Nintendo Switch, Mickey Mouse, Minnie Mouse, Donald Duck, and Goofy, fans will experience a new adventure.
Frequently Asked Questions
Is Castle of Illusion on Nintendo Switch?
A Closer Look at Disney Illusion Island
The game, which will launch exclusively for the Nintendo Switch next year, is part of the same series as Disney Castle of Illusion starring Mickey Mouse and also features a cartoonish visual aesthetic.
Is Epic Mickey on Nintendo Switch?
This item will be released on July 25, 2023.
Is Mickey Mouse being discontinued?
Therefore, Disney's copyright to Mickey Mouse, which has been in effect for the past 95 years, will end in2024, and anyone will be free to use... In 2024, Disney, the world's largest media and entertainment company, may no longer have sole ownership of Mickey Mouse.