Welcome to the world of Destiny 2 Season of The Deep; Bungie has introduced a thrilling and unexpected activity for Guardians: fishing. This article will delve into the exciting fishing realm in Destiny 2, explaining what it entails, its benefits, and how to get started. So grab your fishing rod, and let's dive in!
What is Destiny 2: Season of The Deep?
Destiny 2: Season of The Deep is the latest update to the popular online multiplayer first-person shooter game developed by Bungie. It introduces a range of new content, including activities, quests, weapons, and armor sets. One of the most surprising additions is the introduction of fishing, a relaxing pastime that adds a new dimension to the game.
The Concept of Fishing in Destiny 2
Fishing in Destiny 2 provides players with a break from the intense battles and allows them to unwind while enjoying the stunning landscapes of various destinations. It offers a unique way of interacting with the game world and discovering hidden secrets. The concept revolves around exploring different fishing locations, casting your line, and reeling in various fish species in the game.
Here Is The Confirmation That Destiny 2 Is Adding Fishing to The Game: 
Destiny 2 is adding fishing with Season of the Deep launching later today.https://t.co/VA49ian3jg pic.twitter.com/ViBGEYRMCQ

— Okami Games (@Okami13_) May 23, 2023
Benefits and Rewards of Fishing
Engaging in fishing activities in Destiny 2 brings several benefits to Guardians. Firstly, it offers a peaceful and serene experience, allowing players to appreciate the beauty of the in-game environments. Additionally, fishing provides opportunities to earn unique rewards, such as rare fish, collectibles, special gear, and even lore triumphs that add depth to the game's narrative.
How to Start Fishing in Destiny 2
To start your fishing adventure in Destiny 2, you must equip yourself with the necessary fishing gear and find a suitable fishing location. The game provides clear instructions on obtaining the fishing rod and bait required for this activity. Once you have the equipment, you can embark on your fishing journey.
Fishing Locations and Techniques
Destiny 2 offers a variety of stunning fishing locations across its expansive universe. Each destination provides a unique fishing experience, from serene lakes to hidden caves. The techniques for fishing vary depending on the location and the type of fish you're targeting. Some fish may require specific bait or lures, while others may have particular spawning conditions.
Unique Fish and Collectibles In Destiny 2
As you explore the fishing locations in Destiny 2, you'll encounter a diverse array of fish species. Each fish has its unique characteristics, appearance, and behavior. Some fish may be more challenging to catch than others, requiring patience, skill, and a keen eye. Additionally, there are collectibles related to fishing, such as fishing emblems or ornaments, that you can proudly display in your inventory.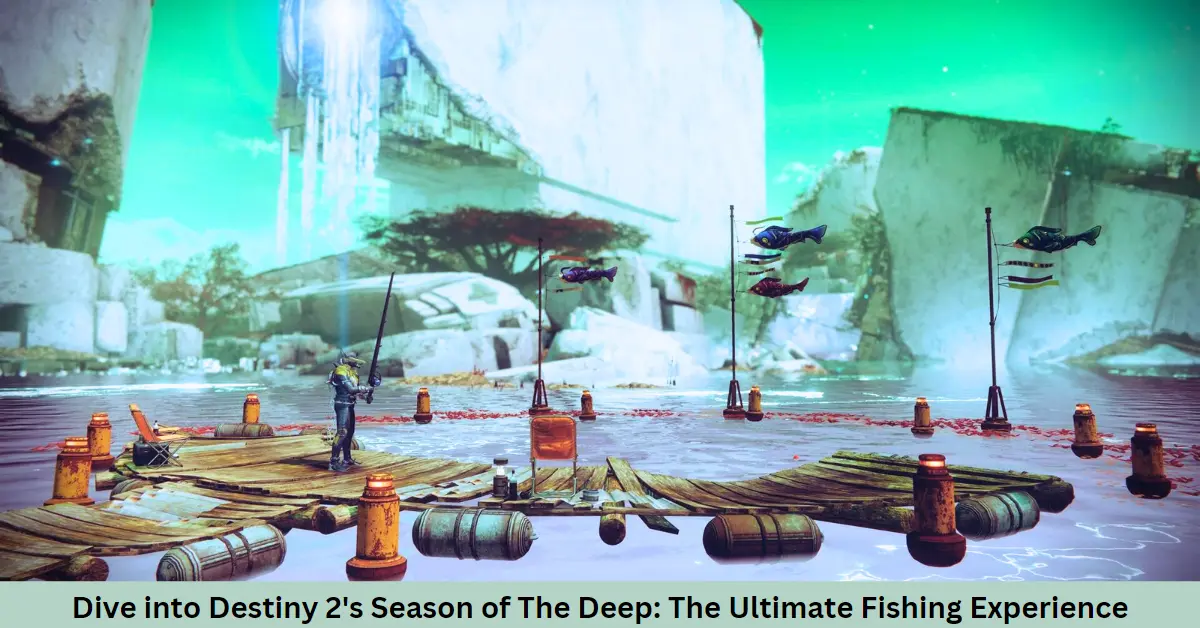 Strategies for Successful Fishing
Successful fishing in Destiny 2 requires more than luck. The right strategies can significantly enhance your chances of reeling in prized catches. Understanding the behavior of different fish species, adapting your fishing techniques accordingly, and mastering the art of casting and reeling are essential skills for any aspiring Guardian angler.
Gear and Equipment for Fishing
Having the appropriate gear and equipment is crucial for an enjoyable fishing experience in Destiny 2. The game offers a range of fishing rods, reels, lines, and bait options, each with its attributes and advantages. Upgrading and customizing your fishing gear can improve your fishing efficiency and increase the likelihood of landing rare fish.
Fishing Events and Challenges
Destiny 2 introduces regular fishing events and challenges to keep the fishing activity engaging and dynamic. These events may include limited-time fishing tournaments, where Guardians compete to catch the rarest or most significant fish. Participating in these events provides a thrilling experience and exclusive rewards and recognition among the fishing community.
Must check:
Fishing Community and Social Aspect
Fishing in Destiny 2 is not just an individual pursuit but fosters a sense of community among Guardians. Players can interact with fellow anglers, share fishing tips, and even form fishing groups or clans. This social aspect adds depth to the gaming experience and encourages collaboration and camaraderie within the fishing community.
Fishing Tips and Tricks In Destiny 2 
To help you become a master angler in Destiny 2, here are some valuable tips and tricks:
Know your fish: Familiarize yourself with the different fish species and their behaviors to increase your chances of successful catches.

Explore all destinations: Each location offers unique fish species, so don't limit yourself to just one area.

Upgrade your gear: Regularly upgrade your fishing gear to improve your chances of landing rare fish.

Patience is key: Fishing requires patience, so take your time and enjoy the peaceful moments.

Share your achievements: Join fishing communities, share your catches, and learn from experienced anglers.
Conclusion
Destiny 2: Season of The Deep brings a surprising twist to the game by introducing fishing. This relaxing and rewarding activity allows Guardians to take a break from battles and immerse themselves in the beauty of the game's environments. With unique fish species, rare rewards, and a vibrant fishing community, fishing in Destiny 2 offers a memorable experience for players of all skill levels.