Are you an avid Xbox Game Pass subscriber, eagerly awaiting for the Xbox Game Pass Upcoming Games the next wave of games to hit the platform? Look no further! We've compiled a comprehensive list of the most anticipated upcoming games on Xbox Game Pass, set to redefine your gaming experience. 
From action-packed adventures to immersive RPGs, there's something for everyone in this exciting lineup. So, buckle up and get ready to explore the thrilling world of new gaming experiences coming your way!
Announcements for new Game Pass titles occur nearly every week, making it difficult to stay updated on all the releases. To help with this, we've compiled an all-inclusive list of confirmed upcoming Xbox Game Pass releases from Microsoft. 
This list takes into account games showcased at events like E3 Xbox & Bethesda, Gamescom reveals, and those announced for Game Pass by their respective publishers.
Here Is What People Said On Xbox Game Pass Upcoming Games
While good games still come to Xbox Game Pass, the buzz is not there like it was in 2020 & 2021.

Yes, June is coming up & we will hear more about upcoming games on Game Pass, but we need the buzz throughout the year.https://t.co/rO1eaEavS9 #Xbox #XboxGamePass #Xboxshowcase pic.twitter.com/HUxqB7vusc

— Syed Dawer Hussain (@dawer_hussain) May 16, 2023
Xbox Game Pass Games Available Before The First half Of 2023
This segment compiles Game Pass titles scheduled for release before June 30, 2023. While some of these games have a confirmed Game Pass release date, others are pending an official announcement and may experience slight delays. To stay updated on the latest announcements, you can also follow our Game Pass additions section.
➡ FIFA 23 – 16 May 2023
➡ Eastern Exorcist – 30 May 2023
➡ Planet of Lana – 23 May 2023
➡ Railway Empire 2 – 25 May 2023
➡ Chicory: A Colorful Tale – 30 May 2023
➡ Farworld Pioneers – 30 May 2023
➡ Amnesia: The Bunker – 6 June 2023
➡ Dordogne – 13 June 2023 (possibly Xbox only, PC version not confirmed)
➡ Forza Motorsport (2023) – first half of 2023
➡ Ara: History Untold – first half of 2023
➡ Eiyuden Chronicle: Hundred Heroes – first half of 2023
➡ REPLACED – first half of 2023
➡ Ereban: Shadow Legacy – first half of 2023
➡ COCOON – first half of 2023
➡ Flintlock: The Siege of Dawn – early 2023
Upcoming Games On Xbox Game Pass In The Second Half Of 2023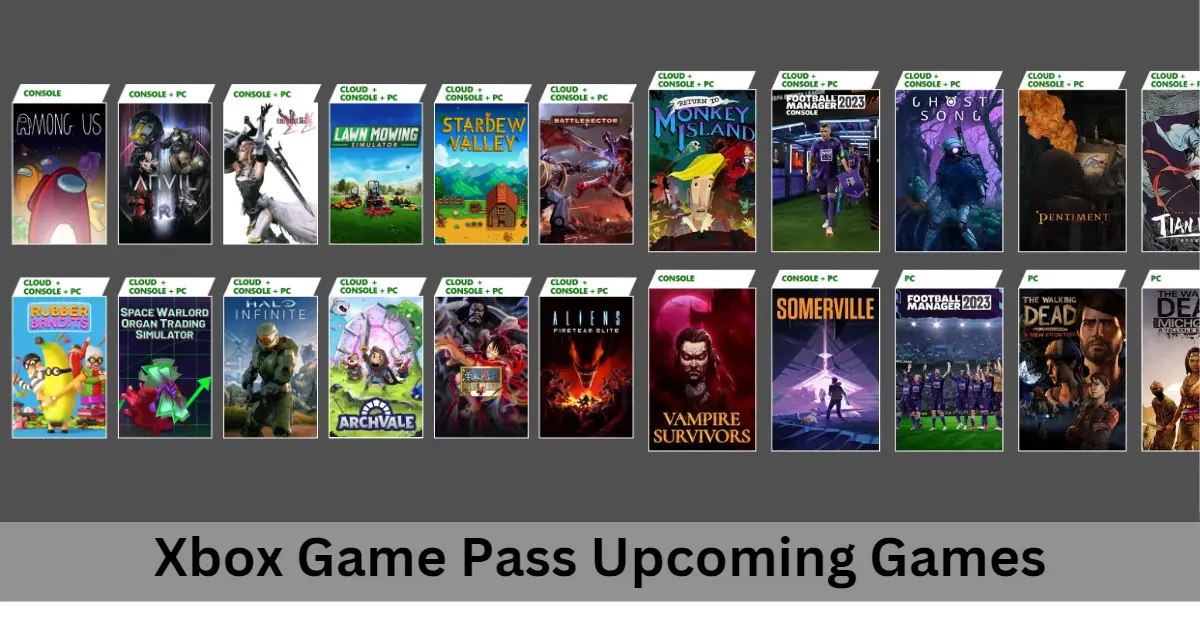 Several highly anticipated AAA titles are set to join the subscription service later in 2023. We eagerly await the chance to play Lies of P, Starfield, and S.T.A.L.K.E.R. 2. Additionally, the follow to Cities Skylines and Dungeons 4 are expected to offer countless hours of engaging gameplay.
Sword and Fairy 7 – 6 July 2023

Exoprimal – 14 July 2023

Texas Chainsaw Massacre – 18 August 2023

Lies Of P – August 2023

Starfield – 6 September 2023

PlateUp! – October 2023

S.T.A.L.K.E.R. 2: Heart of Chornobyl – December 2023

Turnip Boy Robs a Bank – 2023

Dungeons 4 – 2023

Bounty Star – 2023

Thirsty Suitors – 2023

Bushiden – 2023

Spirittea – 2023

Cities Skylines II – 2023

The Lamplighters League – 2023

Vapor World: Over the Mind – 2023
Upcoming Games On Xbox Game Pass In 2024
This segment features games with the longest wait times, set to arrive on Game Pass in 2024 or beyond. Additionally, we've included all titles without confirmed release dates. The anticipation is building for the upcoming Fable series installment and the highly praised Hellblade: Senua's Sacrifice sequel.
ARK 2 – 2024

Magical Delicacy – 2024

Dead Static Drive – Q3 2024

Solar Ash – TBC

Maquette – TB

 

Party Animals – TBC

Pigeon Simulator – TBC

Mad Streets – TBC

The Big Con – TBC

 Flock – TBC

 Hollow Knight: Silksong – TBC

 ROUTINE – TBC

 She Dreams Elsewhere – TBC

 Age of Mythology: Retold – TBC

 Contraband – TBC

 Fable – TBC

Avowed – TBC
In Conclusion:
The upcoming games on Xbox Game Pass promise to deliver a diverse and exciting array of experiences for subscribers. From heart-pounding action to immersive storytelling, there's something for everyone in this impressive lineup. So, gear up and get ready to embark on a thrilling journey through the world of gaming with Xbox Game Pass!
More From Us:-