With the release of patch 2.4.0, the ambitious Immortal Empires mode in Total War: Warhammer 3 (TW: WH3) has graduated from beta and is now available to all owners of the game. Immortal Empires was formerly only available to those who have purchased all three games in the Total War: Warhammer trilogy.
Playable in TW: WH3, Immortal Empires is a large game mode that incorporates everything from the whole trilogy and all of its supplemental content packs. Released in August of 2022, not long after the game's introduction.
Similar posts:-
Despite a few glitches, this massive effort has been a major factor in making TW: WH3 one of the best strategy games available right now.
Calling all new Immortal Empires Generals! You can grab up to 50% off Total War: WARHAMMER I & WARHAMMER II DLC collections right now on Steam until 22/02 at 6PM GMT – the perfect opportunity to complete your Legendary Lord roster!https://t.co/9qyJOhRjjQ

— Total War (@totalwar) February 17, 2023
The next TW: WH3 DLC pack will be released in April 2023, and it was teased in the official launch trailer for the game mode. It appears to confirm what many have suspected for months: the Chaos Dwarfs are on their way, as evidenced by the video's industrial backdrop and the green-skin slaves seen in its last seconds.
Also, Creative Assembly has made it easier for players to acquire new factions for Immortal Empires by allowing them to be purchased as a standalone DLC pack. As a result, you no longer need to own Total War: Warhammer 2 to purchase the Tomb King or Vampire Coast DLC.
The complete patch notes for update 2.4.0 can be seen down below, and they detail a number of changes to gameplay as well as bug fixes.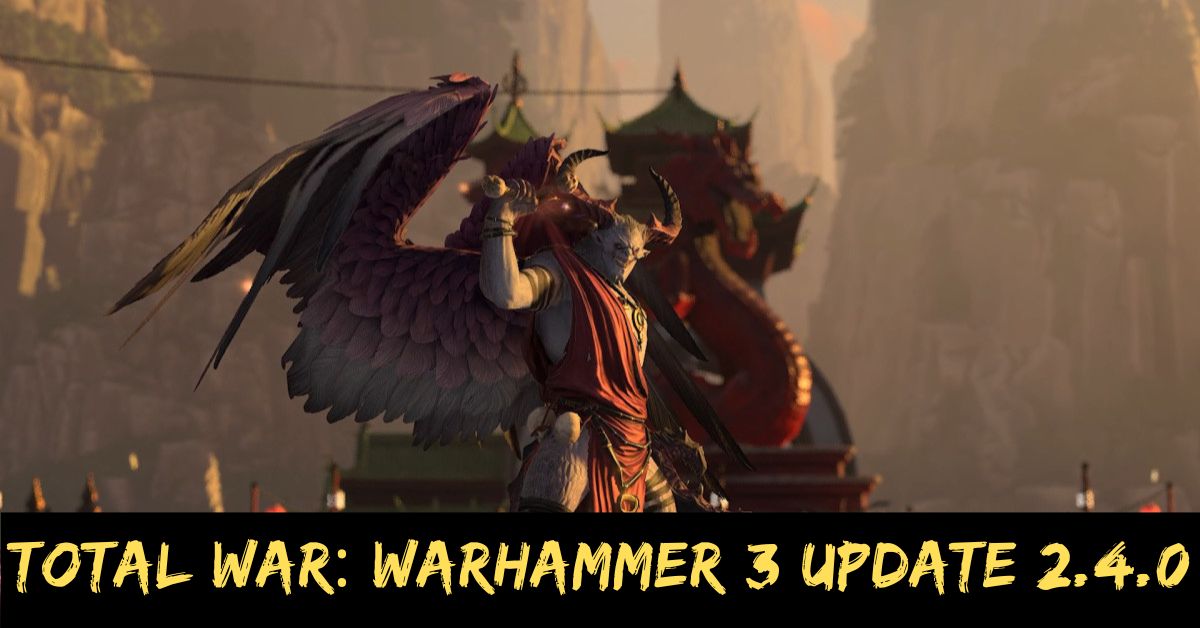 Patch Notes for Version 2.4.0 of Total War: Warhammer
Gameplay
In future conflicts, garrisons will no longer be held back as reinforcements but instead will be integrated into the fight from the outset.
Beastmen
Minotaurs can be recruited at Tier 4 from the special Herdstone buildings Karaz a Karak and Black Crag.
Dark Elves
The final showdown for Malus' attempt to obtain the Warpsword of Khaine has been relocated closer to his initial Chaos Wastes base of operations.
We've fixed a bug that would cause the cloaks of Cold One Knights to snap between their inactive animations.
This issue has been resolved, wherein the arms of dead Dark Elf Doomfire Warlocks previously snapped off in an unintended animation.
Dreadlord's capes should now properly display while in close proximity, as this was a previously existing visual problem.
After being knocked down, Rakarth's whip will no longer experience a bug.
The melee weapons shown by Reaper Bolt Throwers have been updated.
Read more:-
Head over to @LSotek's Twitch channel to indulge in a Skarbrand campaign of destruction as part of our Total War: WARHAMMER III anniversary week celebrations!

(There'll be code giveaways too! 👀)

🔴 LIVE NOW: https://t.co/lj9kLEvraF

— Total War (@totalwar) February 17, 2023
We hope you have found all the relevant information about the Total War: Warhammer 3 Update 2.4.0 Brings Immortal Empires Beta to a Close. Stay tuned with us here at Gameempress.com for more latest news and information.
Frequently asked questions
Is Total War: Warhammer 3 playable now?
You may get Total War: WARHAMMER® III for free if you subscribe to PC Game Pass. Strategy campaigns across the Mortal Realms and beyond, even into the Realm of Chaos, await Game Pass members in this identical port of WARHAMMER III, available on all other platforms in the same ways.
How much RAM do I need for Warhammer 3?
System requirements for Total War: Warhammer III on Windows are as follows: System is 64-bit Windows 7. Intel Core i3/AMD Ryzen 3 series processors. We're talking about a whopping 6 GB of RAM here.