Hogwarts Legacy, set in J.K. Rowling's magical universe, has been anticipated by Potterheads for a long time and is predicted to be a blockbuster hit. However, settling on whether or not to purchase it isn't a cut-and-dry matter, and some people have voiced their opposition.
"It's people like you that are making the world a worse place."
One of the more tame responses to Maysa Pritilata's advocacy against purchasing Hogwarts Legacy, one of 2023's most popular video games, was this.
Similar posts:-
Pre-orders for the game, which allows players to take on the role of a witch or wizard in J.K. Rowling's magical universe, have been strong for some time, and the game has been met with universal praise in advance of its general release on Friday.
There hasn't been a truly significant new Harry Potter game in almost a decade, and this one is it. This is the first major new installment in the series since Rowling's controversial views on transgender rights came to light.
Read more:-
A Twitter video urging a boycott of the game has received over nine million views; the gaming forum ResetEra has banned any discussion of the game; the major site GameSpot published an essay about Rowling's anti-transgender stance; and a fundraiser asking people to donate to a trans charity instead of buying the game raised thousands of pounds.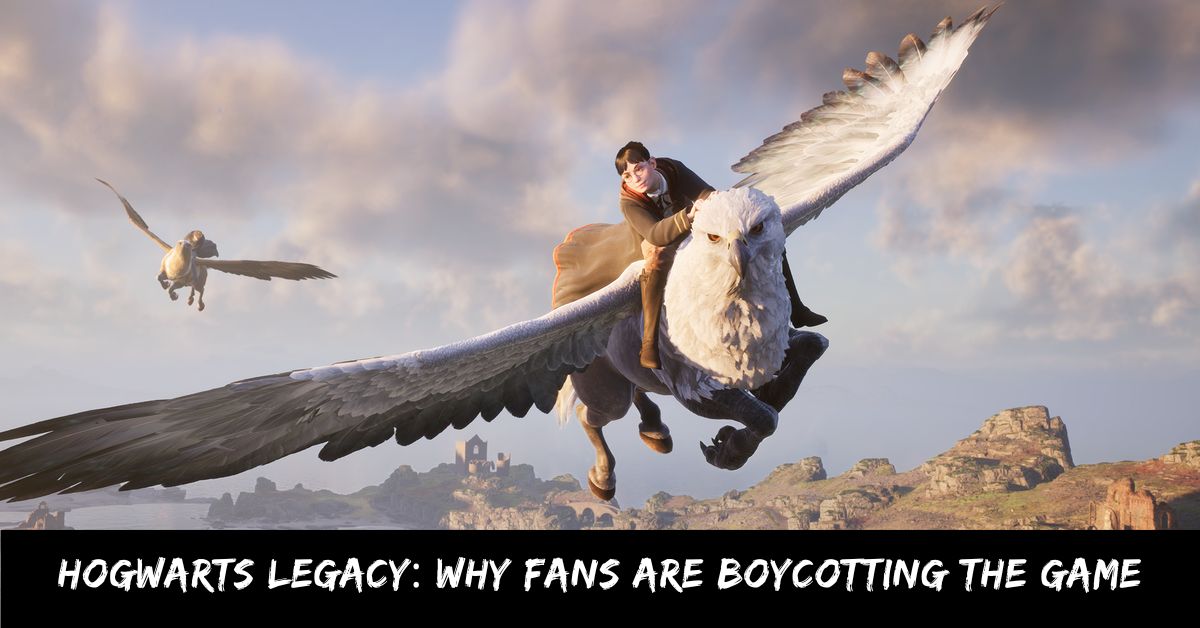 This makes the decision to boycott simply for trans woman Maysa, who wrote about Hogwarts Legacy for openDemocracy and received death threats as a result of her essay.
"I love video games," she says.

"I'm not boycotting it because I think my money is going to seriously harm the publisher, Warner Bros, or Rowling.

"But why would I do it to myself? Why would I do it to other people, who would feel like I'm validating the game?"
Potter Fan Who Identifies as Trans Says the Series Brought Them Solace
Maysa's inbox has been full of threatening messages from game fans and Rowling supporters ever since she wrote about her position. But not everyone who has been offended by Rowling's beliefs can simply ignore her most famous invention.
"As a fandom, we have been looking forward to this game before it was even announced," says Asher Chelder, a transgender Potter fan who admits his relationship with the franchise is "complicated".

"I found a lot of solace in the series and it's something I can't shake. It's part of who I am."
Asher, a member of the MuggleNet social media team, shares his colleagues' enthusiasm.
Critics have also praised the game, with Sky News' gaming correspondent Martin Kimber calling it a beautifully made love letter to a property that millions of people still care about.
Some people who pre-ordered said they did so to oppose the boycott movement or to show support for Rowling, while others said they pre-ordered out of pure anticipation. Once one of many LGBTQ people who looked up to Rowling, Asher says he is genuinely upset by her current viewpoints.
Even though she is widely regarded as a champion of women's rights, the author has come under fire in recent years for her views on trans matters, such as her opposition to single-sex places and her opposition to Scotland's gender recognition reform bill. Rowling has denied being transphobic, and her representatives have declined to comment to Sky News on the matter.
"We're at a pivotal juncture"
There is opposition to Hogwarts Legacy in the United States, where Human Rights Watch has warned that a record number of anti-LGBTQ measures were introduced by state politicians in 2022.
"This is an important moment to stand in solidarity with a very marginalized group with a large target on their back," says game developer Brianna Wu, who received death threats in 2014 during the gamergate scandal – a misogynistic online campaign against women in the industry.

A former developer on Hogwarts Legacy, Troy Leavitt, left the project in 2021 after it emerged he had posted videos defending the campaign. He said he had resigned despite being "absolutely secure in my position".
Putting the focus on the art rather than the creator
In a FAQ page, Warner revealed that Rowling did not have any hands-on involvement with the development of the game, although they did collaborate closely with her team.
Sebastian Croft, who voices one of the characters, said he was unaware of her politics when he agreed to do the voice work. He has joined the ranks of other Potter movie stars who have spoken out against Rowling's remarks, including Daniel Radcliffe and Emma Watson.
After promoting author-unaffiliated ventures like the reunion special from last year and the Leavesden studio tour attraction, the publisher is now under fire for allegedly trying to disassociate itself from the author.
As an example of the latter, during a press conference, Sky News was prevented from questioning Tom Felton, who played Potter's nemesis, about Rowling. Warner later stated that this was wholly inaccurate, praising Rowling as one of the world's most outstanding storytellers.
"We are proud to be the studio to bring her vision, characters, and stories to life now – and for decades to come," a statement said.
Sky News has repeatedly asked Warner for comment on Hogwarts Legacy, but they have yet to provide any.
Hogwarts Legacy: Why are people boycotting one of the biggest games of the year? https://t.co/EjWGLWUlGM

— Sky News (@SkyNews) February 6, 2023
There's really no way to forget about her.
Asher and his coworkers at MuggleNet, the oldest Potter fan site, have been facing this conundrum since the site's inception in 1999.
Read more:-
Now, it has a page explaining its commitment to transgender individuals and explaining why Rowling's opinions are out of step with the message of acceptance and empowerment in her works.
Creative director, Kat Miller, tells Sky News: We are all cognisant of the fact that she created this world, and there's no real way to erase her from that – and that's not our goal.
"But… it's not only her views that are bothersome but the fact she doesn't listen to people who are consistently telling her she's causing harm."
We hope you have found all the relevant information about The Hogwarts Legacy: Why Fans are Boycotting the Game. For more latest news and information, stay tuned with us here.
Frequently asked questions
Why is everyone boycotting Hogwarts Legacy?
The writer has been criticized for her views on trans issues, such as single-sex places and Scotland's proposed gender recognition reform bill, which have led to her being seen as a champion of women's rights by many but an opponent of trans rights by others, especially since 2020.
Is Hogwarts Legacy inappropriate?
Is It Okay to Let Your Kid Watch Hogwarts: The Legacy? Blood, Fantasy Violence, Mild Language, Alcohol Use, and Interactable Elements for In-Game Purchases are all listed as Content Descriptors for the T (Teen 13+) rating that Hogwarts Legacy has earned from the ESRB.