The Elder Scrolls V: Skyrim is a massive game, if not the largest ever made in terms of the area it spans. This has ensured its continued existence. Skyrim is now playable on PC, PlayStation 3, and Xbox 360, as well as Xbox One, PlayStation 4, Nintendo Switch, and virtual reality headsets.
The game has now been made available on a wide variety of different platforms, but its essential structure and gameplay have remained unchanged. Skyrim is a contemporary classic that you should play if you haven't already, despite the fact that some of its components are showing their age.
Uncover the mysteries of the druids in the final installment of our #LegacyOfTheBretons year-long adventure in the Firesong DLC. pic.twitter.com/BkMCrUGVzt

— The Elder Scrolls Online (@TESOnline) October 3, 2022
Taking Charge
The way you engage with Skyrim is the most noticeable improvement it provides to the Elder Scrolls world. In particular, how you approach the creatures you want to slaughter there. You may put anything you want into your left and right hands, but the triggers will still have control. Blade and armor? Sure, no sweat. And you've got two knives? That's a given.
The use of a fire spell and a cure, perhaps? , or two healing spells. How about a mix of the elements, like fire and ice? You may map any item in your inventory, whether it is a weapon or a spell, to whatever trigger you choose.
You can't really put into words the impact this has on the game. Combat increases your sense of immersion. The impact of your sword swings is substantial, and they communicate a feeling of might. And the inclusion of random ending move sequences only adds to the game's visceral appeal. You know it with every swing of your sword and volley of your fire bolts: you are a formidable opponent in the world of Skyrim.
Additionally, the other two shoulder buttons are put to excellent use. One of them enables sprinting, a much-appreciated new ability that, as expected, depletes your stamina meter. The second is what your superpowers are based on. Powers include things like racial talents and blessings—the kind of stuff that may be used once per day—and Dragon Shouts, recharging Words of Power that you pick up as you go through the game's plot.
All of this is tied together by a redesigned menu system that is responsive and straightforward to use, even when your inventory becomes large later in the game. A few improvements, such as filters and a "Drop All" button to balance out the returning "Take All" button, are still needed. The Favorites feature, though, is the new menu system's savior.
D-pad mappings for weapons, spells, and items are obsolete. Instead, you may create a master list of often-used objects by marking some items as "favorites" and accessing them with a single click of the D-pad. Here you may assign your collected weapons, spells, and powers to the left and right triggers by hitting the appropriate button (you can assign any button to the "Power" button).
Later in the game, this list becomes congested and difficult to access, but it's still important for making sure you don't waste too much time away from the action while adjusting settings.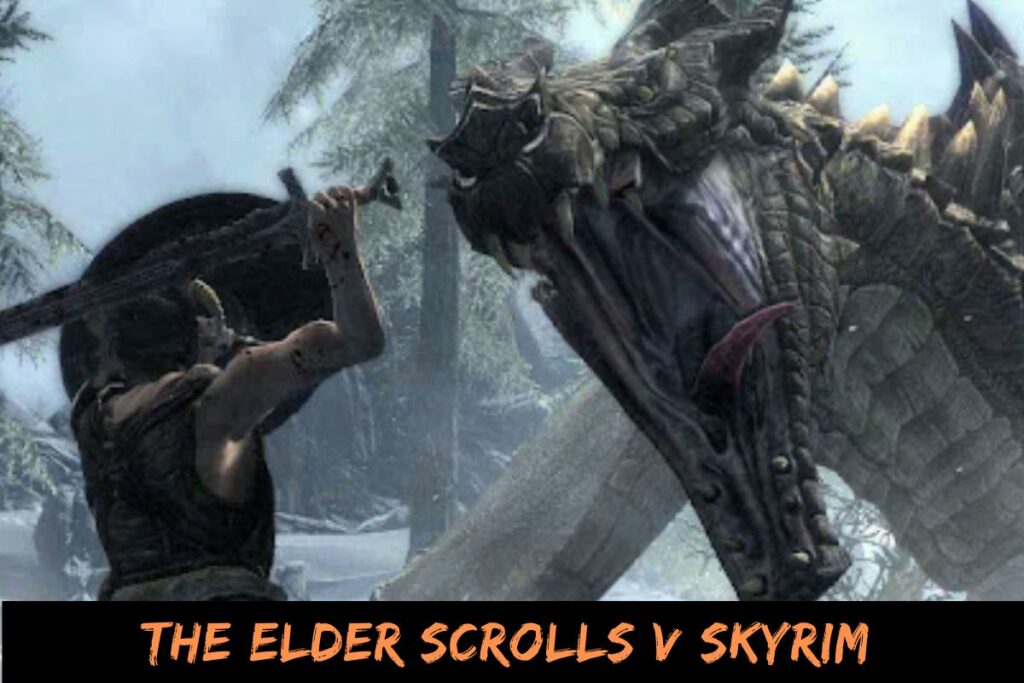 Trying To Find Answers To All Of Life's Questions, Ever
The new Radiant Story system in Skyrim received a lot of publicity in the months leading up to its release. This not only changes the path of a mission on-the-fly, sending you to a new area you haven't explored previously, but it also constantly sends you Miscellaneous quests until you do them all.
Some of these only result in a trivial benefit. Some lead to side quests, while others lead to main story missions. There are tens of hours' worth of content here, and that's just if you follow the strands the game dangles in front of you.
But that's not all. Skyrim is the best of the Elder Scrolls games at making you feel like you're part of a larger world beyond your control. This is a game, after all, and everything revolves around you and your actions, although the cunning use of smoke and mirrors here and there may fool you into believing otherwise. That's a major step for games to take.
There's also the ongoing assumption that you'll be perceptive enough of your surroundings to draw out a variety of hidden meanings and information. My discovery of an intriguing relic in a cave with a book nearby was a rather detailed "adventure" that never showed up in Quest Log.
The book led me to a different part of the planet where I could get the components I needed to restore the relic. I won't reveal what happened next, but suffice it to say that it was more than just a casual talk and a cash payout for a job well done on a quest.
People who play video games for a living may be tempted to "game" Skyrim by using the game's liberal save system to experiment with different strategies to determine which yields better results in certain situations. There are a lot of moving parts in the game, and it's not always obvious if your actions or words will have lasting consequences. It's really close to feeling natural, actually.
Strangely enough, Skyrim's general tempo is very equal to that of Oblivion and Morrowind. There is no discernible change in the way it feels. In a nutshell, it's more interesting and enjoyable. Much more. There is an improvement to the visuals, but it's not as striking as it would first seem. This is not to suggest that Skyrim is not visually appealing; it is a more diversified terrain than Cyrodiil was in Oblivion, and it is visually appealing in its own right. But there's no denying that it's still Elder Scrolls.
More Than That, Dragons Abound
Dragons exist in Skyrim, by the way. Combat is necessary. By the fifty-hour mark, you will have killed more people than you can count. I'd want to claim that your fights have the right amount of spectacular flair, but they just don't. When the music starts playing, anybody and everything around will want to join the battle. It's clear that a lot of effort was put into making each battle seem monumental. However, they do not live up to expectations.
Perhaps it was because I preferred playing a ranged character and killing dragons with arrows and fire bolt spells from a safe distance rather than getting in their faces. But in my game, the dragon battles always followed the same formula.
There doesn't appear to be much variation in how to battle different dragons; instead, you just have to keep an eye on the airborne foe, strike when it lands or hovers, and so on. Throughout my fifty hours (so far) in Skyrim, I've faced numerous difficult encounters, but none more so than my dragon battles.
Please don't misunderstand me. Dragons are a part of the game, and they are spectacular. Dragons (and giants) are the kind of massive enemies that are sorely lacking in the Elder Scrolls canon.
However, I was hoping for a wider variety of dragon "types," given that they are presumably intelligent animals with high cognitive abilities in addition to their large size and considerable physical might. The fact that the dragons all behave in the same predictable ways isn't horrible for the game, but it is disappointing after all the buildup.
Our Opinion
The challenge of Skyrim, the true question we should be asking, is whether or not it lives up to its reputation. Ignoring the dragon problem, yes, it does. Fans of the original Oblivion will see this as a natural progression toward a more expansive game and environment. Everything you were able to accomplish previously is still possible, and more. You may thank the world's design for that; there are moments when Skyrim seems eerily realistic.
Now that you've reached the conclusion of this review, you may be asking why there was no discussion of the plot. There is a main storyline and significant subplots as well. There's a mystery behind the emergence of so many dragons, and you intend to solve it.
No, that's not the purpose at all. Skyrim, like every Elder Scrolls game and expansion pack since Morrowind, succeeds primarily because it lets you write your own narrative as you play, and because it is available on so many different platforms (Xbox 360, Xbox One, PlayStation 3, PlayStation 4, Nintendo Switch, PC, and Virtual Reality headsets), you can do so on the system of your choosing.
Do You Know Of A More Suitable Substitute?
Although Skyrim is still enjoyable several years after its release, there are now a plethora of other open-world action RPGs and games that are comparable to Skyrim that provide the same or similar gameplay. While it's not a perfect comparison, the recent release of The Legend of Zelda: Breath of the Wild had the same effect on us as Skyrim.
In contrast, no other role-playing game provides as vast and immersive a universe as a Bethesda title. You can get a similar experience with Fallout 4, the newest game from Bethesda if you're looking for something a bit more up-to-date.
When Will It Stop?
Skyrim's main story may be completed in 20-30 hours, but the game's many side quests and hundreds of minor tasks mean that it will take years to explore the whole realm.
Is It Worth It To Purchase It?
Yes. Skyrim is still an amazing adventure game, even in 2017. You'll like playing it if you ever have the hankering to slay dragons or explore dungeons in search of loot. A Bethesda Softworks Xbox 360 copy was used for the original review of this game. In the period since we've played it on every other system.
This review has been updated to include discussions about Skyrim on additional platforms, which was done on 12.5.2017. The layout has been revised to adhere to the most recent version of Digital Trends' style guide; a current product suggestion has also been included.
Final Words
We hope you have found all the relevant information regarding The Elder Scrolls V Skyrim Critiques. For more latest news and information stay tuned with us here at Gameempress.com.