The Elder Scrolls III: Morrowind: Bethesda Game Studios created and released The Elder Scrolls III: Morrowind, an open-world action role-playing video game. First released in 2002 for Microsoft Windows and Xbox, it is the third game in the Elder Scrolls series, following 1996's The Elder Scrolls II: Daggerfall.
The bulk of the action happens on the island of Vvardenfell in the Morrowind province of the continent of Tamriel, inhabited by the Dunmer (Dark Elves). The demigod Dagoth Ur, who dwells in the fiery Red Mountain, is the driving force behind the missions. He plans to rise to power and free Morrowind from Imperial rule.
Morrowind may be best known for its incorporation of Dungeons & Dragons–inspired gameplay and Western medieval and fantasy literature tropes, but the game also incorporates steampunk aspects and heavily borrows from Middle Eastern and East Asian art, architecture, and culture.
In contrast to its forerunners, Morrowind places less focus on the game's main story and instead prioritizes a more open, freeform gaming experience. The wide and intricate environment of Morrowind helped moderate the negative reviews that this decision garnered.
Morrowind was a commercial and critical success upon release, selling over four million copies around the world by 2005 and receiving numerous awards (including Game of the Year). Since then, it's been widely hailed as a masterpiece of the gaming industry. The game's success led to the creation of two add-on packs:
Tribunal and Bloodmoon. In October of 2003, both were bundled together with a few minor expansions and renamed Morrowind: Game of the Year Edition. Users of Linux and macOS, in addition to Windows, can run the game natively thanks to OpenMW, a free software alternative game engine that uses the same game mechanics as the original Bethesda engine but offers optional support for higher-end graphics.
This quote from The Elder Scrolls III: Morrowind is truly unforgettable 👀 pic.twitter.com/dB75SLFerH

— GOG.COM (@GOGcom) August 14, 2021
Read more:-
It requires an installation of the original game, as it uses the Bethesda game data files, and supports several third-party mods. The Xbox version of Morrowind is backward compatible, thus you can play it on your Xbox One or Xbox 360 Series X/S console. The Elder Scrolls IV: Oblivion came out in 2006, after Morrowind.
The Elder Scrolls III: Morrowind Gameplay
After serving time in jail, the player character in Morrowind first arrives in the city via boat, hoping to be released. This opening sequence appears repeatedly in the primary episodes. The player is guided through the character creation procedure with a tutorial showing the prisoner's release.
While registering as a free citizen, the player is given questions by a fellow inmate, an officer, and a bureaucrat in that order, giving the player the opportunity to give their character a name, race, gender, social class, and birthing of their choosing. What these do is alter the player's base stats, abilities, and skills.
The player can then choose their class in one of three ways: from an existing list of classes, by answering a series of questions designed to generate a class, or by making up their own class from scratch.
Expertise Structure
The player's character improves their expertise through study, training, and practice. Performing the corresponding tasks over and over again will increase a character's competency in that skill. When you hit an adversary with a weapon, you gain experience; when you wear armor and take damage, you gain experience with that sort of armor.
Training entails giving cash to non-player characters (NPCs) in exchange for immediate competency increases in that skill. Books can be read for study, and some of them will instantly increase a talent when read. Weaponry skills affect the character's chance to hit. Defense in armor is influenced by one's armor training. Other skills affect proficiency in other tasks like potion-making, running, lockpicking, etc.
Morrowind, like its predecessor Daggerfall, makes a distinction between "attributes" and "skills"; skills being those individual proficiencies in particular schools of battle or with particular armor classes, and attributes being broader proficiencies, such as "strength" and "endurance", which are either tied to important features unconnected to any skill, (health, evasion chance, etc.) or improve the efficiency of a wide variety of skills.
The player's character's strength increases the destructive potential of any physical attack. However, attributes may only be boosted as the player advances through the game.
Players advance their characters by collecting experience in 10 "major" and "minor" skills. At each new level, the player is given the option of boosting three qualities at once. Increasing the player's proficiency in a skill increases the multiplier by which that skill's governing attribute is augmented, making it easier to increase stats that are relevant to the player's playstyle.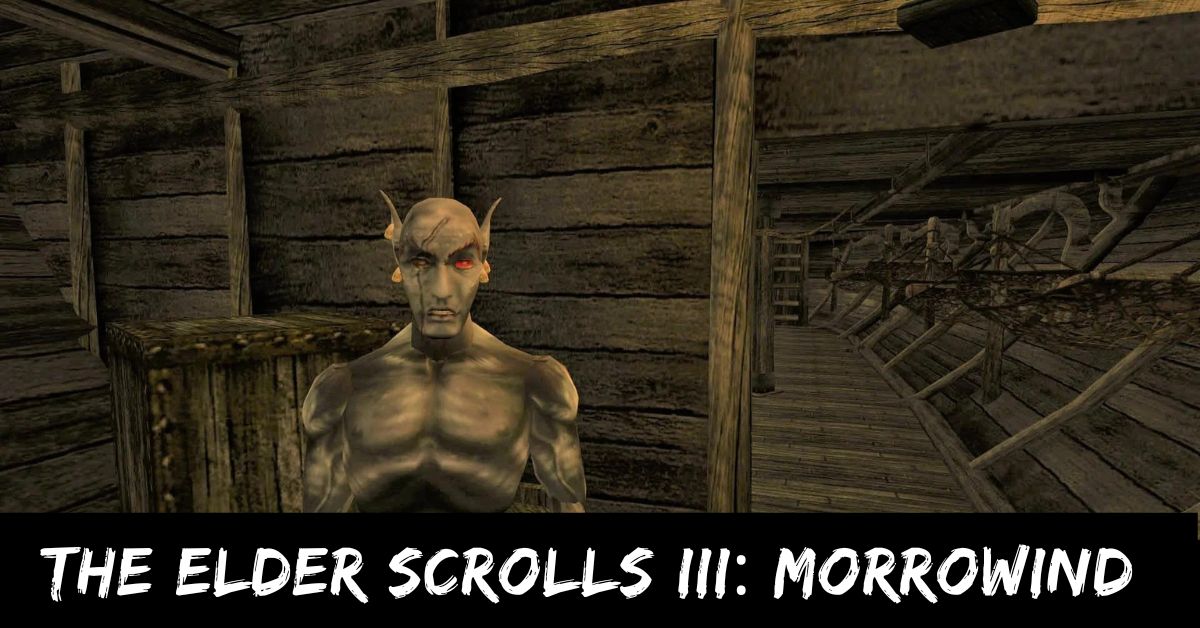 The Elder Scrolls III: Morrowind Combat
A slashing motion, such as a chop, is the most fundamental melee assault. Complex slash and thrust attacks are executed by clicking in tandem with tapping a directional key, while the "always utilize best attack" option allows players to forego the movement and focus just on the combat.
Read more:-
For each of these strikes, the damage potential of a melee weapon is estimated. The reviewers agreed that there wasn't much of a difference between the three attack types for most weapons, and they suggested always going with the best attack. Each attack's success or failure is calculated by multiplying the attacker's skill by a secret arithmetic modifier.
When the game was first released, there was no way to tell how much health your enemies still had or how powerful your attacks were. Critics were disappointed by the lack of a more obvious response. In patch 1.1.0605, issued a month after Morrowind's launch, Bethesda implemented enemy health bars.
The Elder Scrolls III: Morrowind Awards
The editors of Computer Games Magazine named Morrowind the third-best computer game of 2002, and wrote, "Unlike its ambitious but ultimately flawed predecessors, this is Herculean role-playing that works." It was a nominee for PC Gamer US's "2002 Best Roleplaying Game" award, which ultimately went to Neverwinter Nights. Morrowind won GameSpy's PC RPG of the Year Award, though it lost to Neverwinter Nights in reader polls, ranking 24% against Neverwinter's 34.9% popular support.
It won IGN's RPG Vault's Game of the Year Award, IGN's PC Roleplaying Game of the Year Award in both its editorial and popular forms, RPG Vault's Game of the Year Award 2002, and was IGN's reader's choice for Best Story. Morrowind lost GameSpot's best PC RPG of 2002 award to Neverwinter Nights, but won best Xbox RPG, and was nominated in the "Best Story on Xbox" and "Best Graphics (Artistic) on Xbox" categories.
Here's to 20 years of The Elder Scrolls III: Morrowind. 🎉

What was your favorite Morrowind memory? pic.twitter.com/ootdY3kjbY

— The Elder Scrolls (@ElderScrolls) May 1, 2022
Morrowind, in addition to its nomination in music composition, was also nominated in the category of "Computer Role-Playing Game of the Year" at the 2003 Interactive Achievement Awards, but lost, again, to Neverwinter Nights.
In 2003, Morrowind received the dubious honor of ranking 21st on GameSpy's "25 Most Overrated Games" list, for its "buggy, repetitive, and dull gameplay". In 2010, IGN ranked Dagoth Ur 90th in the "Top 100 Videogames Villains".
Frequently asked questions
How is Morrowind different from Skyrim?
Whereas in Morrowind, the damage is based primarily on statistical advantage and random chance, in Skyrim, it is based primarily on skill and accuracy. This is true not only in the realm of warfare but also in other fields like lockpicking.
Is Elder Scrolls Morrowind a good game?
Morrowind's complicated gameplay and compelling plot have made it a fan favorite among Elder Scrolls games.
Is Morrowind better than Skyrim?
Final Words: We hope you have found all the information regarding the Elder Scrolls Iii: Morrowind Gameplay, Awards, and More Information. For more latest news and information stay tuned with us here at Gameempress.com.