Updates to the life simulation series, including The Sims Mobile and The Sims FreePlay, as well as The Sims 5, were previewed at the most recent Behind the Sims Summit (we mean Project Rene). And indeed, non-inanimate infants are on the way.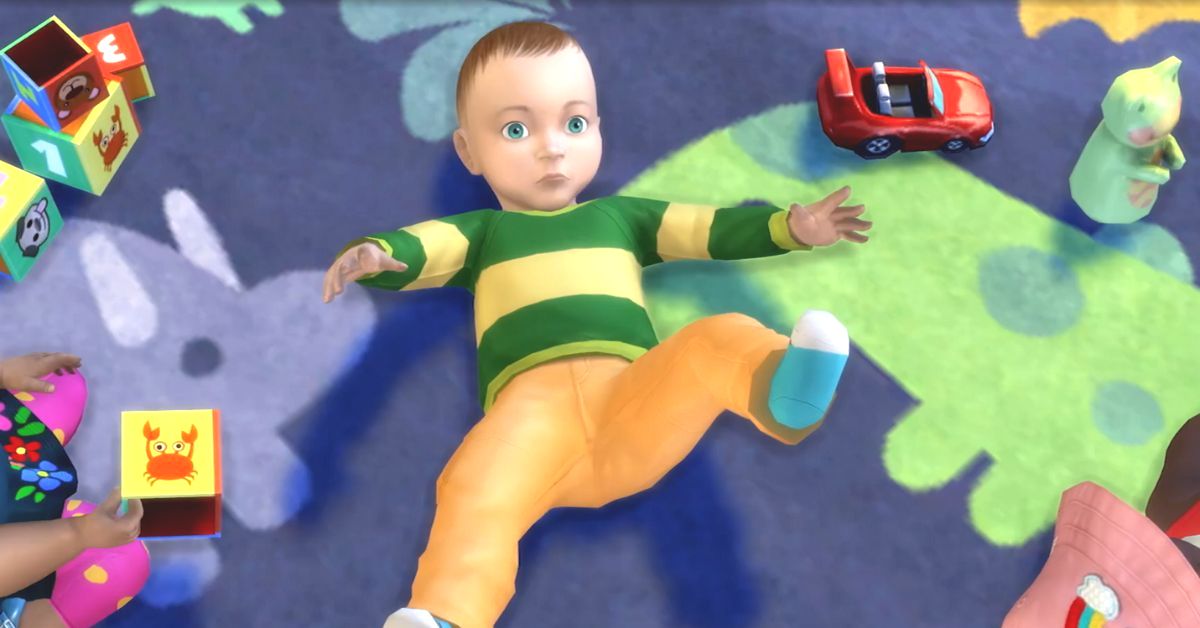 Get Set to Welcome the Newest Members of the Sims 4 Family
First hinted upon in October 2022, The Sims 4's huge baby update is being held back until March 14 to coincide with the Sims Summit.
Despite their historical significance in the series, babies have been reduced to inanimate objects in The Sims 4 since its debut in 2014.
Your Sim's newborn(s) sat in their cradles doing…well, not much of anything after their birth. A small selection of social interactions and caregiving tasks were available for your Sims to complete with the infants, such as feeding, diapering, and soothing.
However, you could not dress them, remove them from the cradle, or even recognize their traits. On March 14th, a plethora of new choices will become available to Simmers.
Each cherub can express its individuality thanks to the available personalization possibilities. Alternate styles of hair, garments, and accents are now available.
Freed from their bassinets, newborns can now be held, nursed, played with, and even passed on to other Sims for fresh experiences.
With the ability to communicate with Sims of all ages, your made-up family will no longer feel like a therapy session in waiting. The same is true for infants. Imagine! A newborn with more character than a statue!
Sims 4 Expansion Pack Rumors: What's Next for the Game?
Yes! Unfortunately, no information was released by The Sims team. The next update is scheduled for February 2nd so we won't know much more until then. The franchise will celebrate its 23rd year in existence two days later.
It is widely speculated, however, that a "Generations" Expansion Pack will be released shortly. Generations, which includes new family-themed gameplay and objects, is one of the Sims' many "classic" expansion packs.
The release date being so close to the Big Babies upgrade has sparked this conjecture. A similar phrase, "Meet the family," was used at the Behind the SIms Summit. And fortunately, we won't have to wait too long to find out.
INFANTS RELEASE DATE, NEW ANIMATIONS, CRIBS, BABY FOOD & MORE! the sims 4 infant update

💗✨https://t.co/v4rsN5Qhae via @YouTube #Infants #TheSims4 pic.twitter.com/4Kd0Sv4nbm

— fantayzia ୨♡୧ (@fantayziayt) January 31, 2023
The Sims 5: Create Your Dream Life and Live it to the Fullest
During today's Sims Summit, the team behind the popular simulation game revealed new information about the upcoming game, codenamed "Project Rene." Much of it expanded upon the bare bones of information given to fans at the previous Sims Summit in October.
Project Rene's director, Grant Rodiek, talked about the game's cross-play and multiplayer possibilities, including the ability to play on mobile devices and PCs.
Rodiek claims that while mobile games allow players to take their Sims with them wherever they go, PC games provide a more comprehensive experience with more robust customization options.
The game director compared playing on a desktop computer at home to playing on a mobile device while in a park with his young child.
While The Sims has traditionally been a single-player series, Rodiek assured fans that The Sims 5 would not take an MMO approach to multiplayer, instead letting players invite as many friends as they like.
A good analogy might be the single-player RPG Animal Crossing, in which players can choose to host guests on their islands at will or go it alone.
The Sims 4 Infant CAS options are SO CUTE 😭 pic.twitter.com/SMVwoMRPU8

— Andrew 🕹️ Vtuber (@AndrewArcade) January 31, 2023
After making the announcement late last year, the development team has been slowly releasing "little bits of the game" for restricted playtesting.
These snippets have included apartment customization, multiplayer customization, and the ability to upload furniture and item design. Still, the team remained adamant that progress was being made. The next generation, according to Rodiek, is still "years out."
If you're interested in the latest news and information, follow us on Google News and Twitter.