Microsoft has stated that it has entered into collaborations with Nvidia and Nintendo in an effort to win over European Union officials and get them to approve the company's $69 billion purchase of Activision Blizzard, the developer of the Call of Duty video game series.
It was reported on Tuesday that Microsoft President Brad Smith met behind closed doors in Brussels with EU regulators and competitors to address worries that Microsoft's acquisition of Activision Blizzard could harm competition in the video game sector. U.S. and British authorities have both expressed concerns about the transaction.
Similar posts:-
After announcing a 10-year collaboration, Microsoft (MSFT) will deliver Xbox PC titles to Nvidia's cloud gaming service. According to a statement released by the software company, "Nvidia's issues with Activision Blizzard have been resolved" thanks to the alliance. Thus, Nvidia is providing its full backing to ensure the acquisition is approved by the relevant authorities.
We've now signed a binding 10-year contract to bring Xbox games to Nintendo's gamers. This is just part of our commitment to bring Xbox games and Activision titles like Call of Duty to more players on more platforms. pic.twitter.com/JmO0hzw1BO

— Brad Smith (@BradSmi) February 21, 2023
After the Activision-Microsoft merger is complete, Microsoft will bring the newest Call of Duty game to the Nintendo platform under the terms of a 10-year deal.
According to Smith's interview with Richard Quest published on Tuesday, "a lot changed today because Microsoft announced two agreements that together will bring Call of Duty, the game that everyone has been talking about, to 150 million more people on Nintendo devices and Nvidia's cloud streaming services." He went on to claim that the two agreements put an end to fears that Call of Duty would become less accessible than it is now, and would actually make it more so.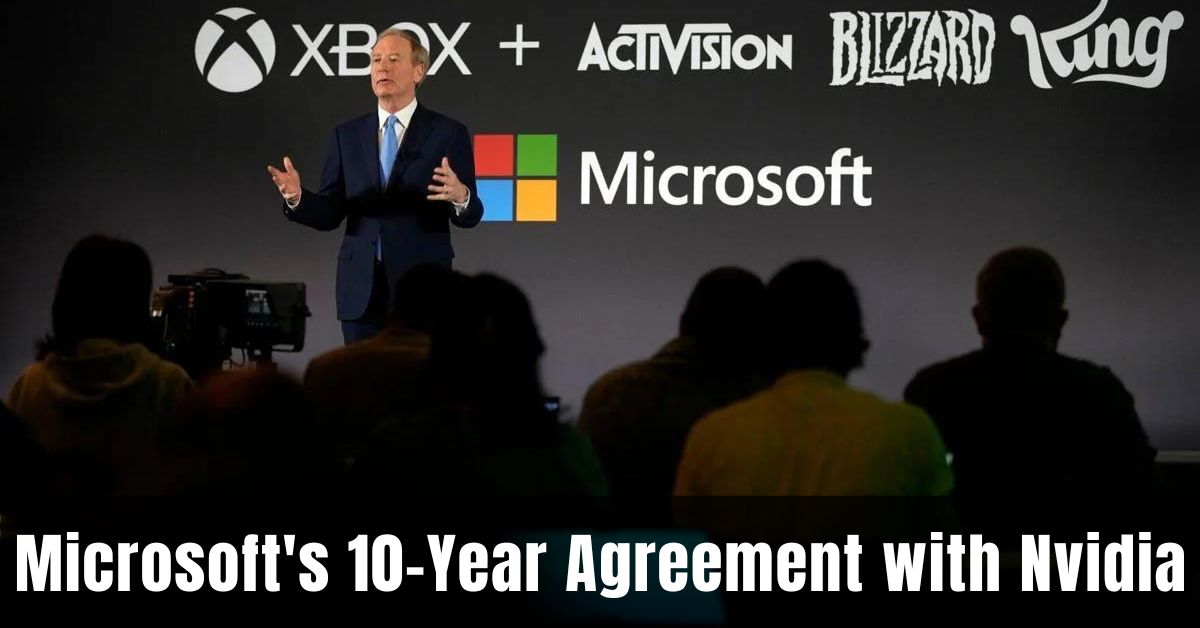 "We're really down to one principal company that is objecting to this deal, and that's Sony, and we've made clear that we're happy to enter a 10-year agreement with Sony and we're prepared to enter regulatory obligations as well, whether it's London or Brussels or Washington," Smith said. "So, in addition to a contract, we'd have a duty under the law."
We have signed a 10 year agreement with NVIDIA that will allow GeForce NOW players to stream Xbox PC games as well as Activision Blizzard PC titles, including COD, following the acquisition. We´re committed to bringing more games to more people – however they choose to play.

— Phil Spencer (@XboxP3) February 21, 2023
Read more:-
In this article, we have covered all the relevant information about Microsoft's 10-Year Agreement with Nvidia and Nintendo to Fight for Activision. Stay tuned with us here for more latest news and information.
Frequently asked questions
When will Xbox games be on Geforce now?
Feb. 21, 2023, There are currently more than 25 million customers of NVIDIA's GeForce NOW cloud gaming service from more than 100 different countries, and on Tuesday, Microsoft and NVIDIA announced a 10-year partnership to bring Xbox PC titles to the service.
Did Microsoft buy Activision?
On Tuesday, February 21, Microsoft made full use of all available resources in order to move the needle on its acquisition of Activision Blizzard.
When will Xbox Activision deal close?
Xbox has said that it expects the $68.7 billion acquisition of Activision Blizzard to close in June 2023.