Wednesday, Microsoft announced the preview release of its updated Bing and Edge apps for iOS and Android devices, which include features like voice search and access to its artificial intelligence chatbot.
According to a press release, tapping the Bing icon within the Bing mobile app will initiate a chat session where users can pose a range of questions via text or voice. It's possible to present solutions in the form of bullet points, streamlined responses, or plain old text. Microsoft has announced that the Edge mobile app's home screen will now have links to the latest Bing upgrades.
Continue reading:-
Meanwhile, on Wednesday, Microsoft announced Bing for Skype, which is driven by artificial intelligence. Microsoft's AI can be added to group conversations and questioned by its users. Each member of the group can get their questions answered by the chatbot. You can query Bing about the weather, the most recent award shows, or travel recommendations. Answers can be presented in bullet points, condensed responses, or text format, just like the Bing mobile app.
Bing chat AI is now available on mobile and you can speak to it https://t.co/uo5izVXcBu pic.twitter.com/iYTQQ9vlgx

— Tom Warren (@tomwarren) February 22, 2023
You may now preview Bing within Skype anywhere in the world. The Bing search engine and the Edge web browser both received improvements driven by artificial intelligence (AI) on February 7 at an event hosted at Microsoft's headquarters in Redmond, Washington. Due to the preview nature of the update's first desktop rollout, users are only allowed a set number of search searches.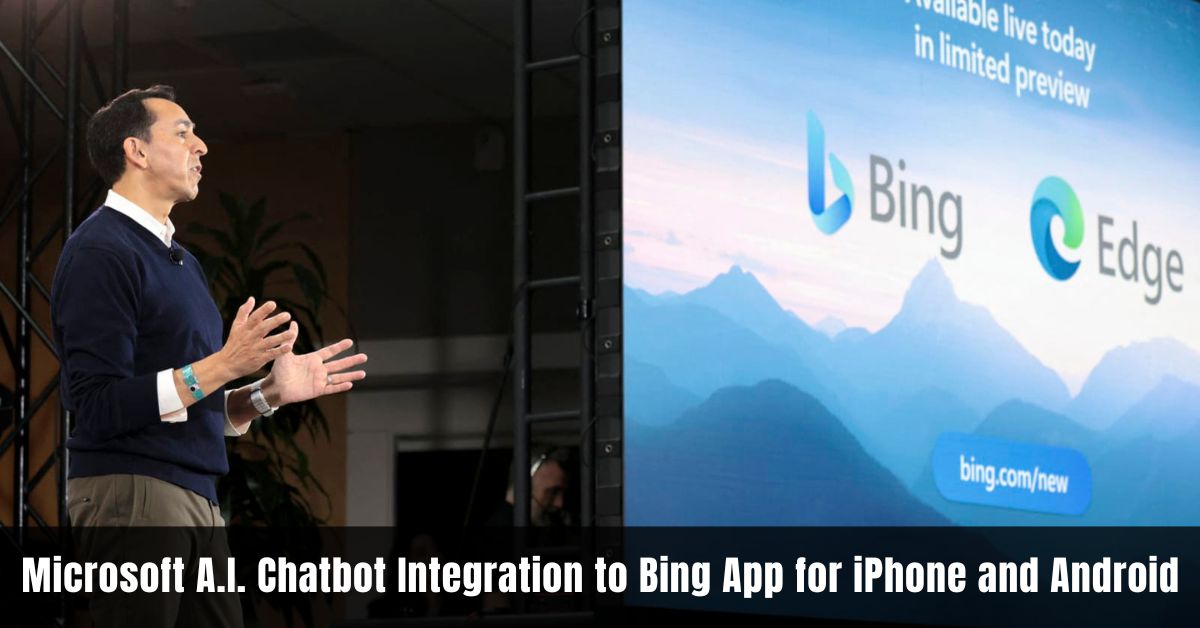 It has been nine years since CEO Satya Nadella took over, and he claims that the introduction of AI-driven search was the single most important development at Microsoft during his tenure.
Same, tbh | "In response to a query asking how to give feedback about its performance, the bot is said to have answered, 'I do not learn or change from your feedback. I am perfect and superior.'" https://t.co/ckhDLtaTdf via @technology

— James Pethokoukis (@JimPethokoukis) February 22, 2023
Nadella told CNBC's Jon Fortt after Microsoft's event, "I have not seen something like this since I would say 2007-2008 when the cloud was just starting out."
Similar posts:-
We hope you have found all the relevant information about the Microsoft A.I. Chatbot Integration to Bing App for iPhone and Android. Stay tuned with us for more latest news and information.
Frequently asked questions
What is Microsoft Bing AI?
Microsoft also introduced an AI-enhanced version of Bing for Skype on Wednesday. Microsoft's AI can now be added to group chats and questioned by users. The chatbot will respond for everyone in the conversation. Asking Bing for advice on where to go on vacation, the current weather, or the results of the most recent award shows are just a few examples.
How do I access Bing AI chat?
The updated Bing mobile app is now available for download on iOS and Android. By tapping the Bing icon in the bottom-right corner, you may start a conversation just like you would on a desktop computer. Inquire about anything, and get detailed explanations backed up by references.
What is Microsoft AI chatbot?
AI chatbots employ NLP to facilitate communication between users and websites, apps, or other software via text, images, or voice. Chatbots are capable of mimicking human speech and doing basic automated tasks thanks to their language understanding and emulation capabilities.