Fortnite Chapter 4 Gameplay: Fortnite has always been a game with a lot of updates, but the latest Chapter update is truly groundbreaking. Fortnite's Chapter 4 update, like its two precursors, has brought about significant changes to the game's experience, including the transition of the battle royale mode to a new engine, the introduction of a completely redesigned map, and the introduction of a plethora of new content, such as new characters, weapons, and vehicles.
Players who have been playing Fortnite for a while won't be too shocked by the Chapter 4 update, as the game has undergone similar massive overhauls previously. However, this new upgrade may seem daunting to players who are just getting started. It's likely that new players would want a review of all the changes made in Fortnite Chapter 4.
If you would like to support me:

Use Code FNNWSC3 while purchasing the Battlepass🥰❤️#Ad #Fortnite pic.twitter.com/uyJ78AcJsb

— FortniteNewsC3 | Chapter 4 Leaks & News (@FortniteNewsC3) December 4, 2022
Fortnite Chapter 4 Gameplay
The third chapter of Fortnite saw the introduction of a new sprinting and climbing mechanism developed by Epic Games. Players could now lift themselves up onto a ledge by holding down the jump button. Chapter 4 of Fortnite enhances this movement by introducing the options to mantle and vault over obstacles.
A player can now continue their forward motion after running into a fence, hedge, or other impediment and simply leaping over it. Players now have another mode of transportation available to them in Fortnite: Chapter 4, the Dirt Bike. While riding one of these bikes, players can fire weapons and execute acrobatics to earn experience bonuses. All around the globe, players can seize control of strongholds that, if held for long enough, can yield valuable rewards.
New weapons have been added to the game, as is customary after any Fortnite patch. The famous SCAR assault rifle returns in Fortnite Chapter 4, while a new weapon called the Red-Eye Assault Rifle, which is more of a marksman rifle with semi-auto fire, is now available.
Gameplay of the upcoming 1st Person mode! #Fortnite #FortniteNewspic.twitter.com/Cm7iXYBfKE

— FortniteNewsC3 | Chapter 4 Leaks & News (@FortniteNewsC3) December 7, 2022
We've also introduced a fast-firing Tactical Pistol to the game to go along with the Twin Mag SMG, which has a cool ability to reload in a hurry. In addition, there are two new shotguns—the Maven Auto Shotgun and the Thunder Shotgun—with the latter having a greater impact but requiring twice as much ammo and a longer reload time.
The Shockwave Hammer and Ex-Caliber Rifle introduced in Fortnite Chapter 4 are the game's most anticipated new weaponry. The primary method of attacking with the new Shockwave Hammer is slamming it down, which causes the player's enemies to be thrown backward and any nearby buildings to be destroyed.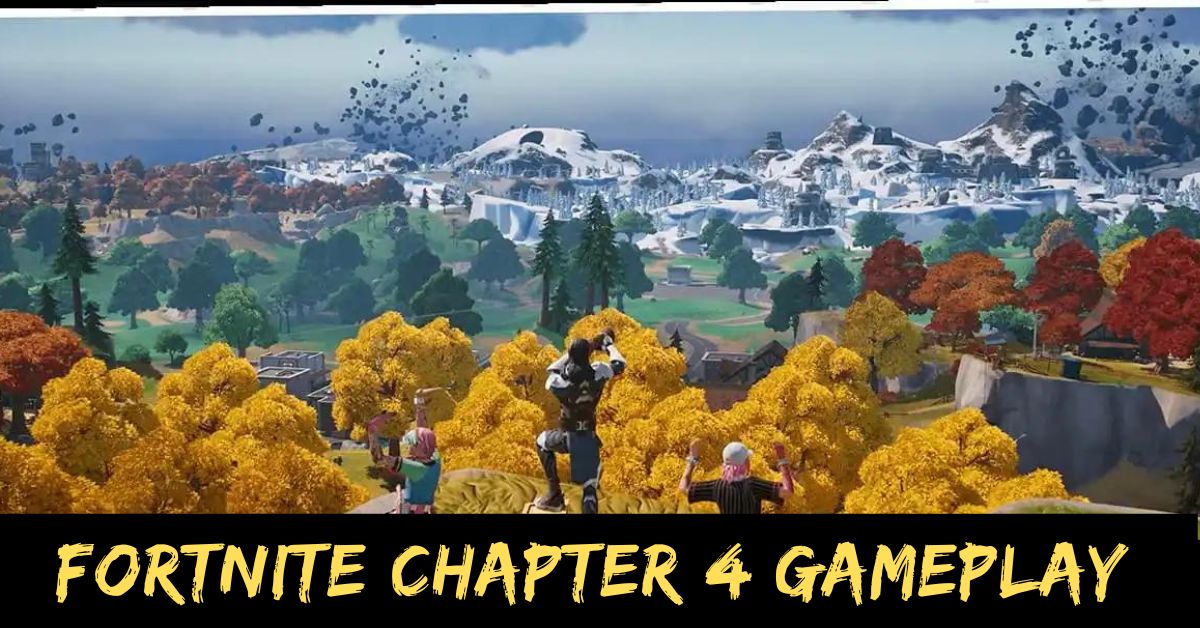 In the meantime, the secondary strike can be used to catapult the user into the air. By contrast, the Ex-Caliber launches a purple sword at its foes that, upon hit, expands and explodes, dealing twice as much damage.
The new Augment system is the most significant gameplay addition in Fortnite Chapter 4. Players will have the option to use Augments during the course of a game to give themselves a competitive edge. When using a console, pressing right on the D-Pad brings up a random selection of two Augments for the player to choose from.
Late Game Arena returns!

(Solo & Trio)#Fortnite #FortniteNews pic.twitter.com/sG1aWlEDfK

— FortniteNewsC3 | Chapter 4 Leaks & News (@FortniteNewsC3) December 6, 2022
These augmentations allow for everything from faster arrow reloading and arrow regeneration over time to regenerating health and shields when hiding behind foliage. The more of the match you make it through, the more Augments you can equip at once. The introduction of these new Augments has the ability to drastically alter the outcome of a match, and their existence is guaranteed to keep even the most seasoned Fortnite players on their toes.
What's your favorite POI?#Fortnite pic.twitter.com/W5k2VhetpV

— FortniteNewsC3 | Chapter 4 Leaks & News (@FortniteNewsC3) December 6, 2022
Fortnite may now be played on a wide variety of platforms, including mobile devices, personal computers, PlayStation 4, PlayStation 5, Switch, Xbox One, and Xbox One X/S.
Frequently asked questions
Is there a chapter 4 in Fortnite?
You may ride a dirt bike, roll in a snowball, propel yourself with the Shockwave Hammer, and leap over barriers in the fourth Chapter of Fortnite's Battle Royale.
Will there be Chapter 5 in Fortnite?
There won't be a Season 5 of Fortnite: Battle Royale for Chapter 3.
Fortnite Season 4, Chapter 4 is expected to be released on December 5 after a live event on December 3.
What is the next Fortnite season?
On the 11th of March, 2023, Season 2 of Fortnite will begin with Chapter 4. The new season of an Epic Games game often begins the day after the previous one concludes.
Which chapter is now in Fortnite?
The fourth installment of Fortnite's battle royale has here. With the new Chapter, Fortnite Battle Royale is using the most recent version of Unreal Engine 5, version 5.1. This allows the game to take advantage of the most cutting-edge capabilities of the engine.
Final Words:  This article includes all the information about the Fortnite Chapter 4 Gameplay and Covers Newly Added Features. For more latest news and information stay tuned with us here at Gameempres.com.