In Hogwarts Legacy, Alohomora unlocks the ability to pick locks all across Hogwarts and the surrounding area. After being bombarded with frustrating locks you can't break through at the beginning of Hogwarts Legacy, you'll eventually learn Alohomora as the game's primary plot develops.
You may check out all of the spells in Hogwarts Legacy in our comprehensive guide.
Similar posts:-
Hogwarts Legacy: Unlocking the Secrets of Alohomora
Hogwarts Legacy's primary plot quest The Caretaker's Lunar Lament is where you'll learn Alohomora. This can take anywhere from three to five hours to complete, depending on how quickly you're making your way through the quests.
Alohomora! Unlock the secrets of the Harry Potter Photographic Exhibition now open at @HPOnLocation. https://t.co/XG2efxW3vl

— Harry Potter Film (@HarryPotterFilm) July 12, 2021
When the time comes, Gladwin Moon, the caretaker, can be found beside the Grand Staircase's floor flame. You'll have to help Demiguise, who is terrified of statues, by finding moons for him and destroying them along the adventure. You can use the Alohomora he teaches you to sneak inside the faculty tower and steal some Demiguise moons from there.
Hogwarts Legacy: a Guide to Picking Locks
Hogwarts Legacy's lock-unlocking process is similar to the lock-picking minigames found in other role-playing games. Once the green and red lights' corresponding gears begin to rotate, you'll know they're in the correct positions.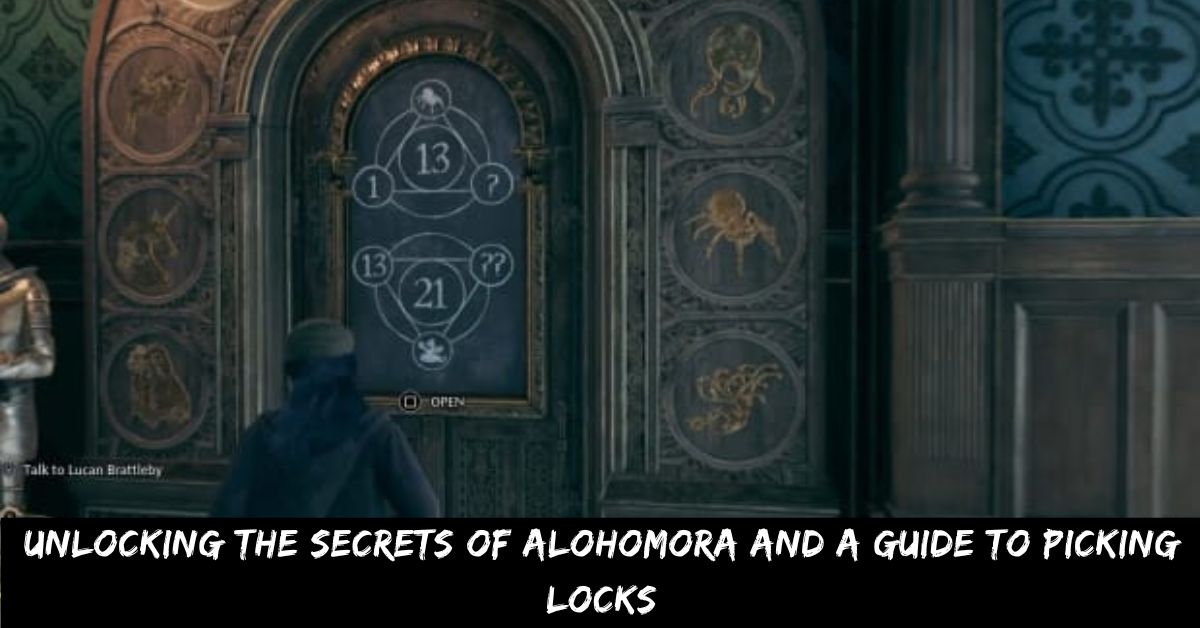 The green indicator for the lowest right gear is located on the outer green ring. While the red indicator for the inner gear can be found within the inner red ring.
One useful hint for the lockpicking minigame is that the lights can only be placed in the cardinal and intercardinal locations, or at intervals of 45 degrees. Don't bother investigating the nooks and crannies; instead, turn your lights here.
Alohomora! Can finally unlock this secret project of mine and show you the gift I designed and made from scratch for the husband's bday. 🤓 #HarryPotterMonopoly!!! Stay tuned, will be posting more pics. pic.twitter.com/sld9GMfOoc

— Treetop Treasures (@TreetopT_Gifts) October 7, 2019
How Do I Disable the Second and Third Level Locks?
Finding Demiguise statues and amassing a sufficient number of Demiguise moons is required for unlocking locks of levels two and three. Demiguise moons should only be gathered after dark.
On to Level 2: Give Gladwin Moon nine Demiguise moons.
Get Gladwin Moon thirteen Demiguise moons for Level 3.
In Hogwarts Legacy, you won't just have to worry about opening locked doors; there will also be eye-chests and Arithmancy door riddles to solve.
Read more:-
We hope you have found all the relevant information about Hogwarts Legacy: Unlocking the Secrets of Alohomora and a Guide to Picking Locks in Hogwarts Legacy. For more latest news and information, stay tuned with us here.
Frequently asked questions
How do you get lock pick in Hogwarts legacy?
The first thing you need to do is complete the main story quest "The Caretaker's Lunar Lament" to learn the Alohamora spell. Second, you'll now be able to pick level-one locks. The third step is to cast the spell on a lock that you are able to pick. Fourth, direct the on-screen sparks of different colors with the left and right analog sticks.
How do you unlock level 1 doors in Hogwarts?
There are numerous locked doors at levels 1, 2, and 3 that require you to learn the spell Alohomora in order to open them. But, like with many other things in the game, you won't be able to do it until a specific point in the plot has been reached.