The Sims 5 Release Date: The announcement of The Sims 5 came as a surprise, as did the fact that Electronic Arts has already begun teasing us with glimpses of the upcoming main Sims game's features.
Maxis has announced that it is actively creating the Sims 5, though this may not be the ultimate name, shortly after making the base game Sims 4 free-to-play and promising continuing gameplay improvements and DLCs.
In a departure from previous Sims games, Maxis has promised to preview some features that are still in the works several years before they are released.
Consequently, while there are still many unanswered concerns concerning the forthcoming Sims game, some of the rumours have been debunked. New (and returning) features, gameplay footage, and rumours of multiplayer are all detailed below.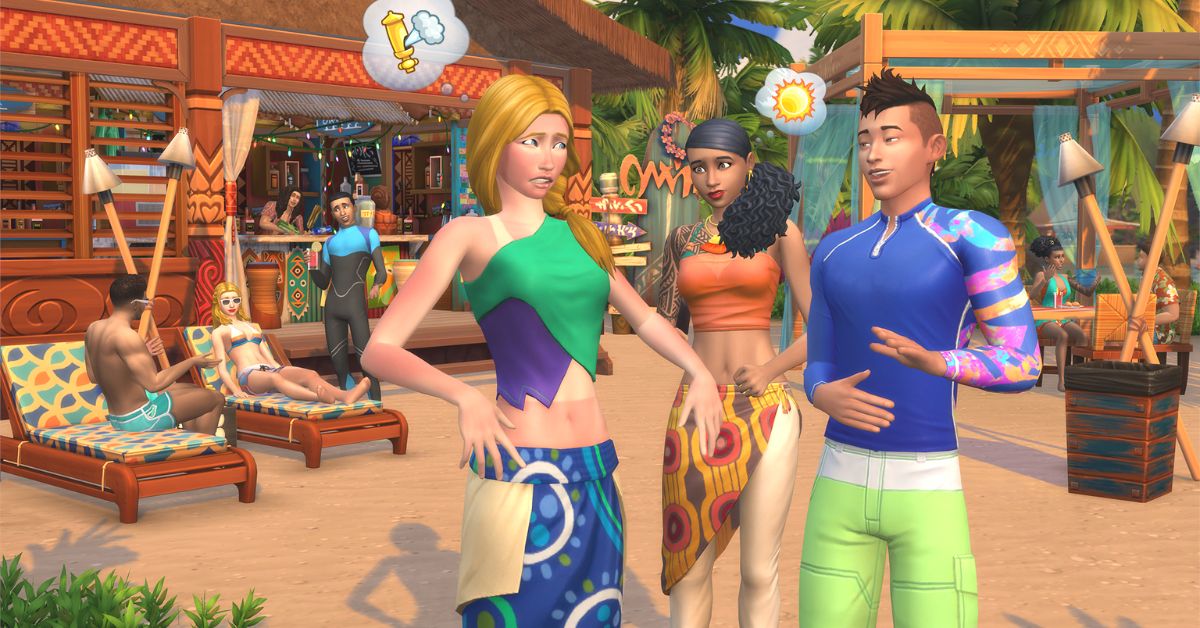 The Sims 5 Release Date
The next Sims game has not been allocated a release date or year by Electronic Arts. It's safe to infer that The Sims 5 won't be released until at least 2024, given that Maxis launched it as Project Rene in October 2022 and that it will reveal inside glimpses at development "over the next few years."
In addition, after The Sims 5 is released, developers at Maxis anticipate the game to remain popular with players for some time. It appears that Electronic Arts is banking on the "next generation" of The Sims being just as popular, if not more so than The Sims 4, which was released in 2014.
During the unveiling of Project Rene, Lyndsay Pearson, the company's vice president of creativity, remarked, "I have the opportunity to assist shepherd the franchise into the next decade and beyond."
It was mostly empty corporate jargon, but I think it's safe to infer that the next Sims game will be supported for quite some time.
The Sims 5 Gameplay
Maxis stated that the footage shown at 2022 Behind the Sims Summit was from an early stage of development and not representative of the final gameplay or visual style. However, we did see some "gameplay" footage, albeit very early footage.
Some of the characteristics we've noticed thus far include:
The Sims 3 remake brings back the Create-A-Style feature.
Modular construction game for online play
Putting up an individual room set-up in the Gallery
Streamlining modular furniture, including decorative accessories
Rotation on several axes, at least for decorative elements
Fans of Build Mode will be pleased to hear that Create-A-Style has returned, especially since modular parts have been added to the mode.
Previously, it has been shown that players will be able to change out components such as a bed's headboard and footboard independently, as well as alter patterns and colours.
Additionally, in the first Project Rene video, we saw a lot of throw pillows and blankets being used as accents, which is an advancement over the older version of the styling tool.
Players are also wondering if apartment lot types would be included in the new Sims base game, which was part of the first unveiling. When we first watched the film it was edited, it did make the space look like one unified unit.
Will the Sims 5 have multiplayer? 
The Sims 5 will feature multiplayer in some form, although Maxis hasn't said how extensive this "collaboration" will be.
"Our hope is that Rene will streamline communication and collaboration. You may have fun and make stuff by yourself, or you can get your closest friends involved "at the unveiling of Project Rene, Pearson stated.
Now we know that you'll have control over how deeply you immerse yourself in online games. The creators did demonstrate cross-platform play between a PC and a mobile phone in the 2022 Sims Summit.
It appeared that both gadgets were altering the same space at the same time, down to the placement of individual pieces of furniture. We have no idea what Maxis has in store for online play in Live Mode. All we have to go on are Andrew Wilson's few remarks as CEO of Electronic Arts in a 2020 conference call.
According to Wilson, "this notion of social interactions and competition like the kind of things that were actually present in The Sims Online many, many years ago" will start to become a part of The Sims experience in the years to come as Maxis continues to think about The Sims for a new generation across platforms and a cloud of a neighbourhood world.
The phrase "social interactions and competitiveness" in Wilson's answer is quite intriguing, but we need more information about it before we can draw any conclusions.
When they bring up the phrase "The Sims Online," it makes us question if EA and Maxis are actually going for a new massively multiplayer Sims game. However improbable it may seem, the next Sims game will definitely have online multiplayer.
Will Sims 5 support mods and custom content?
In any case, we can only speculate, but we do know that the Sims games have a rich history of player-generated material.
With the continued success of Sims 4 mods, The Sims 4 now has official mod support in the form of a CurseForge hub, and it's hard to think that Maxis won't take the same route with Sims 5, allowing for a plethora of user-created content.
The question of whether this will be included in the original release of The Sims 5 or will be added at a later date is now unanswered.
Are there any Sims 5 leaks in the wild?
While The Sims 5 may be a ways off, there are already cracks in this specific bucket. In November of 2022, a Reddit thread from a now-deleted account published several monitor shots of early Sims 5 playtest games, marking the first genuine leaks of the game.
Those pictures have been shared all over the internet, including on Twitter. Despite the fact that it's important to treat any rumours with scepticism, the fact that the Sims 5's UI in these photographs is consistent with the reveal makes them more likely to be true.
In addition, they provide the first look at the game's neighbourhood perspective, hint that player-designed residences will be included in the game's core feature set, and show off a bit of the feature ecosystem surrounding such items.
What else in the Sims 5
During the special event on October 18, EA and Maxis showed off some early sketches for The Sims 5 that hinted at increased customization in terms of structures. It's possible to personalise each item. Bed frames and sofa cushions are used as examples.
We also witnessed a colour selector, meaning that players aren't tied to a predetermined palette and that players can give each surface and component a unique colour scheme and pattern. In addition, the preview demonstrated a player adjusting and repositioning sofa cushions for optimal comfort.
Leaked Sims 5 playtest screenshots suggest apartments will be part of the base game this time, thank goodness. https://t.co/6eGtKAmJ4k

— PC Gamer (@pcgamer) November 12, 2022
Those are the only features confirmed for The Sims 5, although fans can speculate about what more may be included.  In September 2022, industry insider Jeff Grubb remarked on his Giant Bomb programme that it isn't ideal for a new numbered entry in the series to start from scratch every time and that EA has been investigating a different method for the next game.
Grubb speculated that future instalments of The Sims, like other major numbered sequels, might have a new method of development. And I believe that demographic would be eager to participate in such an endeavour with that game.
The Sims 4 has also made enormous strides in other areas of diversity and inclusion since its releases, such as the addition of a broader selection of darker skin tones, Black hairstyles, and East Asian eye presets and the addition of customizable pronouns.
Over time, more culturally-specific clothing, construction materials, and meals have been introduced, and the Socially Awkward attribute represents neurodiversity in the High School Years expansion.
Due to the franchise's current emphasis on the 'Play with Life' slogan, fans can anticipate that The Sims 5 will be more welcoming right from the bat.
The development team has been open about the fact that they are unable to implement mechanically non-binary Sims due to technical constraints. When making the next game from scratch, this is definitely going to be something that gets fixed.
Sims 4 does not adequately portray people with disabilities. In response to a petition in October 2021, the team stated, "mobility items are at the top of our thinking and at the top of our list." Very little has been said about them since then, but we remain hopeful that we will eventually see something.
Players have also asked for vehicles to be included in The Sims 4 with more diverse and inclusive communities. The group responded to the request in March 2021, providing more detail on an Inside Maxis stream: "To introduce new material into the game, it involves many, many processes.
Calling all builder Simmers, to celebrate our 11th birthday and the year that was, we're hosting a build competition!

1st Prize: 11 million Simoleons, 110 Lifestyle Points & 110 Social Points
2nd Prize: 11 million Simoleons
3rd Prize: 5 million Simoleons pic.twitter.com/xBnmY2bv1q

— The Sims FreePlay (@TheSimsFreePlay) December 4, 2022
There are crucial elements in the game creation process that must be taken, and they might be time-consuming. To make these concepts a reality, "sometimes there is also core technology that we need to work on, and sometimes we have to go into the designs very deeply."
While the likelihood of automobiles in The Sims 4 remains unknown, the high demand is sure to have trickled down to the developers of The Sims 5. That's good news since it means there's still time for optimism.
Even while there has been a vocal minority of Sims fans pleading for open worlds to make a return in The Sims 5, it is impossible to say at this time whether or not such a feature will be implemented.
What consoles and platforms will The Sims 5 be available on?
Although neither the PlayStation 5 nor the Xbox Series X have been officially announced as platforms for The Sims 5, we can expect them to be among the frontrunners. Players using Windows PCs are usually the first to try out each new edition of The Sims, so it's possible that a PC release will come first.
It seems that The Sims 5, regardless of the platforms it's released on, will support cross-play. "will have the opportunity to play their game across supported devices," EA and Maxis said in a joint statement.
In all likelihood, The Sims 5 will be available for Mac users, like The Sims 4 was. Nintendo Switch users are the only ones who might be missing out. As The Sims 4 has not yet been released on Switch, it seems likely that The Sims 5 will not be available for Switch either.
Frequently Asked Questions
How Long Will Sims be pregnant?
Birthing a Sim usually takes about three days in-game, but you can speed up the process with these four hints: Get your Sim pregnant and through the first three months.
Can two female Sims try for a baby?
Select "Get others pregnant" for one of your Sims if you want to have a lesbian couple. To get pregnant, both partners must have the "Become Pregnant" option checked. Finally, the end! There should now be a "Try for Baby" conversation option for your pair to choose from.
Can Sim pets have babies?
As a general rule, it takes only two Sim days for a pet to gestate, compared to nineteen for a human Sim. You won't have to take them to the vet since they'll have their babies as soon as they're ready. Most domesticated animals have two offspring at a time, but their litter sizes are less than those in nature.
What is Project Rene sims4?
Project Rene, a name EA says was inspired by the ideas of "renewal," "renaissance," and "rebirth," is being billed as a "next generation Sims game and creative platform" that will "[reimagine] the Sims you know and love with new ways to play."
What is The Sims short for?
Video games in the "Simulation Game" genre are commonly referred to by the abbreviation SIM. Simulation games attempt to replicate certain facets of actual life.
In many of today's most-played simulation games, players are tasked with creating, expanding, or managing fictitious communities or projects. The Sims, Farming Simulator and Football Manager are all examples of well-known simulation video games.
We hope you have found the relevant information. So if you like this article, then please share it with your friends and family. Stay tuned with us here at Gameempress.com for the latest information like Fortnite Chapter 4 Season 1