Resident Evil Village Gold Edition Has Finally Been Released
Resident Evil Village Gold:  There are new ways to be terrified of zombies in Resident Evil Gold Edition and the Winters' Expansion, including the narrative DLC known as Shadows of Rose, Third Person Mode, and The Mercenaries Additional Orders.
Resident Evil Village Gold Edition is up for preorder on Amazon ($49.99)
PS5 https://t.co/IW7qzB0NJC
PS4 https://t.co/rlcM7o22gL
Xbox https://t.co/AAUmdAiPfn #ad

includes Shadows of Rose DLC, The Mercenaries Additional Orders, Third-Person Mode pic.twitter.com/YrrlOYZ47u

— Wario64 (@Wario64) July 21, 2022
Rose's Twilight
Rosemary "Rose" Winters is the protagonist of a new story that takes place 16 years after the major events of Resident Evil Village and focuses on her struggle to overcome the eerie abilities that have haunted her throughout her life. If she can make it through her ordeal in the Realm of Consciousness, she might be able to obtain her goals.
In this final chapter of the Winters family saga, Rose finds that she needs the very abilities she has been trying to rid herself of in order to stay alive. Rose will meet new monsters as she travels through a twisted universe based on terrible memories, including bizarre, deformed beings that will try to consume her face.
RE Village Gold Edition out Oct 28th, including third person mode pic.twitter.com/jcYZMXLHwO

— Wario64 (@Wario64) June 13, 2022
Somehow, a mysterious entity who only introduces themselves as "Michael" ends up helping Rose on her journey. What more will she learn about herself and the world as she travels? In Shadows of Rose, the action takes place entirely from the third-person viewpoint, offering a fresh perspective on the action.
The perspective of a Third Person
Speaking of the third-person perspective, the campaign of Resident Evil: Village Gold Edition and Winters' Expansion may now be played from that perspective thanks to the addition of Third Person Mode.
This new optional mode allows you to play the game from beginning to end in either first- or third-person perspectives, without worrying about losing any progress. Experience the game's intense action and terror from a new vantage point, with added animations that keep you at arm's length while still getting a feel for Ethan's fight to find his kidnapped daughter and the horrors of the town.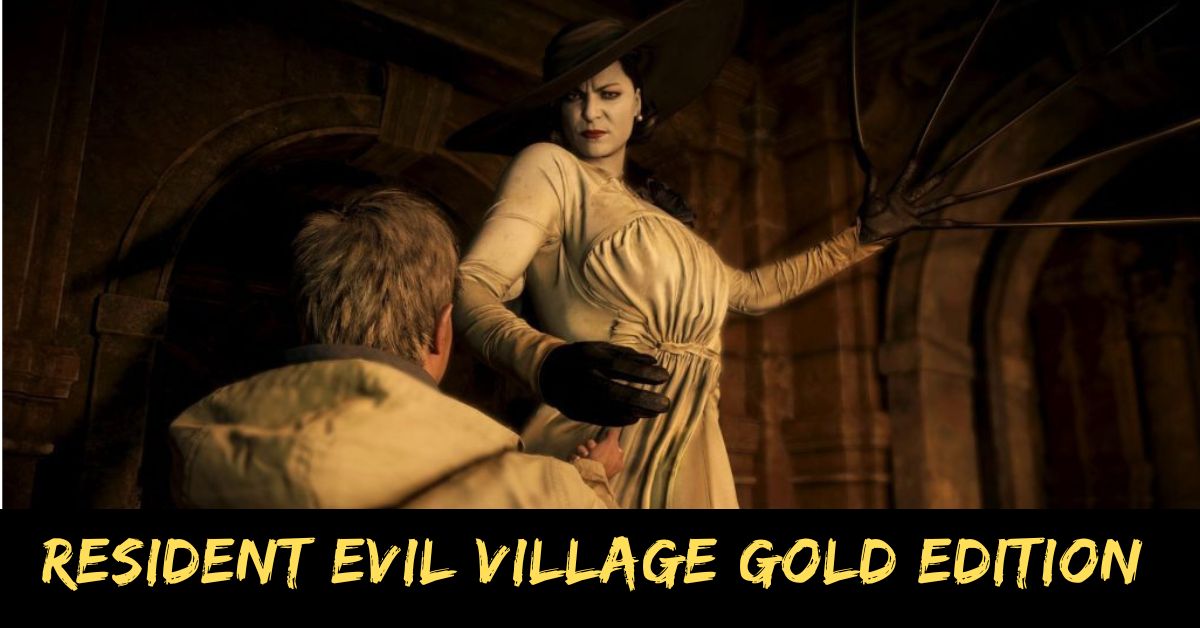 New Directives for the Mercenaries
The Mercenaries: Additional Order is a welcome extension to the arcade-style excitement of the original game. Crush waves of foes with Ethan Winters and three new playable characters by ripping, smashing, and punching. Chris Redfield is equipped with automatic weaponry and a devastating right straight punch that may easily topple adversaries if you're feeling a little more daring than normal.
Lady Dimitrescu can use her claws to tear through her adversaries, send one of her daughters to do her dirty work, and toss exquisite vanity at her foes to keep them at bay until she reaches the top shelf of scoring. Last but not least, if you're a mechanical purist, Karl Heisenberg might be your man.
Make use of his magnetic powers to hurl junk at enemies, bring down the hammer to knock them down and out of commission, and let out a horde of deadly machines to finish them off.
The Return of the Evil Dead
In addition, cross-play is now available in Resident Evil Re: Verse, which is available now for all owners of Resident Evil Village and Resident Evil Village Gold Edition. Heroes from Resident Evil face off against each other in six-player bouts where death isn't the end.
After taking enough damage, players will evolve into the famed mutants and creatures of Resident Evil, gaining access to a wide variety of devastating attacks with which to exact their vengeance.
RE Village Shadows of Rose is played in 3rd person pic.twitter.com/UOIPJOlBIr

— Wario64 (@Wario64) June 13, 2022
Playable Environments Across a Wider Range of Platforms
Finally, Resident Evil Village has been released for the Mac, and it can also be played on the Nintendo Switch by downloading Resident Evil Village Cloud. Cloud provides a free trial so you can see how it performs in your network before making a financial commitment.
Further, starting December 2nd, the cloud version of Nintendo Switch will get access to the Winters' Expansion.
RE Verse out Oct 28th pic.twitter.com/AcSOat9XET

— Wario64 (@Wario64) June 13, 2022
Frequently asked questions
Besides the base game, Resident Evil: Village, and the DLC known as Winters' Expansion, the Gold Edition also features the following: In-Game Purchase of the Trauma Pack and Full Access to Resident Evil 2 Multiplayer online role-playing game set in the Re: Verse When the Gold Edition launches on October 28, 2022, players will be able to access Resident Evil Village and the Trauma Pack DLC.
Is Resident Evil Village Gold Edition DLC on disc?
Conversation. The retail disc release of Resident Evil Gold Edition is identical to the regular edition, except that it includes a one-time use DLC code. Used copies won't function, and you can only use the DLC once you've purchased your own copy.
Can a 13-year-old play Resident Evil Village?
The PEGI rating for Resident Evil Village is 18, but the ESRB gives it a Mature rating (rated 17+).
Final Words: We hope you have found all the relevant information about the Resident Evil Village Gold Edition that Has Finally Been Released. Stay tuned with us here at Gameempress.com for more latest news and information.