Capcom produced and published the survival horror game Resident Evil 7: Biohazard in 2017. The player assumes control of Ethan Winters, who must solve riddles and battle opponents while he searches a dilapidated property for his missing wife. Resident Evil 7 departs from the series' action-oriented predecessors, Resident Evil 5 and Resident Evil 6, by reverting to the survival horror genre's emphasis on discovery. For the first time in the series, the primary Resident Evil game is played from the first-person perspective.
The RE Engine was developed in-house by Capcom, and Resident Evil 7 is the first full-length game to utilize it. As the director of Resident Evil: Revelations on the Nintendo 3DS in 2012, Koshi Nakanishi oversaw development. In the year leading up to its official reveal at E3 2016, a virtual reality demo titled Kitchen was shown off to the public.
Similar posts:-
The game's developers shrunk the scope to a single locale and implemented a first-person perspective after being inspired by the 1981 film The Evil Dead. The scenarios Not a Hero and The End of Zoe were made available as downloadable content.
The PlayStation 4, Windows PC, and Xbox One versions of Resident Evil 7 were released in January 2017, with a cloud-based Nintendo Switch version following in May of 2018 in Japan and December of 2022 everywhere else, as well as PlayStation 5 and Xbox Series X/S releases in June of 2022.
Moreover, the PlayStation VR headset can be used with this system. The game was well-reviewed and was seen as a return to form for the series by critics; they applauded the graphics, gameplay, plot, creativity, and usage of virtual reality, but they had some complaints about the boss battles and the ending. To date (January 2023), the game has sold 11.7 million copies around the world. Many year-end awards considered it. On May 7, 2021, the sequel Resident Evil Village was launched.
Resident Evil 7 Biohazard Gameplay
From a first-person perspective, the player assumes control of Ethan Winters as he explores a rundown mansion for his missing wife. Despite his lack of military training, Ethan is able to defend himself against the Baker family, the humanoid fungus creatures known as the Molded, and mutated insects by arming himself with handguns, shotguns, flamethrowers, explosives, and chainsaws on the estate.
The harm from assaults is reduced because he can block them. The Baker family is relentlessly on the hunt throughout the game, and even when defeated in battle, their effects are only temporary. Yet, these meetings can be avoided through stealth or escape.
The gameplay places more emphasis on suspense and discovery than action, in contrast to Resident Evil 5 and Resident Evil 6. The inventory is laid out in a grid, and while it starts off with only 12 slots, this number can be increased numerous times. A maximum of two things can be assigned to the D-pad.
Resident Evil 7: Biohazard Document File hardcover book is $23.91 on Amazon https://t.co/LKf8IhZAJy #ad pic.twitter.com/LKMbgfo1yg

— Wario64 (@Wario64) February 16, 2023
Saving rooms typically have boxes that can be used to organize and store stuff till needed. It is possible to use, analyze, or combine objects in the inventory to boost their effectiveness. In order to solve many of the game's mysteries, players will need to inspect objects in specific ways. It is possible to manually save your progress in the game using a tape recorder, albeit this may be necessary for more challenging difficulties.
Videotapes are hidden throughout the game world for Ethan to uncover. These tapes allow him to see the game from the point of view of a different character, and they often contain crucial story details or puzzle solutions. If you have a PlayStation VR headset, you can play the PlayStation 4 version in virtual reality.
You can get new stuff in the game by achieving certain in-game goals, such as beating it in a certain amount of time or on a certain difficulty level. Among them are glasses that highlight their targets' locations, a potent handgun, a circular saw, shoes that boost walking speed, and scrolls that reduce damage incurred while guarding.
Resident Evil 7 Biohazard Plot
In 2017, Ethan Winters, a civilian of mysterious origins, receives a letter from his missing wife Mia, prompting him to travel to a deserted plantation near Dulvey, Louisiana. Mia has been missing for three years. When investigating a mysterious property, Ethan discovers Mia locked away in the cellar. During their attempt to flee, Mia develops a violent personality and attacks Ethan, compelling him to end her life.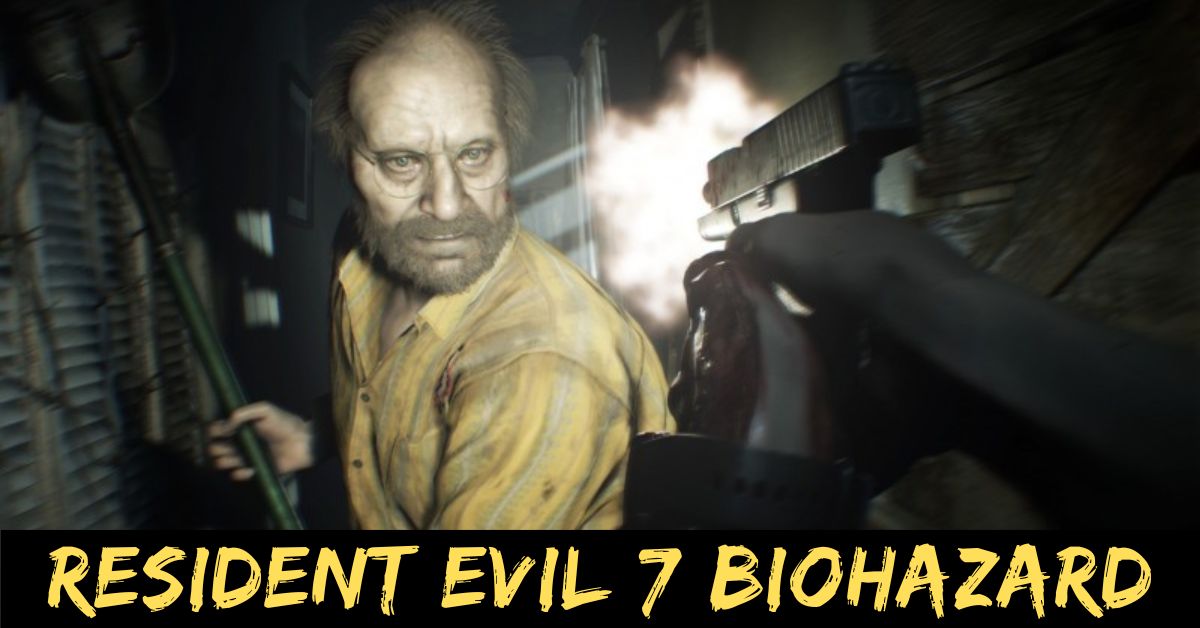 After getting a call from a lady named Zoe who offered help, Ethan was assaulted by a revived Mia, who severed his left hand and was eventually subdued by Jack Baker, the patriarch of the Baker family. Then, Zoe sews his hand back on at a different residence he is dragged to. They (Jack, Marguerite, and Lucas) are holding Ethan hostage, along with an elderly lady in a wheelchair. Despite Ethan's success in evading his captors, he is frequently challenged by Jack, who shows off his ability to heal from seemingly terminal injuries.
Once again, Zoe reaches out to Ethan and lets him know she is a Baker. Zoe reveals to Ethan that she, her family, and Mia have contracted an illness that is treatable with a pharmaceutical serum. Ethan travels to an abandoned house in search of the serum's components, where he murders Marguerite. After Ethan finds the materials, he starts seeing images of a little girl he has never met.
Before Ethan can come home, Lucas abducts Zoe and Mia and traps them in a barn. Ethan outsmarts Lucas, who runs away and sets Mia and Zoe free. Next, Zoe creates two doses of the serum, but Jack, who has undergone significant mutation, assaults Ethan, and he use one dose to apparently kill him. After that, Ethan has to decide whether to heal Mia or Zoe.
Mia's sadness over Ethan's decision to support Zoe despite his vow to help her recover is understandable. While he and Zoe are escaping in a boat, Zoe explains that the Bakers were infected after Mia and a girl named Eveline arrived from the wreck of a tanker ship. Eveline kills Zoe telepathically, and a monster knocks out Ethan of the boat, so they can't get away.
If Ethan ends up choosing Mia, Zoe will say an emotional goodbye. When he and Mia are on the run in a boat, they encounter the downed tanker and are attacked by the monster. Whatever way Mia goes, she finds herself on the sunken ship looking for Ethan while seeing images of Eveline, who now calls her mother.
Leon S. Kennedy

Leon S. Kennedy, a rookie cop when the Raccoon City Incident took place six years ago, has become an agent working directly under the President. Having gone through many different missions since the incident, Leon has matured significantly#REBHFun #RE4Remake pic.twitter.com/qKenKoeQAh

— RESIDENT EVIL | BIOHAZARD (@REBHFollower) January 20, 2023
Mia's memories are eventually restored, and it is revealed that she was a secret agent working for the company responsible for creating Eveline as a bioweapon. When being transferred to the tanker, Mia and another agent were supposed to accompany Eveline, but Eveline broke free from containment and sunk the vessel. In an effort to make Mia into her mother, she infected her. Mia, having located Ethan, presents him with a vial containing Eveline's DNA.
If Ethan was successful in curing Zoe, then Mia would give in to Eveline's influence and try to kill Ethan. If Mia is cured by Ethan, she will be able to fight off her control long enough to get Ethan sealed out of the ship. As Ethan finally makes it away from the wreck, he finds a secret laboratory in an old salt mine.
There, he finds out that Eveline is a bio-organic weapon with the ability to infect people with a psychoactive mold that gives her influence over the minds of her victims, causing them to go insane, regenerate at a rate beyond human comprehension, and undergo other transformations.
Read more:-
Eveline's childhood desire for a family led her to infect Mia and the Bakers and to use them as bait to entice Ethan to their house. Also, it is revealed that in exchange for his observations of Eveline, Lucas was given immunity from her influence by the organization. Ethan creates a toxin using the lab equipment and Eveline's genetic material, then travels through a network of tunnels to reach the Baker home.
Although Eveline's hallucinations were attacking Ethan, he was able to push through them and inject Eveline with the toxin; it didn't kill her, but it did reveal that Eveline was in fact the elderly woman in the wheelchair, who had aged rapidly since her escape. Afterward, Eveline transforms into a massive monster, but Ethan is able to kill her with the help of an arriving military squad.
After killing Eveline, the crew, led by a man named Redfield, flies Ethan out. In the canon ending, Mia is rescued by Redfield in his helicopter, but if Ethan is unsuccessful in curing her, he throws away the phone with her final message to him from the aircraft.
We hope you have found all the relevant information about the Resident Evil 7 Biohazard: Available Gameplay, Plot, and More Info. Keep in touch with us here for more latest news and information.
Frequently asked questions
Is Resident Evil 7 the scariest game ever?
This means that Resident Evil 7 is still the most terrifying game in the series. Celebrating Resident Evil 7's unique capacity to terrify us on its fifth anniversary is fitting, especially in light of Village's hints of a more action-oriented sequel.
Is Resident Evil 7: Biohazard worth it?
The game's story is fantastic, and the Gold Edition includes all of the downloadable content for the game in one convenient bundle. You should definitely pick this up if you're a die-hard fan of the Resident Evil series or if you enjoy playing games that are designed to make you jump.