On April 12, Call of Duty: Modern Warfare 2 and Warzone 2 received Season 3, and as of right now, the season's brand-new, momentary Trophy Hunt event is live. Collecting trophies from defeated adversaries makes participating in the event simple; you can exchange them for cosmetic rewards. Here are all the many Trophy Hunt events and ways to earn trophies.
The Trophy Hunt event is NOW LIVE in #Warzone2!

Collect Trophies, extract them via Upload Stations or a W, and exchange them for items in the Event Tab! pic.twitter.com/zietDqO2W9

— Raven Software (@RavenSoftware) April 14, 2023
How to take part in the Trophy Hunt competition
Every participant will lose a trophy coin every time they are eliminated in any mode during this brief event. These awards are yours if you kill enough enemies or complete missions like opening supply crates. Whether playing multiplayer, battle royale, or DMZ, you can collect the trophies differently.
The new Trophy Hunt event kicks off with Season 03.

Players in all modes drop a trophy token. Pick up and collect the token, and then use those tokens to unlock cosmetic items in the Events tab. pic.twitter.com/bpOAdDa27d

— CharlieIntel (@charlieINTEL) April 10, 2023
video
Every unique adversary in Modern Warfare 2's multiplayer drops one prize. This cannot be deposited without being picked up in non-round-based modes.
In round-based game variants like Search and Destroy, taking out a single opponent operator results in one banked trophy. The language used by Activision in the Season 3 blog article implies that only human adversaries will be counted for this event. Therefore the AI foes in Invasion will not dish out awards.
Both human and AI foes drop trophies in Warzone 2. However, in a battle royale, awards are forfeited upon death. You must either triumph in the game or bank them at a buy station to obtain them.
Battle Royale's trophies function similarly to DMZ's. If you die, awards are lost, and human and AI opponents drop them. To successfully bank them at a Buy Station, you must exfil from the match.
You may also read the following:
All Event Rewards
These collectible trophies can subsequently be traded for the things listed under the events tab, such as battle pass token tier skips, vehicle skins, and blueprints for weapons. The whole list of awards is provided below.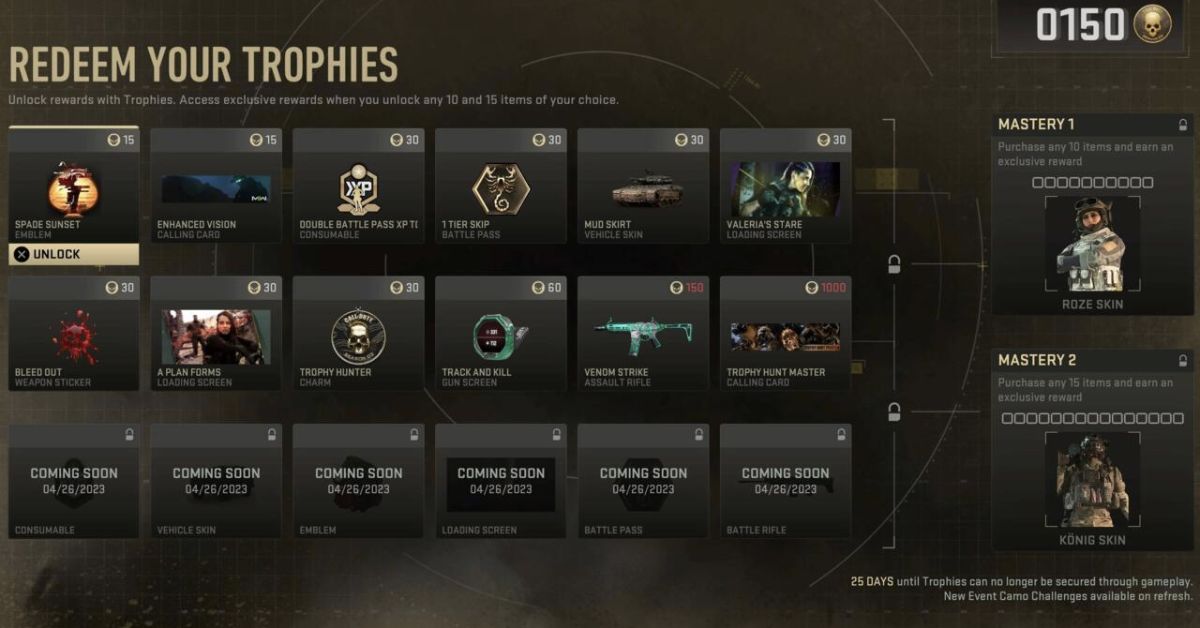 Spade Sunset emblem – 15 trophies
One battle pass tier skip – 30 trophies
Mud Skirt vehicle skin – 30 trophies
Bleed Out weapon sticker – 30 trophies
Trophy Hunter charm – 30 trophies
Track and Kill gun screen – 60 trophies
Double battle pass XP token – 30 trophies
Enhanced Vision calling card – 15 trophies
A Plan Forms loading screen – 30 trophies
Valeria's Stare loading screen – 30 trophies
Trophy Hunt Master calling card – 1000 trophies
Venom Strike assault rifle weapon blueprint – 150 trophies
On April 26, six additional awards, including a blueprint for the combat rifle weapon, will also become available. A Mastery operator skin for Roze can be obtained by opening any ten event rewards, and a Mastery operator skin for Konig can be obtained by opening any 15 event awards.
The 25-day event will expire on or around May 9, probably the same day the mid-season Reloaded update goes up. Modern Warfare 2's third season introduced new maps, Gunfights, and Cranked modes, among other things. Massive Resurgence mode and one-shot snipers were added to Warzone 2's battle royale mode, while DMZ saw a significant upgrade with new tools and capabilities.