Team Cherry, the developer of the critically acclaimed Hollow Knight, has announced that the sequel, Hollow Knight Silksong has been delayed now. The game was initially scheduled to be released in the first half of 2023, but Team Cherry says they need more time to finish development.
What Team Cherry Said On Hollow Knight Silksong's Release Delayed
"We know that many of you have been eagerly awaiting Hollow Knight: Silksong, and we're sorry to say that we need a bit more time to finish it," the team wrote in a blog post. "We're making great progress, but we want to ensure that the game is as good as it can be before we release it."
The gaming world has been buzzing with anticipation for the release of Hollow Knight: Silksong, the highly awaited sequel to the critically acclaimed indie game Hollow Knight. However, fans have been met with bittersweet news as Team Cherry, the game's developer, announced a delay in the release date.
While the delay may disappoint eager players, it signals the developers' commitment to delivering a polished and unforgettable gaming experience.
Here Is The Post About The Hollow Knight Silksong's release being delayed On Twitter:
The long-awaited Hollow Knight: Silksong has been delayed by Team Cherry, even without having received an official release date, the game was planned to arrive in the first half of 2023.

Learn more by visiting our website, link in bio.#games #mundogamer pic.twitter.com/NRxCf9tWCN

— Mundo Gamer Community (@mundogamer_en) May 15, 2023
What's The New Release Date Of Hollow Knight Silksong
Team Cherry did not provide a new release date for Hollow Knight: Silksong, but they said they would share more information as soon as they have it.
The Community's Response: Patience and Support
The Hollow Knight community has primarily supported Team Cherry's decision to delay Silksong's release. Many fans have expressed their understanding and appreciation for the developers' commitment to quality.
This support highlights the strong bond between the game's creators and its passionate fan base, who are willing to wait for a masterpiece rather than settle for a rushed product.
Here Is What Fans Said:-
"I'm disappointed, but I understand," one fan wrote on Twitter. "I just want the game to be good."
Another fan said, "I'm sad to hear that Silksong is delayed, but I'm glad that Team Cherry is taking the time to make it as good as it can be."
Hollow Knight: Silksong is a Metroidvania game set in the same world as Hollow Knight. The game follows Hornet, a former royal guard member, as she searches for her lost brother.
The Journey So Far: Hollow Knight's Legacy
Before diving into the reasons behind the delay, it's essential to understand the impact of the original Hollow Knight. Released in 2017, the game quickly gained a dedicated fan base thanks to its captivating art style, intricate world-building, and challenging gameplay.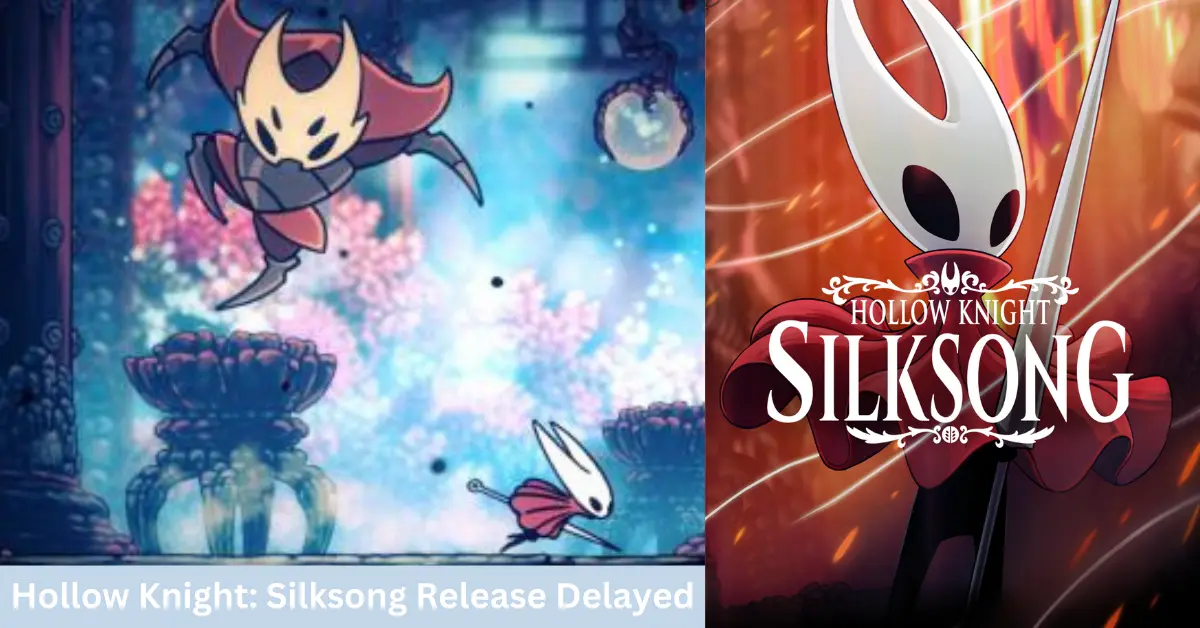 Hollow Knight's success paved the way for Silksong, and fans have awaited the sequel since its announcement in 2019.
Silksong's Ambitious Vision: A New Adventure Awaits
Hollow Knight: Silksong promises to be an even more ambitious project than its predecessor. Players will take on the role of Hornet, a skilled warrior who must navigate a vast, interconnected world filled with new enemies, allies, and mysteries.
With over 150 new foes, a revamped combat system, and a sprawling kingdom to explore, Silksong aims to surpass the high bar set by the original game.
The Art of Perfection: Team Cherry's Dedication to Quality
The decision to delay Silksong's release stems from Team Cherry's unwavering commitment to delivering a high-quality gaming experience. The developers have been transparent about their progress, sharing updates and insights into the game's development.
They have emphasized their dedication to refining every aspect of Silksong, from its intricate world design to its fluid combat mechanics.
Also Read:-
→  Cyberpunk 2077: Phantom Liberty Expansion Release Date Speculation
→  Fortnite Leak Teases New Smart SMG and Fire-rate Surge Weapon
What Fans Can Expect From Hollow Knight Silksong
Hollow Knight was released in 2017 and was a critical and commercial success. The game was praised for its beautiful art style, challenging gameplay, and rich lore.
While the delay may be disheartening for fans, it also offers a silver lining. By taking the extra time to perfect Silksong, Team Cherry ensures that the final product will be a polished and immersive experience.
The developers' dedication to quality is a testament to their passion for the project and desire to create a game that exceeds players' expectations.
Team Cherry has not released any details about Hollow Knight: Silksong's gameplay, but they have said that it will feature a new map, new abilities, and new enemies.
Fans of Hollow Knight will have to wait slightly longer for Silksong, but they can rest assured that the game is in good hands. Team Cherry has a proven track record of making great games and is committed to making Silksong the best it can be.
Final Words:-
The delay of Hollow Knight: Silksong's release may be a source of disappointment for eager fans, but it also serves as a reminder of Team Cherry's dedication to delivering a high-quality gaming experience. As anticipation builds, the community's support and understanding demonstrate the strong bond between the game's creators and its passionate fan base. Ultimately, the wait for Silksong will be well worth it, as players can expect a polished and immersive adventure that surpasses even the highest expectations.