A future action role-playing game called Hogwarts Legacy was created by Avalanche Software and released by Warner Bros. Based on the Harry Potter books, the Wizarding World world serves as the setting for the game.
For the PlayStation 4, PlayStation 5, Windows, Xbox One, Xbox Series X/S, and Nintendo Switch, Hogwarts Legacy is slated for release in 2023. Here is our guide to the potions from the Hogwarts Legacy, with information on how to make each one and what it accomplishes.
How To Make Potions: Hogwarts Legacy Potion Guide 
Making potions is a skill that shouts witches and wizards from the rooftops. It follows that it is not surprising that Hogwarts Legacy included that in the game. Potions are extremely important in the game because they contain a variety of beneficial effects, including boosts, healing, and more. Having remedies on hand is usually a smart idea in case you need them.
Players must first complete Main Quest 13: Potions Class in order to enable potion brewing. By doing this, the Potions Station will be unlocked, allowing you to create your own potions. At the Potions Classroom in the Hogwarts Library Annex is where you'll find the Potions Station. Additionally, if they so choose, players can set up a potion station in the Room of Requirement.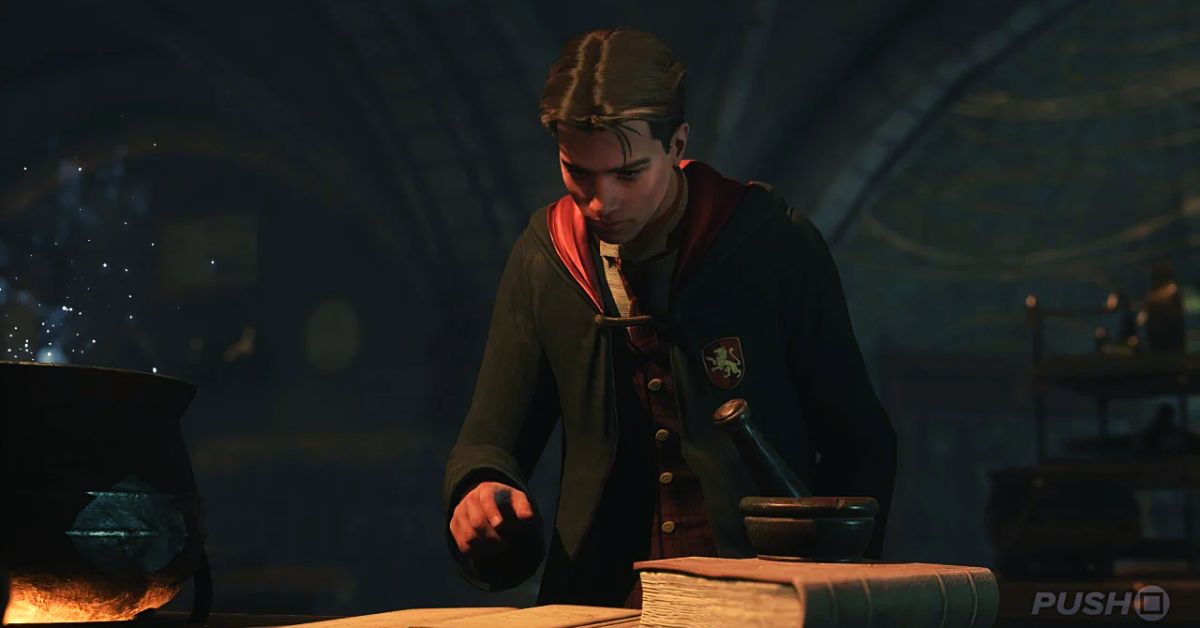 So, the following is a list of the potions you can make and use in the game:
Endurus Potion: These potions increase your resistance to melee assaults by coating you with a protective rock-like covering.
Unlock: Upon completing Main Quest 13: Potions Class, it will automatically unlock.
Ingredients: 1 Ashwinder Egg, 1 Mongrel Fur
Invisibility Potion: The player becomes invisible after taking this potion, as the name suggests.
Unlock: Available for 800G from J. Pippin's Potions in Hogsmeade.
Ingredients: 1 Leaping Toadstool Cap, 1 Knotgross Sprig, 1 Troll Bogey
Focus Potion: Your spells' cooldowns are decreased by the Focus potion, allowing you to perform them more frequently.
Unlock: Recipe purchased for 1200G from J. Pippin's Potions in Hogsmeade.
Maxima Potion: Your spell damage is increased temporarily by the Maxima potion.
Unlock: Recipe purchased at 500G at J. Pippin's Potions in Hogsmeade.
Ingredients: 1 Leech Juice, 1 Spider Fang
Your early admission has arrived to all who pre-ordered the #HogwartsLegacy Deluxe Edition. pic.twitter.com/ToK9xVRy3J

— Hogwarts Legacy (@HogwartsLegacy) February 7, 2023
Thunderbrew: When you consume this potion, a storm forms all around you. Any foes nearby are stunned and damaged by this storm.
Unlock: Recipe purchased for 1200G from J. Pippin's Potions in Hogsmeade.
Ingredients: 1 Leech Juice, 1 Shrivelfig Fruit, 1 Stench of the Dead
Wiggenweld Potion: In this game, the Wiggenweld Potion is your main source of healing. As a result, it's crucial to carry a couple of bottles with you at all times.
Unlock: automatically unlocks once completed 13th Main Quest: Class of Potions
Ingredients: 1 Horklump Juice, 1 Dittany Leaves
Felix Felicis Potion: Anyone who drinks this potion experiences better luck. This allows gamers to find substantial chests throughout the game.
Unlock Deluxe Edition Bonus for pre-orders. not accessible in the game.
Ingredients: 1 Lacewing Flies, 1 Fluxweed Steam
Our Related Posts:
As new information becomes available, we'll make sure to update this Hogwarts Legacy Potions Guide. This contains further potions, their components, effects, and brewing instructions. Watch out for that.
Frequently Asked Questions:
How to brew Potions Hogwarts Legacy?
To make them, go to Hogwarts Castle > The Library Annex > Potions Classroom and utilize the Potion Station. You can also set up a Potion Station in the Room of Requirement as an alternative (unlocked later in the story but not necessary).
Why is Hogwarts legacy 16+?
The PEGI has given Hogwarts Legacy an official rating of 16+. Games with a PEGI 16 classification may use foul language more frequently and may also contain cigarettes, alcohol, or illegal narcotics.
Where is classroom 1B in Hogwarts?
The Transfiguration Classroom, also known as Classroom 1B, was a room on the ground floor of Hogwarts Castle that was accessed via the Middle Courtyard.