The Gunblood guide on IGN will tell you everything you need to know about the game's secrets, codes, glitches, and exploits. You can use the four cheats for Gunblood that I've listed here to give yourself an advantage, or you can stick to the basic strategies to level the playing field as you gun down your opponents.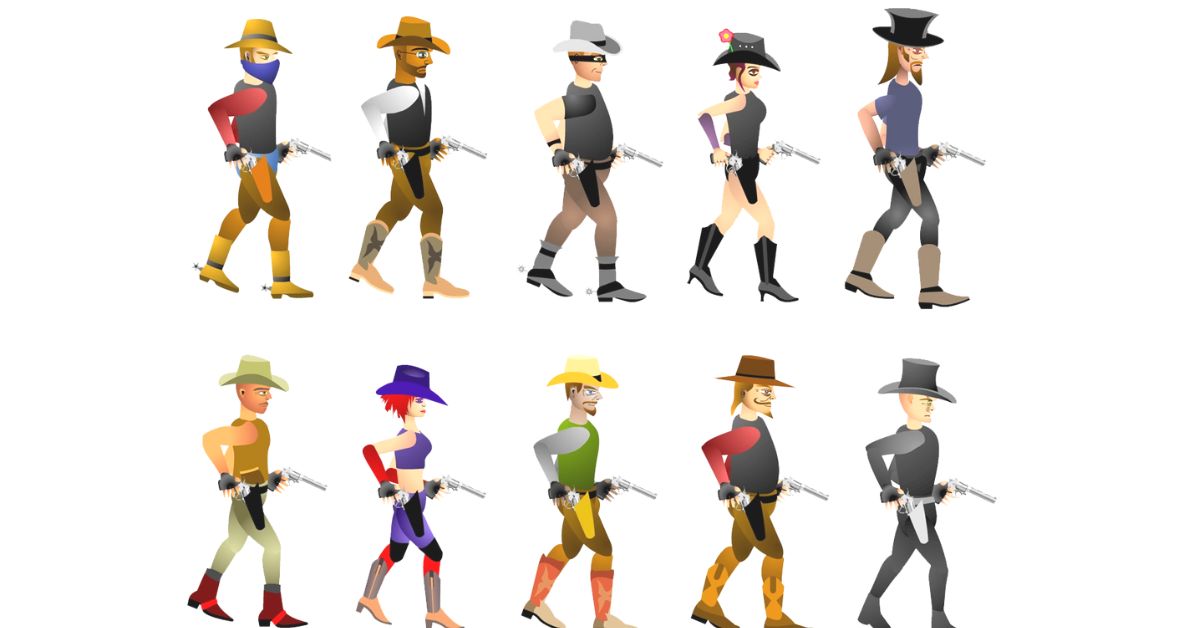 The Complete List of Gunblood Cheats
Whenever I play Gunblood, I'm taken back to high school days when I'd sneakily play games in my browser to avoid doing homework during my ICT classes. Forget the tale; Gunblood is a game where cowboys from the Wild West face off at high noon.
Players will aim and fire at computer-controlled opponents to win and face various difficulties, such as shooting beer bottles. Gunblood can be difficult, but there are ways to cheat that make it easier to progress. All Gunblood level cheats and Gubblood modifier cheats are listed below.
NOHIT – You are invincible but can still lose rounds if you fail the objectives.
MOREAMMO – You have unlimited ammo, but you must now shoot assistants in the relevant bonus rounds to end them.
POINTER – Your gun now has a laser pointer to make it considerably easier to aim your shots.
FASTFIRE – You can shoot more quickly, which could be all the advantage you need to win a shootout.
100% working cheats for gunblood gamers 😀https://t.co/uqWoN8mWAV #gunblood #gunbloodgamers pic.twitter.com/bIZ8zKmjh5

— The Gunblood cheats (@hackottp) September 22, 2019
Gunblood Beginner Tips
Don't give up hope if you get hit by a bullet at the start of the round. Despite this, there's still a chance you can win the game by firing back and dealing your opponent a deadly blow.
If you die before your opponent, you lose the game, and both of you have to start over, although a draw has no such consequences. Although your score will be lower in the next round, you can continue playing.
The chest is an expansive target that you should aim for. Aiming high enough might hit the target's head, but even a chest shot can be fatal.
Be ready for your opponent to keep firing even if it appears they have given up the fight. Keep firing at the body until the clock runs out, and you know you've defeated your opponent.
You can earn extra points by participating in bonus rounds; don't shoot the assistant who throws bottles in your direction (or take your time and aim carefully to shoot bottles off the assistant in a later event).
Read More:
Gunblood Cheats Level Password
Password = LEVEL1
Password = LEVEL2
Password = LEVEL3
Password = LEVEL4
Password = LEVEL5
Password = LEVEL6
Password = LEVEL7
Password = LEVEL8
Password = LEVEL9
Bonus 1 – BONUS1
Bonus 2 – BONUS2
Bonus 3 – BONUS3
Bonus 4 – BONUS4
If you want to stay abreast of breaking news and other important information, follow us on Google News and Twitter.
Frequently Asked Questions
What is the most iconic cheat code?
At its height of popularity, the Konami Code consisted of the button sequence Up-Up-Down-Down-Left-Right-Left-Right-B-A. This sequence was ingrained in the minds of countless children. It was nearly hard to complete Contra without the secret code that gave you 30 extra lives, and even with the code it was still a challenge.
What is the oldest cheat code?
The Konami Code, developed in 1986 by Konami programmer Kazuhisa Hashimoto during his work porting the 1985 arcade game Gradius to the Nintendo Entertainment System, is one of the earliest known examples of this type of cheat.
What is the classic cheat code?
Many games by Konami support, or at least formerly supported, the Konami Code (up, up, down, down, left, right, left, B, A, Start). It was initially shown in the NES game Gradius, where it unlocked all of the game's perks for your ship.