Launching on July 14 for $59.99, Exoprimal will be available for the PS5, Xbox One, PS4, and PC via Steam. It will also be playable on the Xbox console, in the cloud, and on PC from the get-go with Xbox Game Pass. For an additional $69.99, a digitally delivered Deluxe Edition can be yours. During March 17-19, there will be a public beta test.
The game, the Head Start Kit, the Vigilant Early Unlock Ticket, the Murasame Early Unlock Ticket, the Nimbus Early Unlock Ticket, the Paladin Exosuit skin for Vigilant, the White Guardian skin for Murasame, and the Wonderland skin for Nimbus are all included in the Digital Deluxe edition. It also comes with the Survival Pass Season 1: Premium Tier for a limited period.
Skins for Deadeye's Exosuit titled Shark's Mouth (Gray), Roadblock's Exosuit titled Stone Golem, and Witchdoctor's Exosuit titled Bush Camo will be available for pre-order.
All 10 Exosuits will be available for testing throughout the open beta, and cross-platform matchmaking will be available. Those who take part in the open beta test will be entered to win an Aibius Medal charm, usable in the final game. In Cap com's own words, here's a rundown of the game:
You can read more related articles here below:-
About
In Exoprimal, players join a team and battle dinosaurs using the most advanced Exosuit technology available today. In online, team-based action game modes, players will pilot specialized Exosuits as they stand steadfast against hordes of rampaging dinosaurs.
Story
Let's pretend it's 2040 for a moment. A worldwide crisis caused by a sudden resurgence of dinosaurs threatens the very survival of civilization. Nevertheless, there is still a chance. Aibius, a private company, has created a cutting-edge AI dubbed Leviathan that can foresee the sites of future epidemics.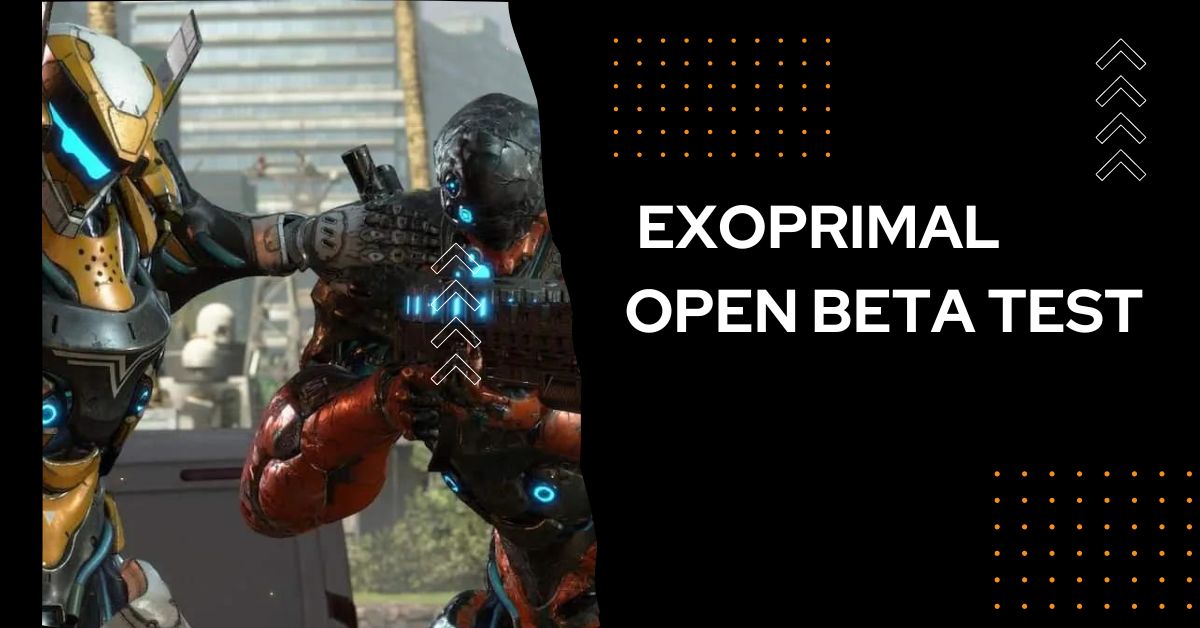 Together, this innovation and Aibius's groundbreaking Exosuits provide humanity a real chance to slow down the onslaught of the saurian hordes. Pilots who are able to operate the Exosuits used in space battles are in high demand. Take the ex-fighter test and you may be fighting to keep humanity alive alongside the courageous pilots of Aibius.
Exosuit
In order to tackle the danger posed by dinosaurs, advanced powered outfits known as Exosuits have been created. Each Exosuit serves one of three primary purposes, depending on its abilities: assault, tank, or support.
Exofighters are able to switch between Exosuits at any time, even in the heat of battle. Make use of this scalability to quickly adjust your team makeup in order to achieve your goals.
Roles
Assault
Damage to the enemy is a primary concern for assault Exosuits, which can be used at close, medium, or long ranges.
All assault Exosuits have weapons and abilities that are optimal for the range at which they are most effective.
Choose the right tool for the job, and destroy the obstacle(s) in your path.
Tank
Protecting their teammates from harm is what tank Exosuits do best by taking the brunt of any onslaught.
Tank Exosuits will be the front line of defense for your team, whether you're facing a horde of enemies or an onslaught of dinosaurs.
Support
The survival of the squad is guaranteed by the Exosuits' plethora of support skills.
Support Exosuits typically have the capacity to repair ally Exosuits, but they can also provide a variety of buffs and debuffs.
These capabilities are utilized by support Exosuits to boost the fighting efficiency and speed of a team.
Rigs
Exosuits can have their equipment expanded with the addition of rigs. Exosuits can have only one rig fitted at a time, but each rig adds a new set of capabilities. The Zephyr Exosuit, for instance, is fantastic up close but struggles against long-range attackers. A long-range laser can be used once the Zephyr is outfitted with the Cannon gear.
Alternately, you might arm Roadblock with the Aid rig to provide a strong defensive front and facilitate healing. Gamers are encouraged to try out a variety of rig and Exosuit setups to see what works best for them. It's possible to swap out rigs and Exosuits whenever you choose.
The Fight for Dinosaur Survival
Two teams of five compete against one another in Dino Survival. To win, teams need to follow Leviathan's instructions and finish the task before their competitors. In some cases, players face off against one another in open combat, while in others, they must form an alliance with their adversaries in order to defeat a powerful foe.
Player progression in Dino Survival determines the variety of tasks available. Even in matches with similar objectives and settings, the experience will be unique each time. While playing Dino Survival, players not only receive benefits like experience points to level up their character and Exosuit but also access new story content.
Dinosaurs
The dinosaurs, formerly the most dreaded and powerful animals, no longer exist. Unfortunately, these monsters have mutated and become far more dangerous as a result of their experiences in the spacetime vortexes. In order to deal with this emergency, humanity will have to use its inventiveness and its most potent weapons, Exosuits.
Neosaurs
As a result of genetic engineering, Neosaurs have evolved into a new group of dinosaurs with bizarre new features. After traveling through space and time, dinosaurs gain very unstable energy as they pass through the vortex barrier.
Many dinosaurs undergo a ferocious metamorphosis because of this energy. An abnormally high level of this energy gives Neosaurs their peculiar anatomy, behavior, and offensive capabilities.
Exoprimal launches July 14, open beta test set for March 17 to 19 https://t.co/2hz09SuxXq pic.twitter.com/d0wDwQWW4M

— Gematsu (@gematsu) March 9, 2023
We hope you have found all the relevant information about the Experience the Excitement Exoprimal Open Beta Test Starts Soon! For more latest news and information, keep in touch with us here at Gameempress.com.
Frequently asked questions
How do I get Exoprimal beta?
In order to play Exoprimal, you will need to associate your CAPCOM ID with the relevant platform account. An official CAPCOM ID can be created in this space. Welcoming you to our newly launched informational website! Keep coming back for fixes, updates, and more information!
What modes are in Exoprimal?
The game has several different modes, such as Dino Survival, Dinosaur Cull, and Energy Taker. Each mode has its own goals. There are also modes where players compete against each other, taking a break from killing dinosaurs.