Elon Musk Says Apple Might Block Twitter In App Store! In a series of tweets on Monday, Elon Musk said that Apple Inc (AAPL.O) had threatened to ban Twitter Inc from its app store without providing any explanation. He also claimed that the iPhone manufacturer had ceased running advertisements on the social networking site.
Tesla's and Twitter's billionaire CEO claimed that Twitter was being pressured by Apple to comply with its demands for content regulation. Unconfirmed by Apple, the decision would not be unexpected given that the company often enforces its policies, which led to the removal of apps like Parler, a favourite among American conservatives, and Gab.
After updating its content and moderation procedures, Parler was reinstated by Apple in 2021, according to the companies at the time. "Apple has largely stopped running Twitter ads. Do they dislike freedom of speech in America? "Musk, who last month paid $44 billion to take Twitter private, stated in a tweet.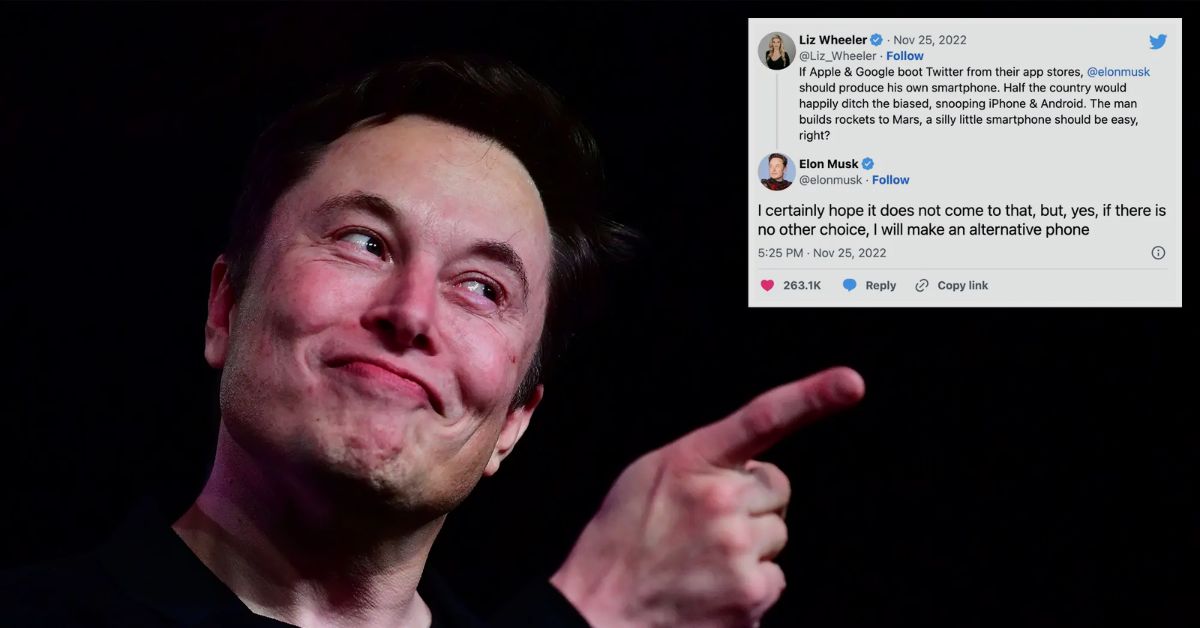 In a subsequent post, he included Apple CEO Tim Cook's Twitter handle and questioned, "What's going on here?" Musk also responded "yes" when asked by a user if Apple was threatening Twitter's inclusion in the App Store or making demands for moderation.
Requests for comment from Apple did not immediately receive a response. According to ad measurement company Pathmatics, the most valuable company in the world spent less on Twitter advertisements between Nov. 10 and Nov. 16 than it did in the week before Elon Musk signed the Twitter transaction when it spent $220,800 between Oct. 16 and Oct. 22.
Since the acquisition, an increasing number of businesses, including General Mills Inc (GIS.N) and premium manufacturer Audi of America, have halted or suspended their Twitter advertising.
Apple has also threatened to withhold Twitter from its App Store, but won't tell us why

— Elon Musk (@elonmusk) November 28, 2022
Musk, a self-described adamant supporter of free expression, claimed earlier this month that Twitter had experienced a "huge" decline in revenue and attributed it to pressure from activist organizations on advertisers. About 90% of Twitter's revenue comes from ad sales.
Recently, the platform reactivated the accounts of Marjorie Taylor Greene, a member of the US House of Representatives, comic Kathy Griffin, and former US President Donald Trump.
Apple should publish all censorship actions it has taken that affect its customers

— Elon Musk (@elonmusk) November 28, 2022
A group of civil rights activists announced last week that they were urging Twitter's advertisers to make announcements about removing their advertisements due to the Trump reinstatement.
Some ad agencies and brands expressed scepticism during a presentation for advertisers in May due to worries that Musk would reduce platform security and content moderation.
#ElonMusk said he would consider making an "alternative phone" if @Twitter were to be expelled from the app stores of @Apple and @Google https://t.co/X4xsVbo5jl

— ET NOW (@ETNOWlive) November 26, 2022
Final Lines
We hope you have found the information relevant. For more latest news and information stay tuned with us here at Gameempress.com.