Dragon Age 4 Dreadwolf: Dragon Age: Dreadwolf, the official title of the upcoming adventure, is set to take us back to Thedas in Dragon Age 4. Yes, the Solas is back because of his involvement in Dragon Age: Inquisition, and his moniker, "Dreadwolf," denotes his reappearance. The plot of the upcoming edition is still somewhat mysterious. Still, we know that Minrathous, the capital city of Tevinter—a region of Thedas we have only ever heard about—is where we will be traveling.
Due to Dragon Age Day on December 4, BioWare released a thrilling in-game movie that featured chest hair king Varric Tethras as the lovable storyteller. The film seems to imply that Varric (and his crossbow Bianca) will return in Dreadwolf by recapping Solas and his objectives.
Eight years have passed since our previous visit to Thedas, but Dreadwolf offers both longtime followers and newcomers the chance to revisit the world once more. There are many reasons to be enthusiastic about Dragon Age 4 regardless of your familiarity with the franchise, as BioWare has indicated that the game's story will be one that all players can enjoy.
Some of the best RPGs available can be found in the Dragon Age series of fun, and we can't wait to see what Dreadwolf has in store for us. Discover what we currently know about Dragon Age 4 by reading below.
Dragon Age: Dreadwolf is The Title of Dragon Age 4 
Because Solas is the main focus of Dragon Age 4, the game's title is Dragon Age: Dreadwolf. That won't surprise anyone who has played Dragon Age: Inquisition. Solas is the Dread Wolf, a "player of dark and perilous games," according to BioWare.
If you're unfamiliar with the series, the developer does assure those who haven't played Inquisition that they shouldn't worry since "he'll properly introduce himself when the time is right." The game's official account tweeted the title, which confirms that Solas will play a significant role in Dragon Age 4. It included a link to a blog post(opens in a new tab) that goes into more information about Solas' return.
The Dragon Age 4 Movie
Dragon Age: Dreadwolf's in-game cinematic, which once again featured dear old Solas in the spotlight, was released by BioWare on Dragon Age Day 2022. The most thrilling aspect of this cinematic, though, is that Varric Tethras, the charming rogue and storyteller we initially met in Dragon Age 2, is the one who narrates it. Varric discusses Solas' objective, which provides a helpful summary of where Dragon Age: Inquisition left off and an excellent introduction to the Dreadwolf for those unfamiliar with the saga.
Varric's final line, "we're the only ones who can stop him," hints the loving dwarf will appear in the newest adventure and may even collaborate with the person who will step into his place. It makes sense, given his inclusion in the January 2023 release of the Dreadwolf prequel comic and his important position in the Inquisition.
Expected Dragon Age 4 Dreadwolf Release Date
People with knowledge of the BioWare game "affirm the game is on schedule for release in 2023," according to GamesBeat. Any release date in the pandemic era is subject to change, but given what we've seen so far, this one makes reasonable.
Dragon Age 4 is currently in the Alpha stage of development, and the BioWare team can now complete the entire game, according to a blog post: "We've been working hard on the many components of the game up to this point, but a game doesn't come together completely until the Alpha milestone.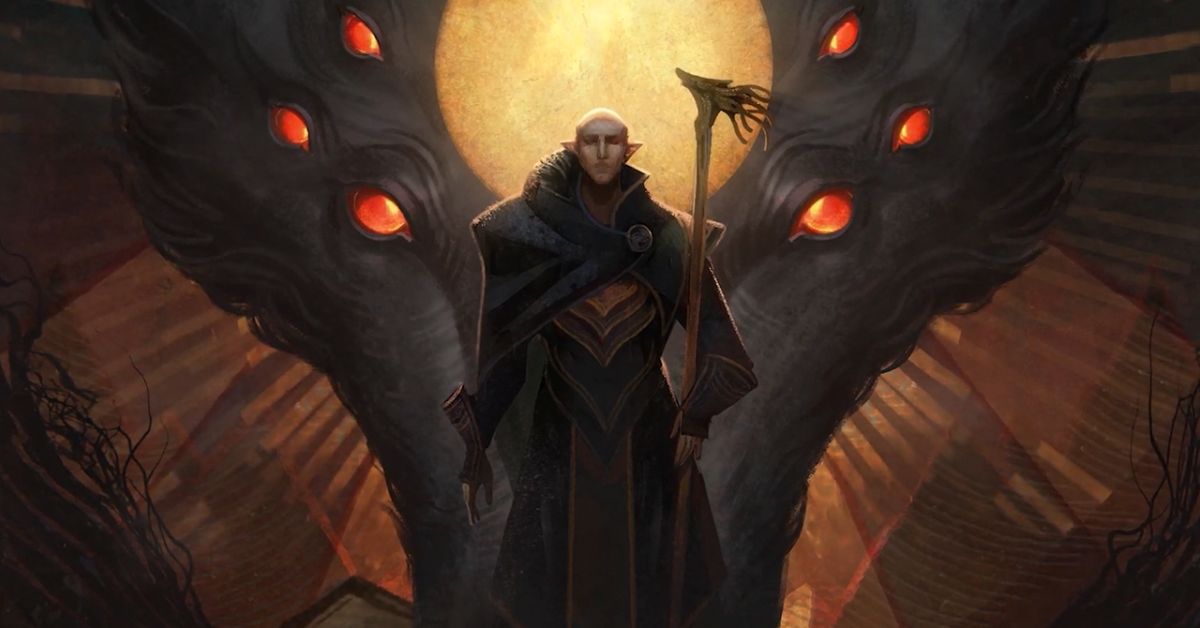 We can now play the complete game for the first time, beginning with the opening moments of the first mission and ending with the credits. We may have a seamless experience with everything we see, hear, feel, and play." The blog article continues, "the game is not finished by any means," but this milestone shows that it is getting closer to being finished.
A significant indication of the game's release platforms comes from the LinkedIn profile(opens in new tab) of the former lead player designer at BioWare, who lists PS5, Xbox Series X and S, and PC as the game's intended platforms.
Dragon Age 4 Dreadwolf is for Both Beginner and Experienced Players
To appeal to both devoted players and beginners, BioWare has made it plain that it is tackling Dragon Age: Dreadwolf with a diverse audience in mind. A recent blog post reinforced that this will be an experience that both experienced players and those new to Thedas may enjoy, and it also confirmed that Solas will reveal himself when the time is perfect for those who haven't yet met the character.
"Eight years have passed since the release of our last DA game. Many adults I've seen had good memories of playing it when they were teenagers, "Sylvia Feketekuty, a senior writer, stated in the blog post (opens in new tab). For seasoned fans, Dragon Age: Dreadwolf strikes a balance between answering their burning questions and creating a game that new players or those who haven't played DA: I in years may enjoy.
In contrast to the vast galaxies we travel in our other franchises, Dragon Age: Dreadwolf takes place in Thedas, where players can visit old acquaintances and familiar locations. "Since the 2014 release of Inquisition, some fans have not played Dragon Age, while others have read every comic and tale released. Others have never even touched a Dragon Age game and have no idea who the bald man (Solas) is."
Behind-The-Scenes Peek at Dragon Age 4 Dreadwolf
BioWare gave us a taste of Dragon Age 4 during Gamescom Opening Night Live with a behind-the-scenes glimpse at the next journey. Casey Hudson opens the video by stating that the team "has been imagining new ways to use next-generation technology to bring the world of Dragon Age to life" and that the game is currently in the early stages of production. The game will be released on next-gen consoles, but there is no set release date.
The movie gives us an inside look at how the BioWare team is building this new adventure, replete with some unique concept art and extremely fleeting glimpses of game gameplay showcasing various vistas and places. We're also optimistic that Dorian Pavus is depicted underwater in one piece of concept art (because we need more Dorian).
The developers also provide intriguing tidbits, providing some information on the course of our trip back to Thedas. According to lead writer Patrick Weekes, Dragon Age 4 will examine two themes: "What happens when you don't have power?" and "What happens when the people in control aren't willing to solve the issues?"
This could imply that we shall step into the role of an underdog who accomplishes what the powerful are unwilling to do. Right now, all we can do is conjecture, but it certainly gets our creative juices flowing, especially considering what transpired in the Dragon Age Inquisition Trespasser DLC.
Will Dragon Age: Dreadwolf be on PS4?
Given the timeline and the fact that the game is still in its early stages of production, it is highly likely that it will only be released on PS5 and Xbox Series X/S consoles, eschewing their predecessors.
Dragon Age 4 Dreadwolf Teaser 
During a next-generation montage at EA's summer event, EA Play Live, back in 2020, dark and delectable concept art for Dragon Age 4 was unveiled. The title of the game wasn't even stated, but Laura Miele, the chief studio officer at EA, did reference Bioware in a segment she introduced.
"Bioware imagines and creates worlds where you become the protagonist of your tale, and we're harnessing this next generation of technology to make that dream worlds your reality," the company claims.
The Initial Official Teaser for Dragon Age 4 Dreadwolf
Three years after the release of the first teaser trailer for Dragon Age 4 at The Game Awards, we still don't know the game's official name. In the brief look above, the #TheDreadWolfRises slogan is shown, along with an unsettling greeting from Solas of Dragon Age: Inquisition renown. "So you finally located me. I think you have some inquiries."
Suppose you're not well-versed in Dragon Age lore. In that case, "Dread Wolf" refers to Fen'Harel, the elven god of betrayal who resembles Loki and is extensively featured in the epilogue DLC for Inquisition, Trespasser. The red lyrium idol the trailer prominently displays is intriguing because it's not just any idol. It could be familiar to those of you who played Dragon Age 2.
May the Dread Wolf take you.

Your newest adventure begins in Dragon Age: #Dreadwolf. pic.twitter.com/riYYZXS7O1

— Dragon Age (@dragonage) June 2, 2022
The model significantly contributes to the templars of Kirkwall becoming corrupt. The following section has some *big spoilers*, so if you're planning on reading the second book in the series soon, skip it. To find forgotten dwarven treasures and gain money, you travel into the deep roads with Varric and his brother Bartrand in the first act of Dragon Age 2.
The statue from the video is perched on a pedestal in an ancient dwarven filled with red lyrium. The idol corrupts Bartrand, causing him to abandon his brother on the treacherous roads and turn his back on him. Varric requests that you travel to Bartrand's residence in Hightown later in Act 2 and confront him for his personal goal. You learn that the idol has contaminated his thinking and caused him to "hear a tune."
Because of the corrupting influence of the model, the dwarf made his servants consume lyrium before severing their access to it while they were still alive. To put it mildly, it isn't good.
You discover that Bartrand sold the idol to a woman after confronting and combating him; this woman is none other than Meredith, the Knight Commander of Kirkwall. The crimson lyrium pushes Meredith to go all out in her battle against the mages and magic, practically tearing Kirkwall apart.
READ MORE:
We hope you have found the information relevant. For the latest news and information, stay tuned with us here at Gameempress.com.