Even with several new weapons over the last few seasons, I've never seen any of them create a frenzy quite like this. It has been a very long time since Bungie crammed a piece of loot this good into Trials of Osiris in Destiny 2.
I'm referring to the new Aggressive Frame, Strand SMG, and The Immortal rewards from the Trials of Osiris this season. The good news is that PvP players now have something new and incredibly valuable to chase after in the mode.
The bad news is that it is so effective that everyone is using it; this weekend, it has approximately a million more Trials kills than its closest rival.
More good news for PvE players: this is one of only two Strand SMGs in the game, the only Legendary primary type that is currently worth anything, and it is superior to the other Neomuna SMG because it can also roll Strand-exclusive perk hatchling.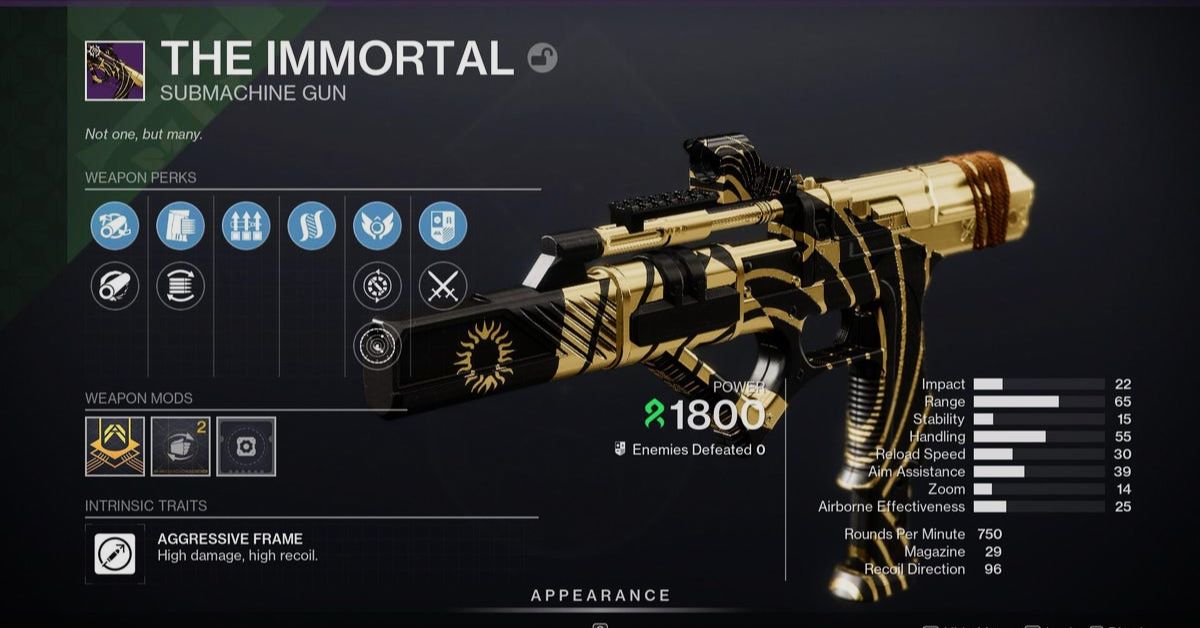 The bad news is that you must play Trials to obtain it. As there is only a day or so left for Trials this week, where the SMG is the Adept featured flawless reward, I am writing this late.
I'm addressing my fellow bad PvE players, though, who know that a quest for an SMG that isn't adept can take the entire season. Saint must reach Trials rank 10, which required me to play a few dozen games at, oh, let's say, a 1 in 3 win rate, at best.
Most likely worse. When you reach rank 10, however, you'll have 8 or 9 engrams where you can concentrate for rolls of this.
Does the god roll? Whether you're aiming for PvP or PvE will determine this:
PvP – Rangefinder/Target Lock. This thing's Target Lock is so effective that I'm concerned that it might receive a nerf. Threat Detector or Dynamic Sway could be used in the absence of a Rangefinder. In case Target Lock is weakened, I also have a Dynamic Sway/Tap the Trigger.
PvE – Threat Detector/Hatchling. Although I also have a Demolitionist one that I think would be entertaining with Strand grapple, Hatchling is what you want on this thing. Surplus/Hatchling is my role, which I am enjoying very much.
Why is the Immortal So Good?
First off, its base stats are simply amazing. Second, its perk pool offers both modes everything you could need. Third, it has access to the brand-new perk Field Tested, which provides even greater stat boosts on the damage.
You may also check some latest news about Destiny 2:
Fourthly, it does have an adept version if you can get it, which automatically elevates above most other weapons with extra stats and more mods. I'll be honest—before the flawless pool went live or even after—I didn't enjoy my time with Trials.
However, now that I have it, I am thoroughly enjoying it. It took me a day and a half of suffering to get something that, in my opinion, stands out among the ten trillion other guns that frequently blend in the loot pool. I do believe it is worthwhile to purchase a copy if you can handle the grind.