The latest patch for Warhammer 40,000: Darktide is officially available, and it brings with it some much-needed changes to weapons and characters. The current Darktide patch, which brings the Warhammer 40k co-op game to version 1.0.25, fixes and adjusts each of the four Darktide classes as well as a large number of weapons, primarily focusing on graphical problems and redistributing damage output more evenly.
Mistakes have been fixed in some of the character classes; for instance, the Ogryn Skullbreaker's "intimidating presence" aura was being used as a multiplier instead of a modifier. That ability should now function as intended, giving an additional 10% to melee attacks.
Using Brain Burst no longer increases the price of warp charges, and being stunned should no longer impede the Psyker's psi kinetic skills. Similarly, Psykers shouldn't be able to direct their Kinetic Overload ability upon undead foes.
Using Counterfire or Sustained Fire will no longer replenish Volley Fire when an Ogryn is killed, and the Veteran's additional damage to weak spots has been increased to 25%.
Later this week, Fatshark plans to announce updates to Dark tide's crafting system, Sier Melk's Exchange, and the Armory Exchange. From Steam, here are the complete patch notes for version 1.0.25 of Warhammer 40K: Darktide:
Similar posts:-
Ogryn
Advantages, Qualities, and Skills:
Skullbreaker's Intimidating Presence no longer acts as a multiplier instead of a modifier, a bug that was previously present.
Patch time, Rejects!

— Warhammer 40K: Darktide (@Darktide40K) February 7, 2023
Changes to Skullbreaker:
Hard as Nails' damage reduction has been lowered from 25% to 20% for every nearby knocked down or incapacitated ally (max 75% to max 60%).
Hard as Nails now only benefits from teammates within 20 meters.
All melee attacks will now be strengthened by "Raging Bull," as opposed to just the second one before the bug was fixed.
Changed 'Raging Bull"s damage bonus from 5% to 2.5%
There is now a HUD Icon for Skullbreaker with the "Hard as Nails" ability.
Zealot
Advantages, Qualities, and Skills:
Changes made to the sermon:
Strength increase from 'Purify in Blood' raised from 50% to 75%.
Modified the 'Faith Restored' spell to reduce toughness damage taken by 50% from 75%.
Psyker
Advantages, Qualities, and Skills:
Warp Charge costs should now accurately decrease when utilizing "Brain Burst," a feature that was previously broken.
Resolved an issue where being stunned might sometimes prevent the use of Psychokinetic powers.
Alterations to psychokinetic:
Warp Siphon now grants a 3% per Warp Charge damage buff, up from the previous 2%.
Warp Siphon fees will now diminish over time.
Brain Burst's damage and stun have both been increased by 10%.
Damage dealt by "Cerebral Lacerations" has been raised from 15% to 25%.
The bug that allowed "Kinetic Overload" to hit undead foes has been fixed.
Veteran
Advantages, Qualities, and Skills:
There is no longer a 25% reduction in defense when using Counterfire, as this was the issue that needed to be fixed.
This issue has been fixed where Counterfire and Sustained Fire would reset Volley Fire after an Ogryn was killed.
The highest rarity of the 'Speedload' blessing now grants 0.14 times faster reloading than before.
Subtle adjustments made by a sharpshooter:
The toughness restoration from 'Exhilarating Takedown' and 'Covering Fire' has been bumped up from 10% to 15%.
Increased Duck and Dive's stamina restoration rate from 20% to 30%.
Weapons
Improved the animations for switching between weapon special and hip-fire with the Columnus Mk II Braced Autogun, Graia Mk IV Braced Autogun, and Agripinaa Mk VIII Braced Autogun.
The issue where the Lawbringer Mk VI Combat Shotgun would ignore its weapon statistics while firing immediately after reloading has been fixed.
The issue with M35 Magnacore Mk II primary attack damage figures has been fixed.
The damage estimates for the Plasma Gun were too low.
'Bloodthirsty' should now always activate when using the Orestes Mk IV Assault Chainaxe.
Crash fixes for the situation where you are using the Obscurus Mk II Blaze Force Sword in a Push Follow-up Attack and then immediately switching to your Ranged Weapon.
All Rippergun weapons' damage output against Carapace Armor has been increased from 0.01 to 0.05.
Foe-Rend Mk V and Foe-Rend Mk VI Ripper Gun damage increased from 200 to 400 to 250 and 500 respectively.
The number of rounds for the Foe-Rend Mk V Ripper Gun has been raised to make it comparable to the Foe-Rend Mk II Ripper Gun and the Foe-Rend Mk VI Ripper Gun.
Modifications to the Lorenz Mark V Reflex
A 35% boost to the initial value of reload speed
The damage reduction factor when facing Carapace Armor has been increased from 0 to 0.05.
Damage done against Maniac foes has been increased from x0.9 to x1.0.
Distance cleave increased from 1.5 to 2.5 times as far.
The ammo reserve base values have been increased by 5.
The minimum and maximum ranges of effectiveness have been increased respectively to 5–8 and 8–15.
Two Krourk Cleavers, a Mark VI Cleaver, and a Mark IV The damage done by Cleaver's stab attacks has been enhanced against Flak Armor (from 0.8 to 1) and Carapace Armor (from 0.05 to 0.25) as of late. A stabbing attack now deals 1.1 (instead of 1.0) damage to Flak Carapace and Resistant.
Increased the Krourk Mk IV Cleaver's second heavy attack's sweep speed by 30%. The 0.15-second delay in completing a chain into a second heavy attack from previous actions has been reduced.
The issue where Cleavers couldn't utilize their weapon special when blocking has been resolved.
The "Brut Special" Mk I Bully Club's second heavy assault has a 30% faster sweep speed and a 0.15s faster chain time from other actions.
You can now slice through even more foes with the Orestes Mk IV Assault Chainaxe since the first hefty swing has been modified to be slightly more horizontal.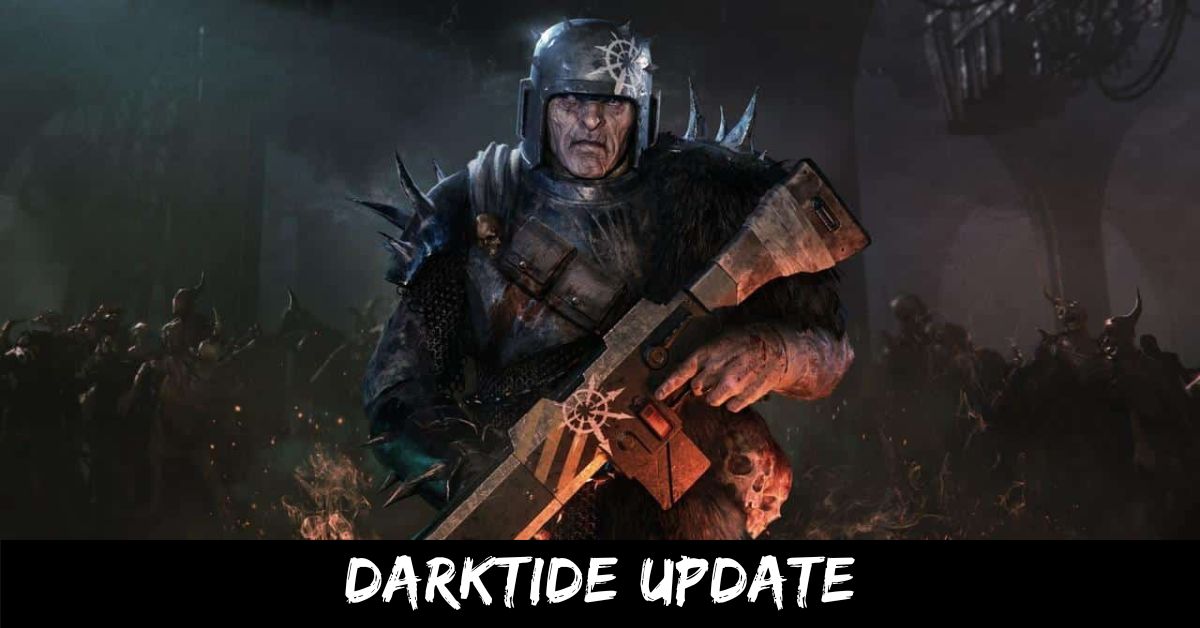 Agripinaa Mk. VIII Headhunter Autogun, Vraks Mk. III Headhunter Autogun, and Vraks Mk. VII Headhunter Autogun have all been updated.
Damage dealt to foes with Flak Armor has been increased from 0.75 to 1.0.
Damage dealt to Unyielding foes increased from 0.75 to 1.0.
lowered the horizontal recoil and made the weapons more manageable
The Agripinaa Mk. VIII Headhunter Autogun's damage has been increased from 9 to 15.
Vraks Mk III Headhunter Autogun and Agripinaa Mk VIII Headhunter Autogun have had their average clip size raised to 40.
Improved the Vraks Mk VII Headhunter Autogun's standard clip capacity to 30 rounds.
It improved the Orestes Mk IV Assault Chainaxe's heavy attacks by making it more impactful, and it allowed it to do damage to an additional target when cleaving.
The chain time to block has been reduced by 0.33 seconds and the time to attack by 0.05 seconds, while the sweep speed of the push follow-up strike has been increased by 20%.
We've fixed an issue where, when standing very near to an enemy, you could miss with a swing with the Krourk Mk VI Cleaver, Krourk Mk IV Cleaver, or Blastoom Mk III Grenadier Gauntlet.
The damage range of the Lorenz Mk V Kickback has been raised from 850 to 1150 to 900 to 1350.
This problem has been fixed where the Cadia Mk IV Assault Chains word's stab push attack would incorrectly apply 'Bloodletting.'
Curios
The issue where Curios with the Stamina perk would incorrectly apply +1 has been fixed.
Enemies
Changes made to Scab Shooter:
20% lessening of shot damage
Base aim time before firing has been lengthened from 0.2 seconds to 0.45 seconds, an increase of 0.3 to 0.5 seconds (scaled down by difficulty)
Base post-shot cooldown lengthened from 2.0–2.5 seconds to 2.2–2.75 seconds (scaled down by difficulty)
Cosmetics
The Nomanus Mk. VI Surge Force Staff now clips properly.
Concerning the placement of trinkets, concerns have been resolved.
The female veteran's cosmetics no longer have clipping or texture problems.
Modifications and Adjustments
The problem with unlocking the Untouchable and On Overwatch penances has been fixed.
With the new update, gamers who have more powerful computers won't have to wait for those with weaker ones to finish loading before they can begin the quest.
The bots have been adjusted so that if there are too many adversaries nearby, they will not focus on reviving other downed bots.
Subtitles' client settings have been optimized for proper initialization.
Agreements with Sire Melk can now be considered Completed in any language you like to name.
Conflict Area Currently Set in Stone Explicit conditions are being shown a little too soon.
The Mission Board now displays the additional reward conditions.
More checks have been included to prevent the situation when the heads-up display (HUD) markers for items and interaction points are not properly positioned.
Input hold time for skipping cutscenes has been reduced.
You now get a pop-up message if changing an option requires a game restart.
To discard many items at once, you must now hit the hotkey again for each item.
Games that you have recently played on Steam with other users will now appear in the Recent Games tab.
Enhanced button tooltips for Controllers' loadout view operations.
Equipping a weapon from the Inventory Screen will no longer take you to the Loadout screen.
When you return to the Morningstar after a mission, you'll see notifications about any new things that were added before the mission ended.
The issue where skipping a slow-motion cinematic clip would leave the player in slow motion has been fixed.
A band of Rejects

🎨 by Redditor ONE_RAMM pic.twitter.com/wKv93MVSd9

— Warhammer 40K: Darktide (@Darktide40K) February 5, 2023
Read more:-
We hope you have found all the relevant information about the Darktide Update Shakes Up Warhammer 40k with Improved Characters and Weapons. For more latest news and updates stay tuned with us here.
Frequently asked questions
What is Darktide update 6?
With this update, we get a whole new map, two new weapons (one for the Zealot and one for the Ogryn), the new Refine option in the crafting menu, the possibility to play in private games, and the addition of a new condition! You and your strike squad have been tasked with entering Comms-Plex 154/2f.
Will Darktide beta carry over?
Your progress from the beta phase of Warhammer 40,000: Darktide will be saved and carried over to the full game. The developers at Fatshark have confirmed that players' progress from the pre-order beta of the bleak co-op action game Warhammer 40,000: Darktide will carry over when it releases on PC on Wednesday.