Cyberpunk: Edgerunners Season 1 Episode 7 Recap: In this episode of the Cyberpunk: Edgerunners anime series on Netflix, David has stepped up to the plate as the new leader of the team since Maine has abandoned them. Though they are preparing for a major new mission, he is still frustrated by Lucy's refusal to help.
Many months have passed after Maine's passing. David's new team is getting ready inside an armored van piloted by Falco on the way to an assignment.
Becca tells Julio, the team's youthful new recruit, to calm down because he's acting so nervous. David, who has bulked up to twice his former size, is a rising star in his field. After feeling sorry for Julio, he gives him a gun that should do the trick.
Cyberpunk Edgerunners anime is tight.
lotta cool jackets 10/10 pic.twitter.com/ZaSuz7lomQ

— Jake Baldino (@JakeBaldino) September 20, 2022
Cyberpunk-Edgerunners Season 1 Episode 7 Recap
They are attacking what amounts to a castle, staffed by heavily armed criminals and equipped with automatic gun turrets. Kiwi's hack, Becca's wild attacks, and David's Sandevistan help them quickly seize control of the situation and slaughter the gang members and their massive leader.
Despite David and Becca warning him to be careful, the newcomer, Julio, tragically dies when he sets off an explosive tripwire. They save Isabella Morgan, the daughter of a wealthy man.
Wakako, who they've been in touch with about a job, thinks they're doing a great job. Becca is imitating her late brother Pilar by making a big deal at the end-of-the-job parties about her enormous new cyber hands augmentation.
David and Kiwi discuss Lucy and Kiwi's theories as to why Lucy hasn't returned to the crew despite David's encouragement.
— Cyberpunk 2077 (@CyberpunkGame) December 14, 2020
In This Cyberpunk Recap Of Edgerunners, We Check In With Faraday.
David ditches the get-together early to make another appointment with his ripper doc. During David's procedure to get fine-tuned, the ripper doc cautioned him to ease off on the augmentation so that he wouldn't have to resort to eating Immuno blockers. He's amazed at how much chrome David has on him now. Currently, his body is made mostly of metal.
Despite the doctor's fears, David insists that he is well. During their conversation, Kiwi mentions that he has a contact that would like to meet with David.
Faraday meets David at the Afterlife Bar and hires him on the spot for a test task for Militech, Arasaka's main competitor. David needs to persuade Lucy to join them again so that they can finish Faraday's work.
Summary of the seventh episode of the first season of the cyberpunk television series Edgerunners, in which David and Lucy spend some time at their house.
When Lucy returns home, she exits the icy bath where she had been diving the net. They discuss their days before she drives them out of Night City to the outskirts so they can look at the sky and he can listen to his music.
Lucy starts rambling about her life while David is trying to encourage her to come back to the crew. She was born and reared in an Arasaka facility outside of Night City together with 13 other children who were all identified as talented prospective net runners, she says to David.
All of the children were either orphans or discarded wards of the state. Arasaka honed their skills as net runners and then made them scour the Old Net every day seeking information that was lost in the DataKrash incident decades earlier.
Synopsis Of "Into The Old Net," Episode 7 Of Cyberpunk: Edgerunners Season 1
Lucy and the other kids were dispatched into the Old Net's uncharted territories to recover some missing data, where they faced off against cyber daemons and rogue AI. Many of the kids perished as the virtual monsters became more numerous and deadly with each successive dive.
The children eventually rebelled and killed the tech workers when they understood they were being used. All the inmates made a break for it, but only Lucy got out of the Arasaka building alive.
After waking up in a scrapyard, Lucy moved around until she found a permanent home in Night City. Perfect for those who prefer to remain unidentified.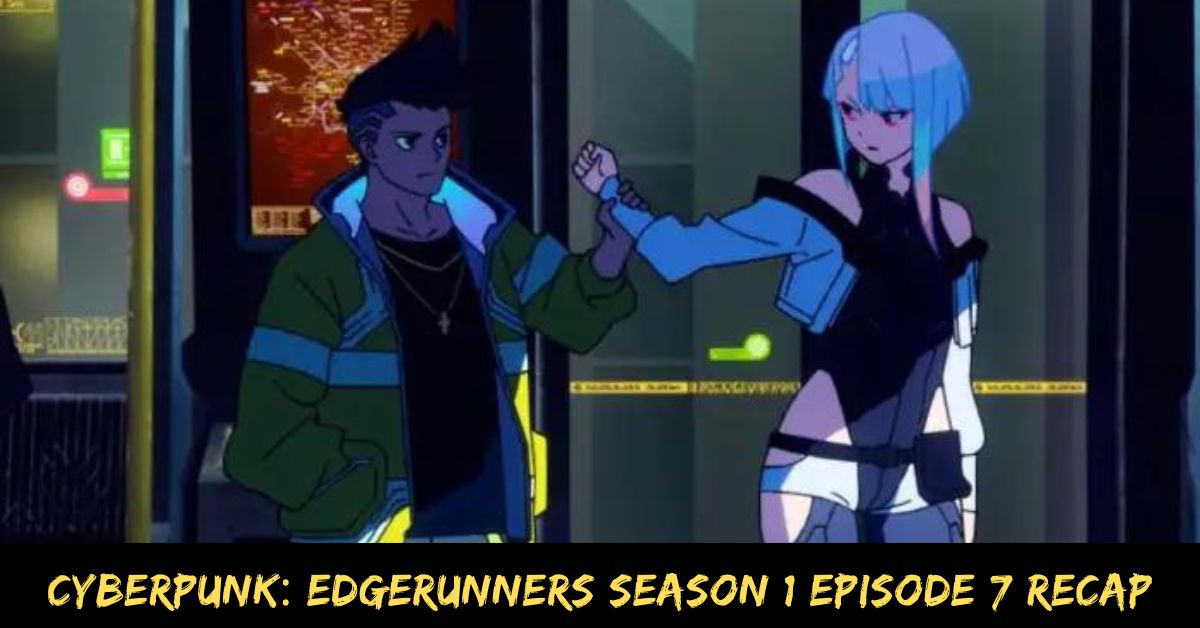 There's a quick cut to an Arasaka net runner explaining over the phone why Tanaka's data was corrupted before he passed away. Then, as he stands up from the deep dive chair, Lucy appears from the shadows, hacks into his brain, and kills him.
Review of Cyberpunk: Edgerunners, Episode 7
The time skip is the main feature of this episode, albeit I can't say for how long. The most notable difference is that David has stepped into Maine's shoes (and cyber arms) and become nearly as pneumatically carved and swole as he is.
The fact that Kiwi, Becca, and Falco resumed their previous positions as soon as David assumed command is evidence that they are willing to take orders from virtually anyone. The only one who hasn't gone back to a life of criminal cyber hacking is Lucy, who is both the most perceptive and the blindest of the group.
The fact that she is perceptive does not guarantee that she can withstand the oncoming danger. Because this episode is primarily concerned with establishing the story's background, the time jump is once again the program's central focus, so there isn't much to discuss.
It doesn't take a rocket scientist to figure out that David is on the same path as Maine and will eventually meet the same end. The extent to which David's body has been covered in chrome is a surefire example of the "the more things change, the more they stay the same" theme.
He has so much chrome that even his doctor is impressed. The chrome is also causing problems with the immune blockers David is taking.
Because of this, he is now exhibiting symptoms of chrome sickness, such as a minor nerve shaking whenever his hands are in motion, even when he is at rest. Why is it not a mystery to any of us?
Moreover, what this implies. David has settled into his role (as crew commander), but he hasn't yet discovered who he is (or his own purpose).
i found him too lol 🤣 pic.twitter.com/Gxm4TsuQNi

— guche (@socialjunker) December 14, 2020
Lucy's assessment that he is "still chasing someone else's dream" is spot-on and heartbreaking. It works both as a foreboding tragedy and a predestined requiem for a hero's death, which is perhaps the best that young David Martinez's lifestyle has to offer.
You may learn a lot about Lucy and how she became such a skilled net runner by looking into her life before she moved to Night City. We get the impression that Arasaka is hot on her trail, setting up future episodes.
i found him too lol 🤣 pic.twitter.com/Gxm4TsuQNi

— guche (@socialjunker) December 14, 2020
Just where exactly is it that the mysterious Faraday's mission will take them next? Nothing except shame and disgrace. Lucy wants to resist falling in love with the reckless and impulsive teenager, but she has no control over this.
What Was The Point Of Cyberpunk: Edgerunners?
"Cyberpunk:
Edgerunners
" is set in the same world as "Cyberpunk 2077" but follows an original and powerful story. 
Its portrayal of unique but relatable characters struggling with poverty, trauma, and body image issues in the brutal streets of Night City keeps viewers emotionally captivated
.
Are the Edgerunners in Cyberpunk 2077?
The 1.6 Cyberpunk 2077 update is here, and with the update comes new content to the game.
Some of which directly reference the
Netflix
anime Cyberpunk Edgerunners
. You'll now be able to unlock new clothes, weapons, and more. This Cyberpunk 2077 Edgerunners guide will detail everything you'll need to know.
Does Edgerunners Happen Before The Game?
Cyberpunk Edgerunners can be seen as some sort of a prequel to Cyberpunk 2077. With Rebecca's discarded gun found by a bush and David's jacket given to V by Falco, meaning
all of the events in Cyberpunk Edgerunners happened before the main story of Cyberpunk 2077
.
Does Edgerunners Happen Before The Game?
Cyberpunk Edgerunners can be seen as some sort of a prequel to Cyberpunk 2077. With Rebecca's discarded gun found by a bush and David's jacket given to V by Falco, meaning all of the events in Cyberpunk Edgerunners happened before the main story of
Cyberpunk 2077
.
Final Words: This article concludes with information about Cyberpunk: Edgerunners Season 1 Episode 7 Recap. Stay tuned with us here at Gameempress.com for more latest news and information.