The presentation of classic games is a major obstacle to overcome when working to preserve them. Mini consoles, modernized hardware, subscription services, throwback collections, and contemporary rereleases all contribute to a thriving retro gaming scene in 2022. These can make classic games accessible to modern gamers, but they don't always give the games the historical context they need, which is especially crucial for games as dated as Adventure on the Atari 2600.
And the next XP cartridges are… Centipede and Yars' Revenge! 😱 🕹️ https://t.co/chxxxOw27A pic.twitter.com/6gdUOMnWvT

— Atari (@atari) November 8, 2022
Atari 50
While I've seen several attempts at vintage collections over the years, the latest release by Digital Eclipse to honor Atari's 50th anniversary is the best I've seen. It's on the PS5, Xbox One, Switch, and PC, so I can finally utilize my PS5 for what it was designed for: playing Asteroids. The compilation is massive, rich in detail, and does a fantastic job of elucidating the significance of these games.
Atari 50: The Anniversary Celebration is, first and foremost, a tremendous undertaking. It features almost 90 titles spanning several decades. Most of them were made for the Atari 2600 and arcades, but there are also games made for the personal computer, upgrades for the Atari 7800, and a few games made for doomed handhelds like the Jaguar and Lynx.
Extras include unreleased prototypes like a sequel to Yars' Revenge and new takes on classics like Haunted House and Breakout. Along with the games themselves, this collection includes a plethora of other materials, such as feature-length documentaries with the games' original programmers, rare photographs, magazine articles, comic books, and remastered reproductions of classic Atari box art. Many games' source codes are also available for viewing.
#atari #Atari50 #steelbook #NintendoSwitch pic.twitter.com/ZVY4Wao910

— Jason (@REAPER_25) November 11, 2022
The team at Digital Eclipse has organized this apparently endless amount of information into a timeline. It spans from Atari's arcade beginnings to home consoles and personal computers and then the dark days of the Jaguar. To help you get a feel for a game's setting before you dive in, the timeline sprinkles in background information alongside the games. There is also no required sequence in which you must experience the events of the past. You can selectively focus on the topics that most interest you and skip the others. It's like interacting with an exhibit at a museum, only on your TV.
Many of these games have not held up well over time, thus the historical context is crucial. Despite my fondness for classic video games, I have no idea what I'm doing when I launch a game like Swordquest. But after reading the comic books that explain the series' history and viewing videos of the designer discussing his process, I came to have a much deeper appreciation for the show. Although I still didn't love playing them, knowing their historical significance helped me appreciate how they paved the way for modern action-adventure games. To celebrate Atari's 50th anniversary, a brand-new adaptation of the fourth game in the series is included.
Atari 50: The Anniversary Celebration is a retro collection like no other, taking you on a journey through Atari's 50-year history.

Read our review here: https://t.co/pwWSYPWCai pic.twitter.com/mCuqOhanWm

— GameSpew.com (@game_spew) November 11, 2022
I also found it fascinating to evaluate the differences between various game editions. As an example, the early dungeon crawler Dark Chambers became one of my favorites. When I first played it on the Atari 7800, I was blown away by how well-developed the characters and environments were. After that, I gave the 2600 port a shot and was pleasantly surprised by how much of the game was still there despite the machine's obvious limitations. It was very much like playing an early version of Super Mario Bros., called Scrapyard Dog. After getting my fill of the colorful console release, I tried my hand at the Lynx handheld version, which was surprisingly competent.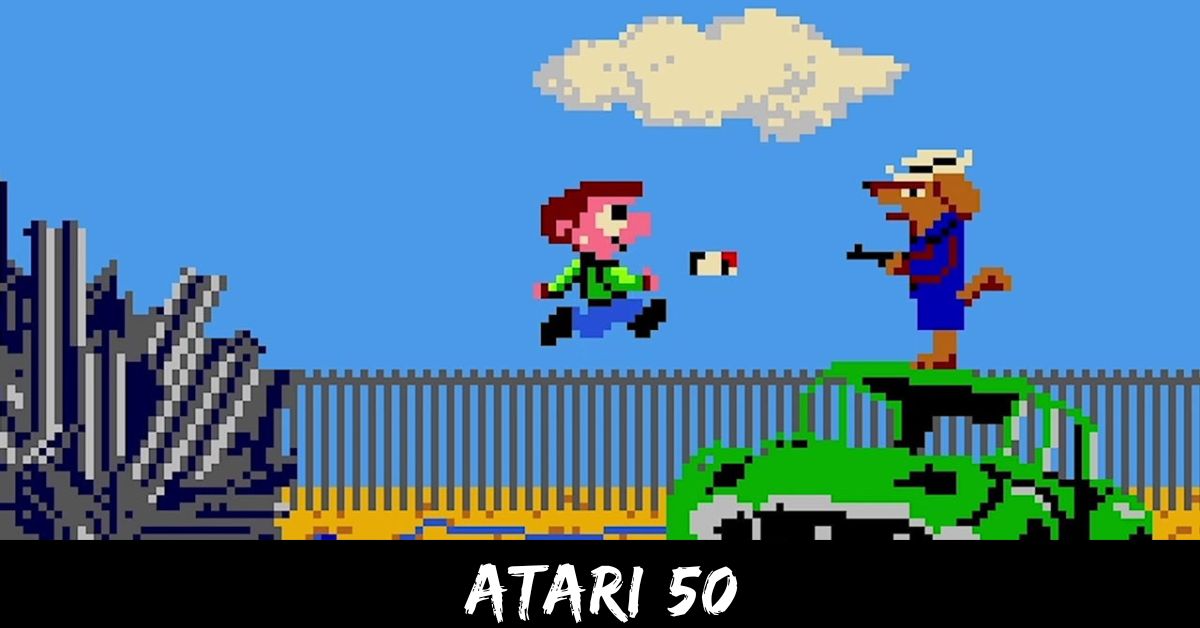 Some contemporary conveniences facilitate this entire process. Atari 50 includes saving states so you don't have to worry about losing your progress if you want to switch between games quickly. Because the controls vary from game to game and platform to platform, you may also quickly access the original manuals and guides with the push of a button. It's also worth noting that you don't have to play through Atari 50 in a linear fashion; you may, like with other retro collections, simply play the games in any order you like.
The uniqueness of this collection, though, lies in the fact that it spans so much time. Without it, I would have given most of these games a quick try and gone on, but now that I have some background knowledge, I'm excited to learn more about them and their place in gaming history. Nonetheless, there are a few key things missing. Sadly, major blockbusters such as Alien vs.
The Atari 50th: Anniversary Celebration is an exploration of Atari's full history with amazing interviews from company veterans! pic.twitter.com/OTzGPRS7z1

— Atari (@atari) October 3, 2022
Predator for the Jaguar and the infamous E.T. for the Atari 2600 isn't included in Atari 50 because of the limited number of third-party titles listed. I've said this before, but many of these games just aren't very pleasant to play in 2022, and that's not the fault of the folks at Digital Eclipse. Having seen magazine screenshots of the 3D Jaguar fighter Fight for Life since I was a kid, I can now say with confidence that the game is as bad as I had always heard.
That fact in no way diminishes Atari 50's accomplishment status. In its scope and depth, it resembles a lesson in history, yet it's presented in a style that's uniquely suited to the medium of video games. The highest praise I can give is that it has made me want to complete all of my existing vintage sets. Can you picture this happening to Nintendo, Sega, or PlayStation? That's a far shot, but playing Atari 50 has inspired a desire of mine.
Final Words
This article concludes with information about the Atari 50 Is The Best Video Game Compilation Because It Includes Playable Games From Every Major Console. For more latest news and information stay tuned with us here at Gameempress.com.