AMD Reconsiders RDNA 3 Performance With RTX 4090
AMD Reconsiders RDNA 3 Performance: AMD reportedly removed performance-per-watt graphs from its latest RX 7900 XTX and 7900 XT graphics card presentations that compared the cards to Nvidia's RTX 4090, as noted by ComputerBase.
RDNA 3 RASTER PERFORMANCE – Make your final predictions versus the RTX 4090.#N31 #rdna3 #rx7900xtx #amd #radeon #rx7900xt #pcgaming #tech #hardware #geforce #rtx4090 #rtx40

— RedGamingTech (@RedGamingTech) November 2, 2022
AMD Reconsiders RDNA 3 Performance
There was intended to be a performance-per-watt slide comparing the power efficiency of the RX 7900 XTX and the RTX 4090, but AMD never showed it, according to the presentation's footnotes from November 15th. The "RX-841" footnote that does not have a matching slide in the deck elucidates the omission.
AMD is focusing on $1,000 or less with its RDNA 3 graphics cards. https://t.co/iPb12dl3DI

— PC Gamer (@pcgamer) November 3, 2022
The RX 7900 XTX was pitted against Nvidia's extremely power-hungry GeForce RTX 4090 in terms of performance per watt using the latter's published peak power consumption numbers (TBP/TGP). It appears that AMD's choice to omit the slide was taken at the last minute due to an oversight in the presentation's preparation.
As of now, we have no proof as to why AMD opted to remove this presentation, however, there are likely multiple explanations. AMD has stated that the RX 7900 XTX competes with the RTX 4080, therefore a comparison to the RTX 4090 may not have been appropriate.
Moreover, despite Nvidia's 40-series cards' enormous power requirements, the new design is more energy-efficient than its predecessors, and the cards' power consumption is typically far lower during gameplay than the complete TGP.
As an example, the RTX 4080 performed exceptionally well relative to its power consumption in our study. Its performance in games was superior to that of Nvidia's power-hungry RTX 3090 Ti, although it used significantly less energy than its maximum 320W TGP allowance.
Our testing revealed that the RTX 4080 Founders Edition only needed 221W to run at 1080p. Moreover, we discovered that Furmark plus a GPU overclock would be the only workload to exhaust the RTX 4080's power allowance.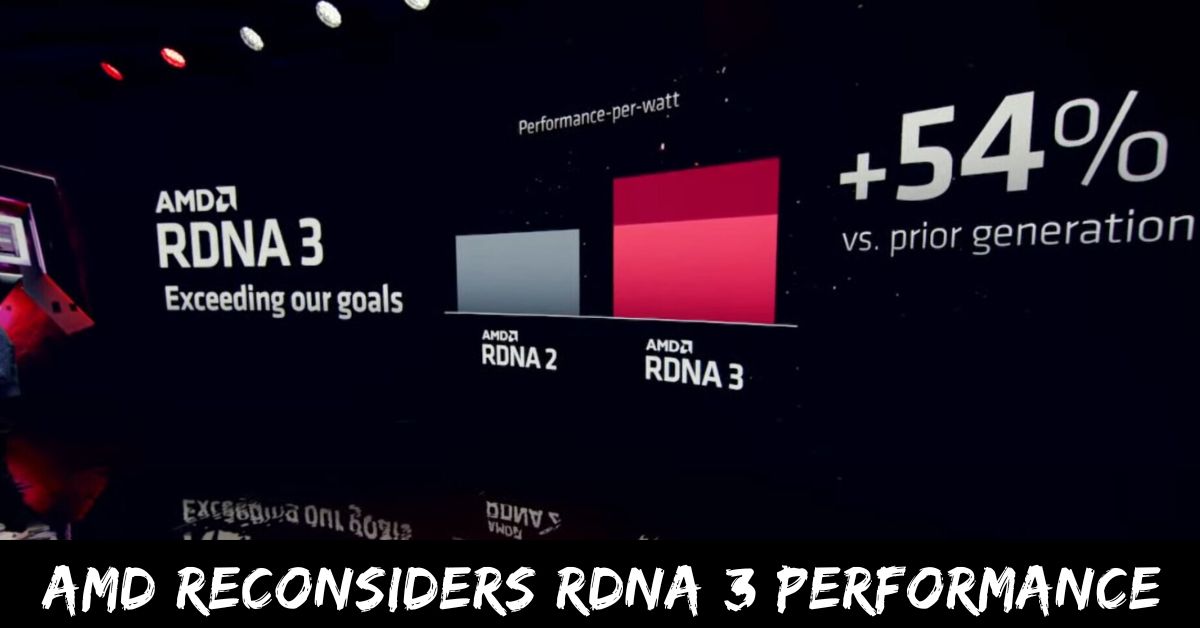 Nvidia also wrote an article(opens in new tab) to emphasize that their GPUs don't use the full TGP while gaming by claiming that the RTX 4080's power consumption might peak at only 251W under typical gaming conditions (albeit at 1440p resolution).
Nvidia claims that its previous-generation RTX 3090 Ti consumes 398W under typical gaming workloads, so this is a remarkable achievement. Even without taking into account the RTX 4080's marginally improved gaming performance, this amounts to a 37% decrease in power consumption.
It is reasonable to anticipate that AMD's upcoming RDNA 3 GPUs will be very efficient, potentially even more so than the 40-series. AMD, like with every product introduction, will want to ensure that its card has a sizable head start so that the benefits of its architecture can be properly highlighted. Perhaps AMD was hoping for a more favorable result when compared to the RTX 4090.
Since the RTX 4090 probably doesn't draw its full TGP during gaming, AMD may have concluded that comparing the two cards based on total power ratings alone might not be the ideal strategy. More so than the RTX 4080, the RX 7900 XTX is in direct competition with it.
Built on the groundbreaking AMD RDNA 3 architecture with chiplet design, the new Radeon RX 7000 Series GPUs are the most advanced graphics cards for gamers, delivering exceptional performance and efficiency to supercharge your system.

Watch the recap: https://t.co/Z8gPXNe4Z0 pic.twitter.com/aKE7Kz8iPR

— AMD (@AMD) November 4, 2022
Some of the comparisons presented in a presentation are bound to be omitted in the final version; for example, Computerbase pointed out that AMD's "RX-837" footnote and what appears to be the "RX-838" footnote are both absent from the presentation.
AMD's RDNA 3 graphics cards will launch December 13, starting from $899. https://t.co/MoiAXx6Xpv

— PC Gamer (@pcgamer) November 3, 2022
AMD's comparison of the RX 7900 XTX with the RTX 4090 in terms of power efficiency has mysteriously vanished from the presentation, and we may never learn the reason why.
Frequently Asked Questions
How Good Will RDNA 3 Be?
According to AMD, "estimated >50 percent greater performance per watt than AMD RDNA 2 architecture" is something you can expect from RDNA 3. A 50% improvement is possible when comparing any two GPUs, although as we've mentioned before, that's more of a best-case scenario.
Can AMD GPUS Raytrace?
Yes. In theory, any graphics processing unit (GPU) or central processing unit (CPU) could do ray tracing if given the proper instructions by the software (including drivers). Since RTX is an NVIDIA-exclusive technology, AMD graphics cards are unable to use for ray tracing.
How Much Faster Will RDNA 3 Be?
RDNA 3 is said to provide up to 50 percent higher performance per CU than RDNA 2, which seems unlikely to come up to Nvidia's scorching RTX 40-series performance considering the deficit AMD started in, but might make ray-traced games really playable on RX 7000-series graphics cards.
Final Words: This article included all the relevant information regarding the  AMD Reconsiders RDNA 3 Performance With RTX 4090. For more latest news and information stay tuned with us here at Gameempress.com.