On Tuesday, the Dead Reckoning Update 7.32e update and the newest Dota 2 hero, Muerta, were available (7 March). As an intelligence-carrying hero, Muerta may harm numerous foes with his trick shots, summoned spirits, and gunplay.
Then, by using her ultimate, she can change into a terrifying revenant of death who does magic damage and is resistant to physical harm.
The first hint towards Muerta appeared in October last year on the final day of The International 11 (TI11), Singapore's Dota 2 world championship competition. She has officially been included in Dota 2's extensive list of playable heroes as character number 124. The game's 123rd hero, Primal Beast, was made available in the 7.31 update in February 2022.
The Dead Reckoning minigame, accessible in the game from March 6 until April 4, will be released alongside Muerta. At the beginning of each round, each player is given a target, and points are awarded for kills and assists on that target.
The new Dead Reckoning Chests, including new cosmetic item sets based around the event, can be obtained by exchanging those points.
Unlike most significant updates with new heroes, Muerta's 7.32e letter patch only made minor adjustments to the numbers for a select few heroes. The 7.33 patch's "ambitious gameplay patch" will not be available to players until late April, according to Dota 2 developer Valve Software in a blog post.
"A new hero, item sets, and a mini-game are just a few of the additions in The Dead Reckoning Update that we are most pleased of. But we understand. Several of you hoped for Patch 7.33, "Valve stated.
"We had hoped to finish an ambitious gameplay patch in time for this update, which we have been working on for a long. Currently, late April is when we plan to release it. So, enjoy the Dead Reckoning Update and Patch 7.32e in the interim while we finish it."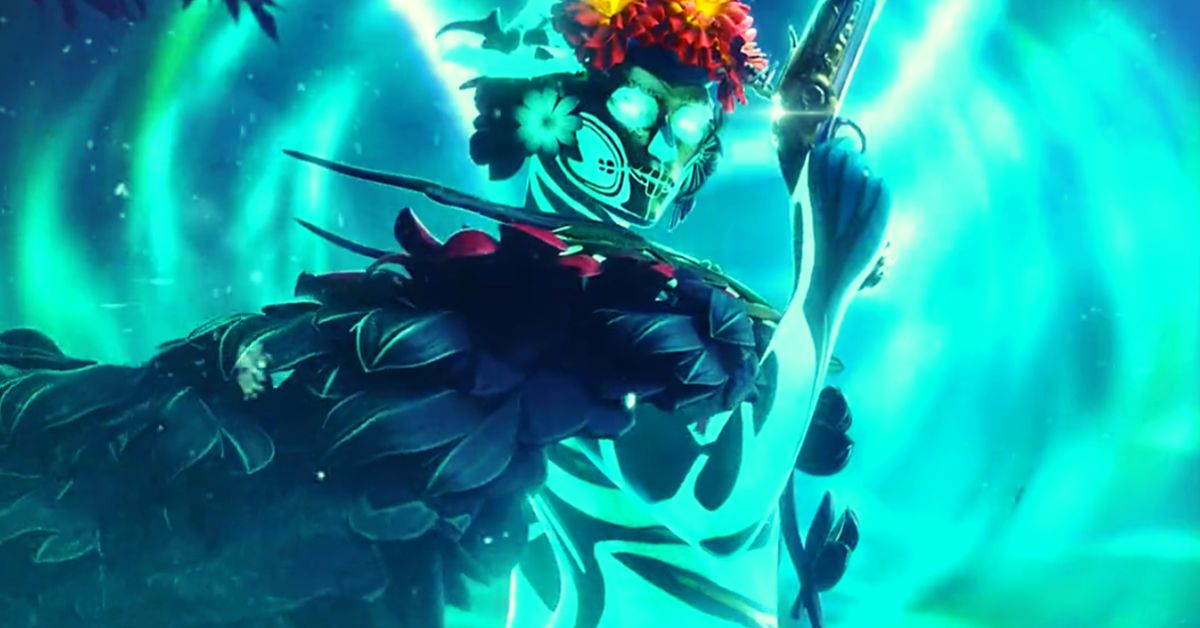 How Do You Play as Muerta?
At least we have a new hero in Muerta to keep us occupied as we endure the excruciatingly long wait for a long overdue makeover update in 7.33. This is a description of how the new hero functions:
Muerta can trickshot an enemy unit or tree using her initial ability, Dead Shot. After striking, the bullet does damage and momentarily slows down before glancing in the desired direction.
The ricochet damages every unit it travels through and stops when it strikes a hero. Apart from the impact, heroes hit by the ricochet are dreaded.
Dead Shot's maximum level deals 300 damage and instills fear for two seconds in the target it hits. The skill has a 16-second cooldown at level 1 and costs 100 mana; at level 10, these values drop to 10 seconds and 160 mana, respectively.
The Calling, Muerta's second ability, calls forth a quartet of revenants who slowly circle a chosen area. Opponents nearby are slowed, and their attack speed is decreased. As adversaries pass through the revenants, harm is dealt to them, and they are silenced.
Enemies inside the 10-second-long circle summoned by this skill will increase their attack speed by 60 percent at the maximum level, and their movement speed will be hindered by 30%. The revenants deal 180 damage and silence targets for 3.5 seconds when they hit an enemy.
The Calling's mana cost scales from 150 to 225 and has a fixed 30-second cooldown. Gunslinger, Muerta's third skill, is a passive power that, at maximum level, provides her assaults a 50% chance to fire a second shot at a different target, giving heroes priority.
Pierce the Veil, Muerta's ultimate, enables her to change into an invulnerable revenant of death. All her attack damage is treated as magical damage while in this state. She also gains phased movement and additional attack damage.
Muerta can attack ethereal opponents with her ultimate, but she does not harm Magic Immune targets.
At the maximum level, Muerta gains 100 additional attack damage from Pierce the Veil, lasting 8 seconds. Starting with a 150 mana cost and a 75-second cooldown, it scales to a 350 mana cost and a 45-second cooldown.
Here is Muerta's talent tree:
Level 10: +8 Strength or +100 Dead Shot damage
Level 15: +25 damage or +250 Dead Shot cast range
Level 20: The Calling summons 2 additional revenants or 2 Dead Shot charges
Level 25: +25% magic resistance or +20% Gunslinger chance
These are some news that is similar to this one:
How to Build Muerta
Dead Shot and Gunslinger should be given priority in your Muerta skill build, and one value point should be allocated to The Calling. Depending on your lane situation, you can max out Death Shot or Gunslinger first.
Dead Shot should be maxed first if you are playing in a lane with a lot of action. Go with Gunslinger instead if your route is reasonably secure and you are free farming. Pierce the Veil should, of course, be leveled whenever possible.
Building attack speed and survivability should be your main priorities when crafting items for Muerta. Power Treads footwear and the Witch Blade is your go-to items if you want to attack quickly and deal much damage.
Maelstrom is another excellent option if your opponents have a lot of summons. If you need an even higher attack speed or more disables, upgrade it to Mjollnir or Gleipnir.
Your top priority should be Black King Bar because using it during Pierce the Veil will make you immune to everything that doesn't pierce magic immunity. Naturally, it would help if you also watched out for foes with BKBs of their own and waited for them to utilize it before using your ultimate.
Constructing Hurricane Pike is quite helpful because it increases your attack range while also allowing you to retreat from ganks or pursue escaping enemies. Get Assault Cuirass or Shiva's Guard if you require extra protection, albeit the latter is more aggressive due to its attack speed bonus and armor debuffs.
Another essential item to purchase in the late game is Satanic, which enables you to remove debuffs and defend yourself from the opposition. Monkey King Bar, Bloodthorn, Scythe of Vyse, Revenant's Brooch, and Daedalus are just a few examples of other luxurious things you can purchase.
Here, you can also look up the related news:
We trust that this post will be helpful to you and that you will enjoy reading it. Comment below to let us know if you found this useful content.