Rocket League MMR, or Matchmaking Rank, is a critical factor in determining the type of games and the people you'll face. Astonishingly, more people don't care about their rank because it may make the difference between playing competitive games, getting beaten, or making the game too simple. You should probably check out Rocket League now that it's such a popular competitive game, and we're here to help you do just that!
It is not a post on Rocket League Rank, so let's be clear about that. That, my friends, is an entirely distinct concept from MMR, even though they are both based on the same violent game and include some rating. That's a no-brainer. You guessed it: everything with the term "ranking" in the name is a ranking! Woah! That's quite the shocker! What a discovery! Before I irritate too many folks, let's get started.
What Is Rocket League MMR?
You play against other players in Rocket League based on your MMR or Matchmaking Ranking. In one of the 23 possible rankings, a secret number tells you where you stand. Make sure you're playing with people of a similar level to you. So that you may rise the ranks and face more vigorous opponents by constantly doing well.
To keep in mind, Rocket League's MMR is made up of a slew of various stats. This game isn't only about winning; it's also a matter of your opponent's MMR. The higher your opponent's rank is, the more likely it is that a win for you will result in an enormous boost and a smaller loss for them. Depending on the party, your MMR is also affected, with everyone being influenced by the group's most outstanding player. Make sure your abilities are up to date if you're playing with some of the best Rocket League players!
Rocket League MMR Tier Ratings
Based on how many victories and losses you've had and how many people you've fought against, MMR Ratings are computed in Rocket League. Rocket League's MMR Tier Ranks are shown below in numerical order.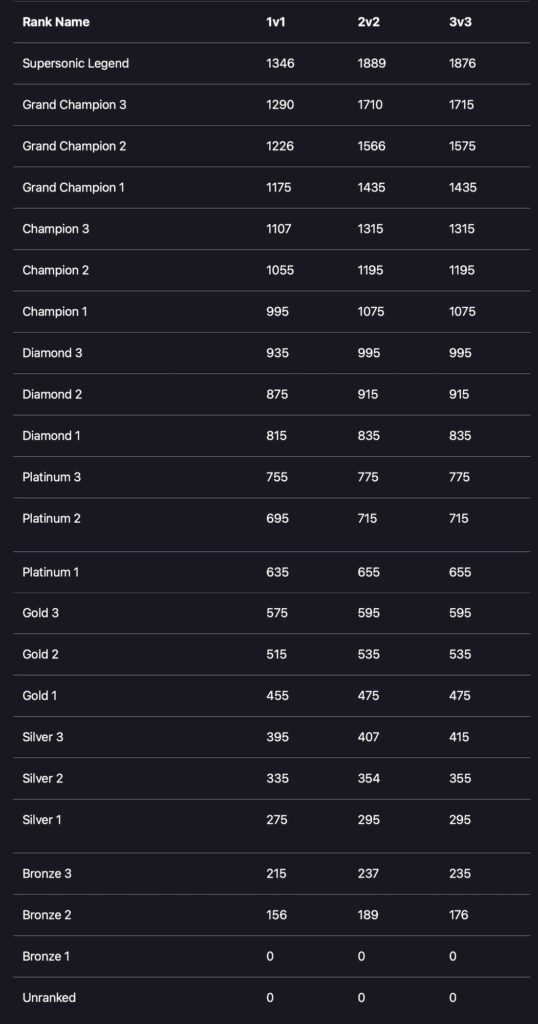 If you want a brief explanation of these numbers, you advance to the next rank after reaching the one indicated in the table above. It means you have an MMR rating of 237-295 if you're a Bronze 3 in 2v2 games. As a result, you probably don't have the precise number given, but you'll be someplace on the spectrum.
How To Check MMR In Rocket League
There are many tools available for checking your MMR in Rocket League, but we'll concentrate on Alpha Console, Bakkesmod, and a few other standouts.
Alpha Console / Bakkesmod
A visual customisation tool and MMR Ranking have been added to Alpha Console, which will be shut down in early 2020 by the Bakkesmod team. To use this mod, you must first download it from the developer's website and then run the installer that comes with it. However, checking your MMR on a website is far more convenient.
Websites to Check MMR Quickly
Launch Rocket League and go to a tournament to find out what your MMR is worth. You'll see your division's numerical value next to it. Your MMR is calculated using this number value.
In addition, you may track your MMR using numerous tracker websites, such as
https://rocketleague.tracker.network

https://www.rlstats.net

https://www.rltracker.pro
How to Increase and Decrease MMR?
To determine your MMR value, you must win or lose each game. After winning a game with an MMR of 110, you'd have 115. After losing, your MMR would drop to 90.
How does the skill level of my opponents determine MMR?
The average amount of MMR is gained or lost when you are matched against an opponent of the same level.
When paired against a higher-ranked opponent, you will either gain more or lose less MMR than the average.
When you are pitted against a lower-ranked opponent, you will acquire less or lose more MMR than the average.
Remember that the greater the number of games you participate in, the easier it is for the algorithm to establish your competitive position.
That's all you must know about MMR in Rocket League. If you face any difficulty understanding the Rocket League Ranks, do let us know in the comment.