Today we are going to talk about How To Get Ready For The Massive Sumeru Upgrade In Genshin Impact. The new version of Genshin Impact, called Sumeru, will soon be available. On the evening of August 23, a massive 3.0 patch will be released, including a brand new location, a grass-based elemental power called Dendro, and some adorable new playable characters. A new expansion is on the way, expanding the game's already massive open world. And there's plenty to do in the meanwhile, from story quests to mainline quests to character development to adventuring in Teyvat.
There may be a lot of information to process, but we hope to simplify things so you're ready for the big update. To that end, we've compiled a set of tips to give participants a leg up on the competition.
Though this guide is written with players of varying skill levels in mind, it will be of greatest use to those who haven't been grinding out to the highest possible level and completing every single piece of content from the start.
Genshin Impact – Sumeru Gameplay Trailer|Gamescom 2022

Embark on a new journey in Genshin Impact with Sumeru's gameplay trailer.

Sumeru Gameplay Trailer
Click to view in-game footage >>>https://t.co/TNpNRtV7mD#GenshinImpact #Sumeru

— Genshin Impact (@GenshinImpact) August 24, 2022
This is not an all-encompassing checklist, but rather a springboard for further thought and a reminder of possible things to do before the patch goes live. We won't tell you to hoard your Primogems, either, because you'll eventually use them to unlock the next character you choose, but we do provide our own advice on how to do so, just in case you need a refresher.
Complete The Ongoing Archon Challenges
The release of version 3.0 will occur next week, therefore it's important to wrap up all of the primary quests before then. To accomplish this, you must reach the end of the mainline Archon quest chain associated with Inazuma, which is titled "Act 3: Omnipresence Over Mortals."
The interlude quests in the Chasm, "Requiem of the Echoing Depths" with Dainsleif and "Perilous Trail" with Xiao, must be finished in addition to the Archon quest. You need also to finish the interlude quest in Shenhe, which you may have started before you finished Inazuma's main content. (Check out our walkthroughs if you need assistance with any of these quests.) There is a fair amount of ephemera.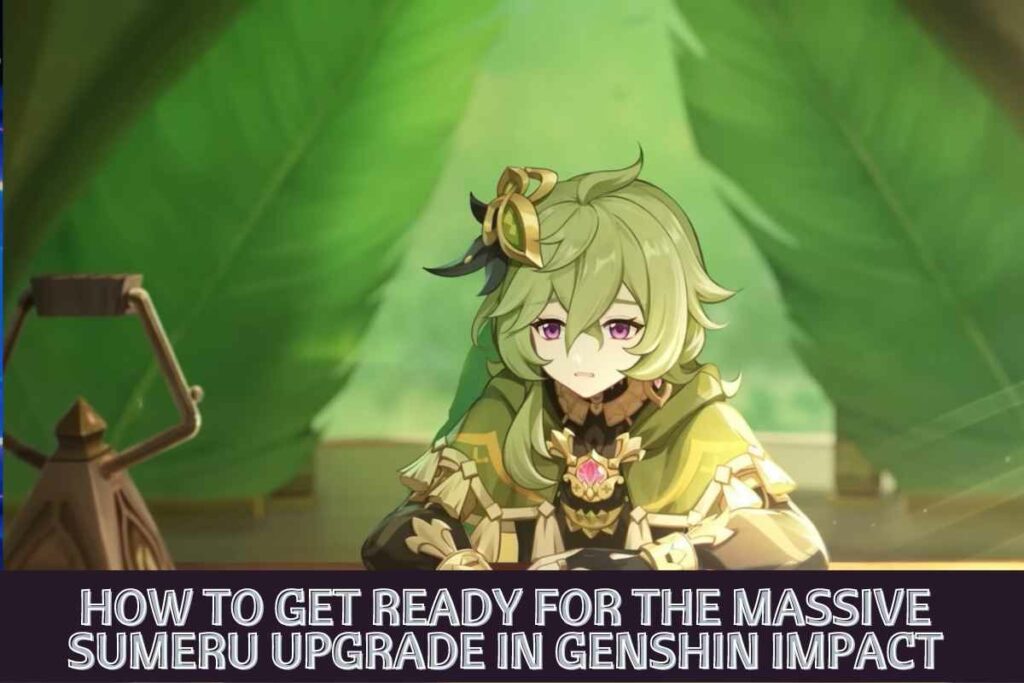 Making sure the "Archon Quests" tab in your quest screen is empty is the quickest way to make sure you're ready for the 3.0 update. When the new patch goes live, you'll be able to begin the first mainstream Sumeru quest once you receive a prompt to begin "Act 1: Through Mists of Smoke and Forests Dark," the first act of the new Archon quest line.
Full Random Story Material
Outside of the established Sumeru cast members like Collei, Tighnari, and Dori, we have no idea who will make an appearance in the new plots. It's likely that new time-limited events or other missions will bring back characters from earlier locations, as this has happened in prior quests.
Make sure your quest log is as clean as possible in case this happens. Focus on quests that involve playable characters so that, when they finally do make an appearance, you won't have Zhongli, Amber, or anybody else stuck in a long-forgotten quest that you started but never finished. That way, the dreaded window warning you that your character is otherwise occupied won't pop up.
Create Movable Waypoints To Facilitate Exploration.
If you're like me and haven't been keeping up with the commissions and bounties required to raise your reputation level in each city, you should. Specifically, I'd work on elevating Mondstadt to level 6 or higher.
As a result, you will have the ingredients necessary to create portable waypoints, which will aid in your exploration. A waypoint can be placed wherever you like, even at a high altitude, to serve as a return point while navigating to other locations.
Cultivating Stamina
It is recommended that you obtain the regional collecting item in order to level up the Statues of the Seven in each region. You can improve your stamina by worshipping the statues and gathering Anemoculus, Geoculus, and Electroculus, which will make it easier to traverse Sumeru by increasing the amount of time you can spend climbing and running.
Gathering this stuff is a nice way to unwind, and it also offers me an opportunity to open chests as I run around. Given that there are only 65 Anemoculus to gather in total, and since doing so in Mondstadt will provide a significant boost to your stamina, it seems like a decent place to begin your adventure.
Aquire Extra Resin Stock
Simple: make or stockpile Condensed Resin so you can run new bosses and domains several times. It's important to run bosses often enough to collect Ascension ingredients if you plan on Wishing for and building a character in the future.
Honestly? If At All Possible, Take A Vacation
Don't worry too much about getting things done. Many players have been venting to Genshin about feeling burned out and admitting that they either didn't have the motivation or struggled to complete the most recent round of event missions in the Golden Apple Archipelago.
That's fine, too! The quantity of content has been and will continue to be high. If playing the game becomes more of a chore than something you like, taking a break can be really beneficial.
This is meant to be a starting point for your own exploration; it need not be taken as a rigid to-do list. Focus your time and energy on the aspects of the game that provide you the most joy; if you prefer exploring, spend more time doing so; if you enjoy grinding domains and bosses, focus on creating Pyro characters; and so on. You don't have to be a hard-core player to appreciate the next story content and geographical expansions.